By Katey Stapleton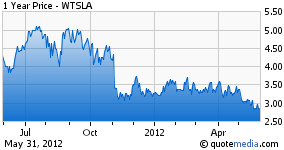 These days, retail stores are either experiencing some of the best fiscal years in history or are operating much like they are still feeling the pangs of the recession. For a lucky few, like Rue21 (NASDAQ:RUE) and dELiA*s (NASDAQ:DLIA), sales have increased in the first quarter with hopeful analysts seeing continued triumphs on the horizon. However, for The Wet Seal (WTSLA) low same store sales in the month of May could be the kiss of tougher times ahead.
WTSLA revealed May earnings this morning, with sales of $33.8 million down 7% from last year. While this certainly signifies a rocky month, it's the same store sales decline of 8.8%, (worse than analyst estimates of 7.8%), that has research firms certain that a turnaround is not in the cards for the company any time soon.
According to CEO Susan McGalla, the fashions at WTSLA were likely to blame for the company's poor performance. Knit tops and screen print t-shirts became dry and tired items for customers seeking something a bit juicier.
"Through the remainder of the quarter, we will continue to shift our assortment toward strong performing categories, including woven tops, jeans, dresses and shoes, to better position Wet Seal for the back-to-school season," McGalla commented this morning.
Brean Murray Carret also commented on WTSLA's announcement this morning, stating that the company's results are likely to be the worst in retailing and further confirms that a comeback is not happening in the immediate future.
Despite WTSLA's poor month results, fashionistas have not been at a loss when it comes to finding their favorite floral tunics and staple colorful wardrobe pieces for the sweltering season. Conversely, RUE recently reported a better-than-expected first quarter that had research firms abuzz from the sidelines.
The specialty apparel distributor boasted 1Q EPS of $0.46 that beat estimates, as slightly better sales and expense leverage positioned the company to out-do itself. Following the beat on May 25th, RUE managed to raise its full year outlook enough to increase analyst expectations without beginning a frenzy of upgrades and price target changes.
Sitting in a cool, calm and collected position, RUE is set to open 120 more new stores in the next year after it just unlocked the doors to 40 in the first quarter alone. Continuing on its righteous path, RUE will likely be the envy of all the other big kid retail chains during back-to-school mayhem.
"[RUE's] new stores continue to see very strong performance and the company sees no resistance its LT goal of 1,500 stores domestically," Jefferies commented in a recent research report.
"Additionally, its fast fashion+value merchandise is well suited for today's consumer and a unique real estate strategy targeting small and mid-sized communities (in strip centers, outlets and malls) provides good market positioning in today's competitive environment."
While WTSLA attempts to clean-up its act in preparation for the remainder of summer, the company's competition is continuously winning over more and more customers across the nation. With new stores constantly popping up and clothing that keeps the kids coming back, RUE has situated itself in a very comfortable atmosphere among flustered opponents.
Rue21 closed yesterday at $26.56, up 23.1% year-to-date, while Wet Seal closed yesterday at $2.84, down 13.04% year-to-date.
Disclosure: I have no positions in any stocks mentioned, and no plans to initiate any positions within the next 72 hours.
Disclaimer: Neither Benzinga nor its staff recommend that you buy, sell, or hold any security. We do not offer investment advice, personalized or otherwise. Benzinga recommends that you conduct your own due diligence and consult a certified financial professional for personalized advice about your financial situation.