By Joey Vazquez
Oxen Group Contributor
Just like most commodities gold and silver continue to very weak in the month of May, partly due to an extreme drop in the Euro and heavy increase in the dollar. We were curious to see how arguably the two hottest commodities have historically fared in June compared to end of May. We wanted to know if there is seasonality strength or weakness in these two precious metals. To do this, we investigated historical analysis on gold and silver companies as well as ETFs to determine this.
In our research, we looked at average gain of gold and silver companies/ETFs as well as their max drawdowns. Our research shows that June is a fairly weak month for gold/silver companies and ETFs, historically. The companies we investigated are Pan American Silver (NASDAQ:PAAS), Silver Wheaton (SLW), Barrick Gold (NYSE:ABX), AngloGold Ashanti (NYSE:AU), Newmont Mining (NYSE:NEM), Market Vectors ETF Trust Market Vectors Gold Miners (NYSEARCA:GDX), iShares Silver Trust (NYSEARCA:SLV), SPDR Gold Trust (NYSEARCA:GLD). Here is their average gain for the past fifteen years.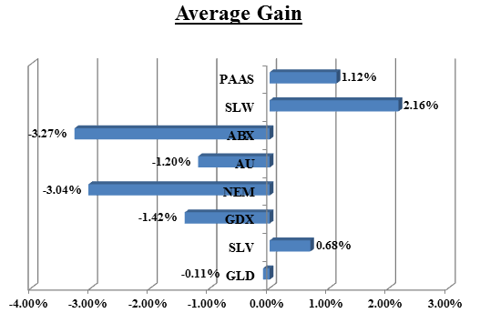 Only three of the eight companies we looked at averaged a gain in the month of June for the past fifteen years. To get better trading ideas, we want to know max drawdowns or max gains.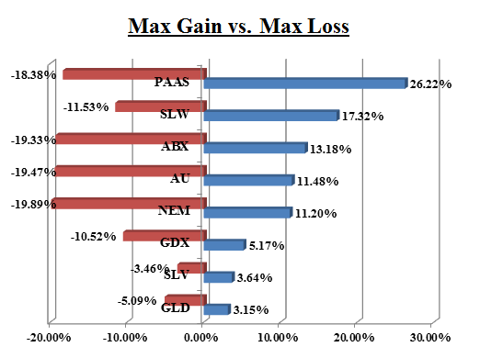 Based on this data, we believe the best opportunities are in SLW and PAAS. With SLW, the max drawdown takes us to about $23, which SLW tested about a week ago and it quickly bounced. With PAAS, the max drawdown takes us to about $14 and area it has not tested since late 2008. Therefore, we like the following trades:
Trade Idea #1: SLW, Jun 16, 23/22 Bull Put Spread (Sell the 23, Buy the 22)
Trade Idea #2: Reverse Iron Condor; Sell Jun 16 13/14 Bull call spread, Buy Jun 16 20/21 Bear put spread
Disclosure:
I have no positions in any stocks mentioned, and no plans to initiate any positions within the next 72 hours.