Johnson & Johnson (NYSE:JNJ) and Medtronic (NYSE:MDT) are two large American companies with long and storied histories in the healthcare industry. In looking for dividend growth opportunities recently, these two names popped up for further research. I consider both of these to be "blue-chip" dividend stalwarts but will this notion hold up to deeper scrutiny? As always, my focus will be on each firm's ability to make a profit and generate cash.
Background
One element of JNJ's core business that has always separated it from peers is its strategic diversification. According to the 2011 Annual report, the business is now split 40%/37%/23% by revenue between its Medical Devices and Diagnostics unit, Pharmaceutical unit, and Consumer segment unit. This horizontal diversification has given JNJ a reputation as a rock-solid investment choice. The last few years however have seen a pair of high-profile recalls, which have damaged the company's reputation. Arguably the more serious of the two was the 2010 voluntary recall of 43 over-the-counter children's medicines manufactured by JNJ subsidiary McNeil Consumer Healthcare.
As a parent of two young children, I can personally vouch for the brand strength of Children's Tylenol. This is essentially the only OTC fever reducer recommended by any pediatrician we have seen and when Children's Tylenol was removed from the market, we had no idea what to substitute. While competitors like Novartis (NYSE:NVS) have tried to grab market share during JNJ's moment of weakness, it is not clear to me that there has been any meaningful effect.
Medtronic is perhaps more easily summarized by this section from its annual report (pdf):
Medtronic is a global leader in medical technology, redefining how technology is used in the management of chronic disease. Our deep understanding of human physiology yields unique insight into a range of therapeutic areas, including heart and vascular diseases, diabetes, neurological disorders, and spinal conditions. This breadth of offerings, combined with our years of experience, allows us to deliver therapies that are transforming the treatment of chronic disease and changing the lives of more than 7 million patients worldwide each year.
Other facts:
| | | |
| --- | --- | --- |
| | JNJ | MDT |
| Current Price | $62.59 | $37.28 |
| Market Cap | $171.9B | $38.8B |
| Yield | 3.9% | 2.6% |
| 5 Year Dividend Growth Rate | 9.1% | 17.8% |
| P/E | 17.1 | 11.6 |
| Consecutive Years of Growing Dividends | 50 | 34 |
| TTM Dividend Payout Ratio | 64% | 31% |
Data Source: Morningstar
(Both are members of David Fish's Dividend Champions)
Making a Profit
First things first, let's look at JNJ's profitability. In 2011 JNJ reported diluted earnings of $3.49. Compare this with 2010 earnings of $4.78 and 2009 earnings of $4.40 and the first yellow flag goes up. According to its annual report, the drop in earnings is due to three primary factors: the OTC recall mentioned above, a separate recall that occurred around the same time in JNJ's DePuy unit, and finally restructuring expense related to JNJ's Cardiovascular Care unit. Issues like these in any given year make analyzing a firm based on one year's results a dicey proposition. As a result, a potential investor has two options in my opinion for getting a better idea of long-term profitability. You can either look at a decade's worth of annual reports looking for one-time items while trying to draw overarching conclusions or to simply look at earnings progression over a long time period. My personal preference is to look at the average earnings over the last 10 years and to only invest when PE10 is below 20. Taking the past 10 years of diluted earnings reported by JNJ gives a PE10 value of 17.7 - a much more positive signal. One final metric that I looked at while taking my deep dive with JNJ and MDT was return on invested capital. I have not been looking at ROIC long enough to have developed a convenient heuristic like I have for PE10 but the 10-year trend in JNJ's case is noteworthy - and not in a good way.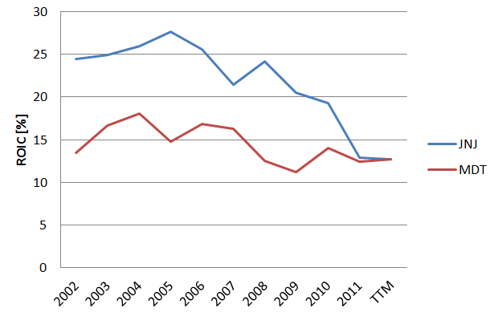 Data Source: Morningstar
In 2011 Medtronic reported diluted earnings of $2.86 per share. This represented an increase of only 2.5% from a year earlier. This rather low year-over-year growth is about the only true negative in my analysis of Medtronic. Over the last decade, Medtronic's earnings have grown by 15.2% on an annualized basis. In addition there have only been three years of decreasing earnings over that period (2004-2005, 2007-2008, and 2008-2009). From an investment point of view, Medtronic's PE10 right now stands at a palatable 19.4. Referring to the ROIC chart above, there has been a slight decrease over time in ROIC when measured from 2002-2011 but it should be noted that from the bottom in 2009 - TTM there has been slow growth in ROIC.
Cash Flow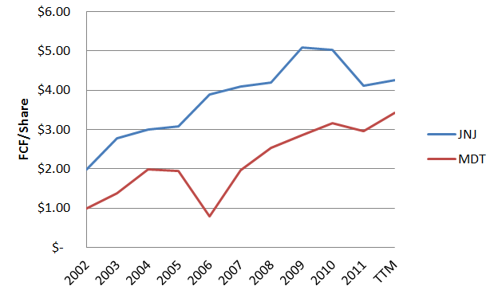 Data Source: Morningstar
This chart really speaks for itself. Like many similar companies, neither JNJ nor Medtronic has much trouble generating cash. For JNJ, the only negative results are fairly recent, beginning with the recession in 2009 and exacerbated by the two major recalls in 2010. Looking at Medtronic's results, there was a rather dramatic reduction in free cash flow generation from 2005 through 2007 (although it did stay positive) and then equally dramatic growth through Q1 2012.
Future Growth Prospects
As everybody knows however, past results are no guarantee of future performance. The elephant in the room when looking at healthcare investing is pending healthcare reform in the U.S. No matter your politics on the current state of affairs and proposed changes, industry wide change should be viewed as something of a threat for these companies - if for no other reason than the uncertainty that will result.
Over the next five years, according to data from Yahoo! the analysts covering JNJ forecast an annualized growth of 5.87%. I actually believe this is on the low side when looking at the diluted earnings reported above. This is because diluted operating earnings right now are actually much higher ($5.82 in 2011 compared with $3.49 diluted). This implies that as long as JNJ reduces the major one-time items, which plagued its income statement in 2011, earnings may experience an immediate bump in 2012 of well over 5.87%.
Medtronic's forecasted growth is a similar 5.03%. According to its annual report it sees continued opportunity for expansion internationally. It points out that in 2011 it generated 43% of its revenue outside the U.S. while 95% of the world's population is outside of the U.S. While I can buy this growth story, it must be taken with a grain of salt. Saying you will grow internationally and executing that growth are different things.
Summary
So what will I do? In the case of JNJ I have already initiated a new long position recently. My reasoning is based heavily on a return to improved execution and increasing earnings, which will decrease the difference between operating earnings and diluted earnings. JNJ serves as a low beta/high-yield dividend growth position for me. If the price continues falling in the short term, I will increase my position. The case can be made that over the last decade JNJ as a stock (and perhaps as a company) has underperformed. In the end though, JNJ continues to generate cash and has very little debt. The metrics I will be monitoring for JNJ are:
Diluted earnings per share
Operating earnings per share
Free Cash Flow
ROIC
Rather than choosing just JNJ, I am also monitoring Medtronic for a further pullback in the market. I like the position MDT has built in chronic treatment and believe there is a future growth story there. In addition the dividend is reasonable and growing. Between these two positions, I feel like I will have a solid healthcare investment in my portfolio.
Disclosure: I am long JNJ.
Additional disclosure: I may also initiate a position in MDT over the next 72 hours. I receive no compensation to write about any specific stock, sector or theme.