Market Recap: The market held it together on the last day of May despite a series of bad data points. Initial jobless claims, ADP Employment, Chicago PMI and GDP all came in weaker than expected, but the market was resilient on a window dressing day. Initial claims came in higher than expected at over 380K and ADP Employment, while improving month-over-month, came in at a disappointing 133K. GDP was revised down from 2% to 1.9%, and Chicago PMI fell from 56 to just under 53. So, with all that, we had some early weakness. The market, though, turned up on Europe's close, dollar weakness and some potential window dressing.
We are setting up for a big day tomorrow with the non-farm payrolls data, Personal Income/Spending, ISM Index, Construction Spending and Auto Sales. With the first day of June, we are expecting a pretty solid move in the market. With a lot of data points, though, we will see what the market latches onto for movement.

Two Trades
Two trades that we are looking at right now that we like are two pair trades with long Caribou Coffee (NASDAQ:CBOU), short FMC Technologies (NYSE:FTI) as well as long Edward Sciences (NYSE:EW), short United Micro (NYSE:UMC). We base these trades off of some interesting analysis. For CBOU, we like the stock a lot fundamentally, and it has had a great stretch as of late. The stock moved higher once again today, and it took a key $12 line. FMC Tech is a weak looking stock right now with its basis in natural gas. Natural gas prices are declining again, and until that trend reverses, look for FTI to continue its weakness movement. Our pair trade is based on Goldman Sachs upgrades and downgrades. We have found that downgrades from Conviction Buy to Buy is a short-term indicator to buy whereas Neutral to Sell downgrades are a sell signal. We like pairing these as well.
Trade #1: Long CBOU, Short FTI
Trade #2: Long EW, Short UMC
(Click to enlarge)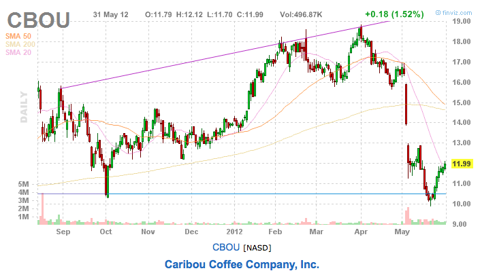 (Click to enlarge)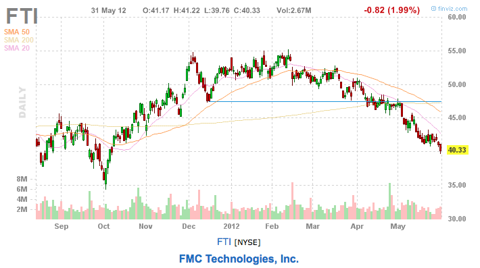 Tomorrow's Outlook
We have a ton of data on the docket for tomorrow as well as first day of June. The market will be reacting heavily to all of the data, and we should expect a big move. Based on today's data, we are not expecting much for non-farm payrolls, and that may cause another sell-off tomorrow. At the same time, weakness may bring about QE speculation, so we will see. In addition to our data, we have China PMI Manufacturing data due out tomorrow that is a big market mover for Asia. We will also get some eurozone unemployment data as well as German unemployment data. Yet, overall, we will be looking at a ton of economic data here at home. Hard to predict it, but we do not expect much in the way of positive movements unless something unexpected happens.
Our Moves
We did not close any positions today. We added the long CBOU and short FTI position.
We have the following positions. In our Short-Term Equity Portfolio we are long Bristol Myers (NYSE:BMY), Bed Bath & Beyond (NASDAQ:BBBY) and TripAdvisor (NASDAQ:TRIP). We are short Smuckers (NYSE:SJM), Molson Coors (NYSE:TAP) and SPDR Dow (NYSEARCA:DIA). In our Options Portfolio, we are long Monster Beverage (NASDAQ:MNST), Disney (NYSE:DIS) and Panera Bread (NASDAQ:PNRA). We are short Priceline.com (PCLN), Sina (NASDAQ:SINA), Apple (NASDAQ:AAPL) and General Dynamics (NYSE:GD). We have a reverse iron condor on Ultra Proshares Financial (NYSEARCA:FAS). In our Earnings Alpha portfolio, we are long FedEx (NYSE:FDX), Discover (NYSE:DFS), Western Digital (NYSE:WDC) and Dollar General (NYSE:DG). We are short Adobe (NASDAQ:ADBE). We have a reverse iron condor in Verifone (NYSE:PAY) and reverse iron butterfly in Joy Global (NYSE:JOY).
Chart courtesy of finviz.com.
Disclosure: I am long CBOU.