On April 23, 2012, the story about a Wal-Mart (NYSE:WMT) bribery scandal in Mexico started making rounds in the media and had an immediate effect on the stock price. The Daily Ticker picked up the story here:

Above is the headline, just so we know the tone of the report. The chart below shows the price action on that day and the next few days. Chart from Yahoo Finance. Please note April 23, 2012.
Wal-Mart Price Chart, March 1 - May 29, 2012.
(Click to enlarge)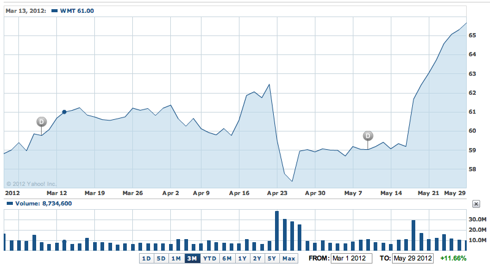 I am always intrigued with volume on the downside of a stock move. Notice the 38 million-plus shares change on April 23. Those 38 million shares cause a move of about 4.6% or a loss of $2.90 per share. The next day's 30 million shares caused a drop of about 2.9% or a loss of $1.77 per share.
I wondered about this bribery news and how it would ultimately affect Wal-Mart. I started to dig deeper into it. It did not make sense to be so important, so I posted on my company Facebook page that I was watching Wal-Mart closely and I thought a buying opportunity may be developing.
A few days later I found this public relations response from Wal-Mart, clearly describing the allegations of these "pay offs." It turns out that the events described by this so-called news report happened six years ago and even more enlightening is the Q-10 filed in December of 2011 informing shareholders of the investigation.
About five minutes after I read that I started buying Wal-Mart (WMT) for clients. I had been watching the stock price for an entry point. Wal-Mart has always had high regard for shareholders and rewarded them with a solid and growing dividend. This news story and the corresponding price action was bogus in my analysis. Wal-Mart was soon to announce a stellar quarterly performance report, trouncing the estimates and this bribery story. Wal-Mart is now trading near a 52 week high.
What is my point to this? I have two points.
The first point is that volatility is an industry. Sensational news, and real news for that matter, are part of a trading system that thrives when many shares change hands. We all know that computers are able to make trades very quickly in an attempt to capture small profits many times over. Do not be surprised when you see a concentration of trading in one spot like this Wal-Mart move.
My second point is that the markets are still very efficient. In many cases, even cases where you see the HF traders moving in, it is in response to real news and the stock prices are being efficiently sent to a new valuation. The HF trading in these cases is helping move the process along. Let's look at one of those cases.
Below is the chart for Hugoton Royalty Trust (NYSE:HGT).
Chart from Yahoo Finance
(Click to enlarge)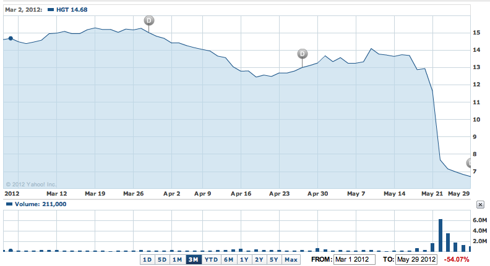 Natural gas has had a tough time anyway, as reflected by $13-15 price range seen in the first part of this chart. The results of a lawsuit may be restricting the royalty payments for this trust for the next 18 months or longer. (See page 11 of Hugoton's Q10 report here.) Yes, that is 6 million shares changing hands, three times the previous high volume and a loss of 40% of the trust market cap. That is 15X the three month average volume. Is this High Frequency Trading? Or is it the market very quickly sending Hugoton to its new value? I think it is both.
The news in the media can be of little value but it can initiate price movements. Telling the difference between a buying opportunity and a time to run away is a matter of doing due diligence. Now get to it.
Disclosure: I am long WMT.
Additional disclosure: I have taken a speculative position in HGT.