Anthony Vitiello and Ben Jordan co-wrote this article.
Interactive Brokers (NASDAQ:IBKR) is a global online brokerage as well as the largest electronic options market marker. The company offers the only platform that allows for trading options, currencies, futures, stocks and bonds in one account – catering to both institutions as well as largely affluent individual investors.
Interactive Brokers' range of services uniquely positions it to profit from increased volatility and secular trends toward broader portfolio diversification and the use of more complex products – and given that these factors will benefit it more than any other company, the stock looks particularly cheap relative to the competition.
As the graph below demonstrates, volatility is on the rise in global markets after a great deal of complacency in early 2007. During times of increased volatility, options trading volumes rise dramatically as people feel an increased need to protect themselves from market risk. As a huge market maker, Interactive Brokers makes money both from commissions and on the bid/ask spread – so they are levered to take advantage of turbulent times.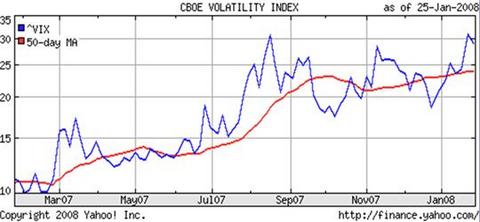 Thanks to their market making business, Interactive Brokers is a financial that offers sector diversification because they profit when times are troublesome. Consider this graph of the performance of IBKR relative to the Financial ETF (NYSEARCA:XLF):
Going forward, Interactive Brokers has the opportunity not only to add accounts and take share from more traditional brokerage names, but also to benefit from the incredible growth in derivatives trading around the globe. Because Interactive Brokers is the lone platform that integrates the trading of the diverse array of financial products available to today's investor, the growth potential is immense. Consider: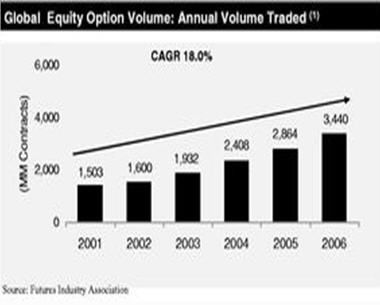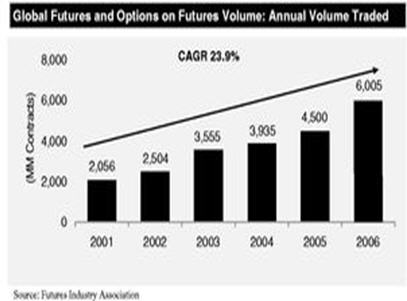 As for valuation, at first glance the stock seems expensive relative to competitors like Schwab (NYSE:SCHW) and TDAmeritrade (NASDAQ:AMTD) – but when considering growth on normalized earnings, IBRK emerges as the value stock.
PEG on Forward Earnings:
IBKR – 0.606

Knight Capital Group (NASDAQ:NITE) – 0.79

AMTD – 0.88

SCHW – 1.07
A sum of parts valuation supports this relative valuation thesis, suggesting that IBKR is worth $42.40, or 22% above the most recent close. This valuation was achieved by a segment-weighted average of earnings derived from the brokerage and market-making segments, adjusted for the normalized PEG ratios of similar competitors in each segment.
IBKR is still a relatively unknown stock on the Street, with only two analysts following the company after its May 2007 IPO. This lack of visibility, combined with a potentially confusing and concentrated legal ownership structure (see chart below), could serve to keep a lid on the stock near term. Additionally, the company has high operating leverage, so just as an increase in trading volume could move operating results substantially higher, declining volumes could present a risk to profitability.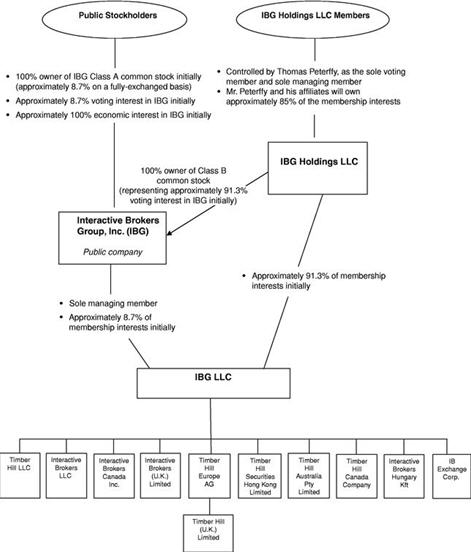 Even with these risks, we believe that Interactive Brokers is well-positioned to profit from several secular trends gripping trading markets, offers inherent diversification from the ability to profit on volatility, and a cheap relative valuation that offers substantial upside potential.