By David Urani
The disappointment of the day comes from the Chicago PMI manufacturing index, which posted the lowest reading since September 2009. At 52.7, it was well below the 56.1 consensus estimate. The result included new orders and production figures that were also the worst since September 2009.
Comments from survey respondents show a picture of uncertainty about the global economy as well as in pricing. One comment simply states "slowing down," while another says "A decrease in order intake and backlog over the past three months has caused our first workforce reductions since the Carter years."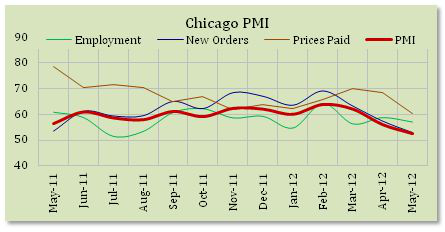 And speaking of layoffs, Challenger, Gray and Christmas' monthly layoff report showed a big increase in May, to 61,887 from 40,559 in April. That's the highest amount of layoffs since September. Year to date, job cut announcements have been greater than last year in each month except for March, and are up 20% in total.
The weakness can largely be narrowed down to big increases in three industries: computer, transportation and consumer products. Hewlett Packard (NYSE:HPQ) vaulted computers to the top stop with its big 27,000 layoff announcement earlier this month.
And add to that a month which saw four weeks in a row of increasing jobless claims, and the outlook for tomorrow's big employment report isn't too pretty.
Of course, the ADP report earlier today showed 133,000 job gains for the private sector in May which isn't disastrous and was even higher than April's 113,000. That being said, it was all in the service sector as goods producers cut jobs on net. Meanwhile, it was small and medium-sized businesses doing the brunt of the hiring.
(Click to enlarge)

The market will have a clearer direction on both production and employment when the BLS employment report and ISM manufacturing index get released.