We previously held a long position in SuperValu (NYSE:SVU), having purchased shares in early 2011 and selling the shares in early June at a 10% profit. We had been following the company since because we were interested in evaluating how the company was progressing with regard to turning around its business operational performance. We think that the near 50% total loss on the shares is absolutely ridiculous since we sold it and that it is an overreaction to $1.43B in non-cash, nonrecurring goodwill and intangible asset charges.
Even though we were displeased to see asset impairment charges, in our professional opinion, we believe that a 50% loss including dividends is absolutely unjustified. After all, it has already written down 82% of its goodwill and intangible assets, it doesn't need to write down the other 18% just for kicks. We have recently reentered into a long position in SVU because we believe that SVU is absolutely undervalued relative to its peers and as long as it doesn't report disastrous operating results, then it should enable assertive investors to realize the value of the company as it once again converges with its peer competition. A 7.63% dividend yield as of May 30th also helps as well, which is well ahead of its competition.
SuperValu is the third largest U.S. food retailing company by revenue after Kroger (NYSE:KR) and Safeway (NYSE:SWY). SuperValu is also one of the largest wholesale food distributors to independent retail customers in the U.S. SVU increased its retail grocery presence in 2006 when it acquired over 1,100 stores from Albertson's Inc. The acquisition did not work out well as SVU had to write down $3.5B in acquisition related impairments in 2009, which prompted SVU to replace Jeff Noddle with Craig Herkert, a former long-time executive with Albertsons who prior to joining SVU was the president and CEO of Wal-Mart's (NYSE:WMT) Americas Division. We can appreciate hiring a Wal-Mart executive as Wal-Mart is making strong inroads in the grocery business with its SuperCenters. Even after hiring Herkert, SVU incurred $3.3B in asset impairments related to the Albertson's acquisition.
We believe that Herkert has helped stabilize SVU. We like the 8 Plays to Win strategy that he outlined in order to enable SVU to turn itself around. While we are displeased that sales have not stopped declining, we were impressed with the following accomplishments that he has overseen in order to reduce cumulative costs over his three year tenure:
18.75% reduction in selling and administrative expenses
42.2% reduction in capital expenditures
18.2% reduction in net interest expense
26.35% reduction in outstanding debt and capital leases ($8.48B in 2009 to $6.25B in 2012)
$746 million in proceeds from the sale of non-core assets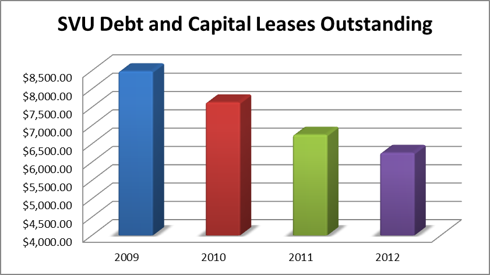 Source: SuperValu Annual Reports 2009-2012
For 2013, we are expecting the company to deliver EPS of $1.27-$1.42. We are expecting $1.1B in operating cash flows and capital expenditures of $675M, resulting in free cash flows of $425M. We believe that SVU will be able to reduce the identical store sales decline from 2.8% in 2012 to between 1-2% in 2013. SVU seeks to make additional price reduction investments in 2013 in order to increase volumes. These investments will be pre-funded by cost reductions to minimize the impact on profit margins. Adjusted operating income increased by 2% in 2012 versus 2011 levels. SVU seeks to pay down its current portion of long-term debt with free cash flows rather than borrowing addition funds. And finally, we expect incremental shrink improvement of 20 basis points; and selling, general and administrative cost reductions of at least $75 million.
In conclusion, even with the declines in revenue, we find that SuperValu's stock is simply a "super value" for investors. We believe while it is certainly not a blue chip stock, the stock is simply too cheap relative to its free cash flows and earnings power. We just entered into a long position in SVU for the following reasons:
While the dividend was cut in half in 2010, the old pro forma dividend only represented ~25% of SVU's 2012 Free Cash Flow from Operations.
SVU's current annual dividend of $.35 only represents 16% of estimated 2013 free cash flows and provides a 7.63% yield. We don't expect another dividend cut.
SVU has effectively dedicated its free cash flows toward paying down debt and will pay down $1.1B in 2013-2015 maturing debt with free cash flows generated by the business. SVU's debt is primarily from long-term, fixed rate bond issuance.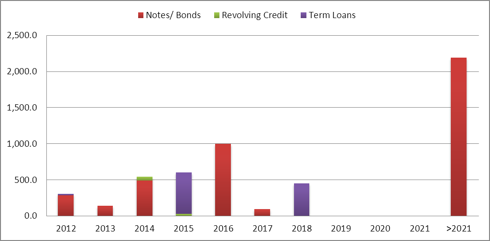 Source: FactSet
SVU's success in reducing its cost base and willingness to dispose of non-core assets.
SVU's efforts to improve sales and rationalize its pricing competitiveness.
Although SVU has generated $5.7B in losses, those losses were non-cash losses relating to impairments of intangibles acquired from Albertson's.
We believe that SVU will not report any more intangible asset impairments as it has written off all the goodwill and intangible assets acquired from Albertson's.
The price of the company has been driven so low, that the company has an impressive free cash flow to market cap yield of 43.8% estimated.
Alternatively, the company is expected to generate $2/share of Free Cash Flows in 2013, which is less than 2.3X market price to free cash flows.
Disclosure: I am long SVU.
Additional disclosure: Saibus Research has not received compensation directly or indirectly for expressing the recommendation in this report. Under no circumstances must this report be considered an offer to buy, sell, subscribe for or trade securities or other instruments.