Ascena Retail Group (NASDAQ:ASNA) reported third quarter earnings Thursday night. The earnings missed analysts' estimates due in large part to acquisition costs for the company's previously announced acquisition of Charming Shoppes (NASDAQ:CHRS). Today I take a closer look at the earnings and the acquisition.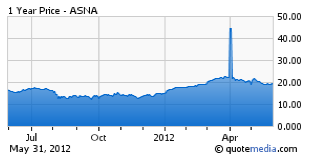 Net sales for Ascena's third quarter rose 8% to $783.3 million, against last year's $722.8 million reported. Net income decreased slightly to $49.4 million from the previous year's $51.8 million. Earnings per share also came in lower than last year's reported $0.32. This year's third quarter saw $0.31 in earnings per share. The decrease in net income and earnings per share was caused by a $6.8 million and $0.03 per share charge for the acquisition of Charming Shoppes. Without the one-time event, earnings per share would have been $0.34, still falling short of analysts' targeted $0.36 (Yahoo Finance).
The increase in net sales came from growth in new stores sales, strength in stores open more than a year, and growing e-commerce sales. For the quarter the same store sales were up 5% overall and positive across all segments except Maurice's. E-commerce sales grew 55% to $36 million for the third quarter. See the table below:
| | | | |
| --- | --- | --- | --- |
| Store | Same Store Sales | Net Sales Q3 2012 | Net Sales Q3 2011 |
| Dressbarn | +6% | $271.6 million | $255.4 million |
| Maurices | -1% | $223.9 million | $208.2 million |
| Justice | +8% | $287.8 million | $259.2 million |
| Ascena Total | +5% | $783.3 million | $722.8 million |
The company ended the quarter with $616.5 million in cash and remains debt free. The cash will be used to fund the acquisition of Charming Shoppes. Ascena has also been using cash to buy back shares of its own stocks. In the first nine months of fiscal 2012, the company has bought 2.7 million shares of its stock.
Ascena's retail presence continues to grow as it expands all three of its owned brands. Dressbarn has 838 stores in 48 states. Maurices has 813 stores in 44 states and Canada. Justice has 920 stores in 46 states, Canada, and Puerto Rico. The company has set goals of having 1000 Dressbarn stores, 1100 Maurice stores, and 1100 Justice stores.
The acquisition of Charming Shoppes adds over 1800 stores to Ascena's base. Charming Shoppes is the parent of Lane Bryant, Catherin's, and Fashion Bug. The three store concepts had 1832 stores in 48 states, as of 04/28/12. The company's ownership also consists of e-commerce brand Figi's Gifts. The acquisition gives Ascena a unique customer niche of plus size clothing. Ascena has three brands aimed at women 7-14 (Justice), women aged 17-34 (Maurices), and women aged 35-55 (Dressbarn). The acquisition now gives Ascena a stronger presence in the women 17-55 age groups and can cater across all sizes. I like the acquisition for the company and think it is one of many to come. Could a buyout of Christopher and Banks (NYSE:CBK) be coming in the next year?
Ascena Retail Group reaffirmed its full year earnings per share guidance of $1.37 to $1.40. Analysts on Yahoo Finance see Ascena earning $1.39 for fiscal 2012. The following year, analysts see the company earning $1.59.
Back in March, I recommended buying shares of Ascena at $38. The shares have seen a two for one share split since that time making that original buying target $19. Shares are currently below that level and I think they are definitely a buy here with the new acquisition and growing base of stores. In that March article, I listed $60 (now $30 split adjusted) as my long term target before the end of 2013. Look for this company to continue to grow through acquisitions, increased store count, positive same store sales trends, and increased e-commerce sales.
Disclosure: I have no positions in any stocks mentioned, but may initiate a long position in ASNA over the next 72 hours.