Thursday morning it was widely reported that Liberty Media (LMCA) will move quickly to take over control of Sirius XM (NASDAQ:SIRI). They have filed a Reconsideration Petition with the FCC to get de facto control of the satellite radio company:
NEW YORK (AP) -- Billionaire John Malone's Liberty Media said Thursday that it will convert nearly half of its preferred shares of Sirius XM Radio into common stock and nominate a slate of candidates to the company's board, as part of its ongoing push to take control of the satellite radio company.
Liberty's first petition for de facto control of Sirius was rejected based on the fact that they filed without the proper passwords and signatures needed for an application. The FCC also noted that Liberty must increase their representation on the Sirius XM Board to constitute a majority. Currently, there are 13 members on the board, and Liberty is represented by 5 of them.
Sirius shares have fallen recently due to the European Gloom and Doom, and the uncertainty of this Liberty situation. But finally, Sirius XM has broken their silence and commented on this recent activity brought on by Liberty. In an SEC filing Thursday afternoon they wrote:
In the Reconsideration Petition, Liberty Media indicates, among other things, that it "intends to take action as soon as practicable to cause the nomination and election of persons to Sirius' Board of Directors such that a majority of the persons serving on the Sirius Board of Directors will be persons nominated by Liberty Media." Liberty Media has not provided us with any notice with respect to such actions. A special meeting of our stockholders may be called prior to our next annual meeting by our secretary or any other officer if they are so directed by not less than two members of our Board of Directors or our Chief Executive Officer. No such direction has been received to date. Stockholders are not permitted to call a special meeting and, absent a special meeting, cannot make a proposal with respect to the nomination of directors other than in connection with the next annual meeting.
They went on to say that Sirius and Liberty are negotiating right now:
We have been engaged in discussions with Liberty Media to explore possible transactions with respect to its ownership interest in Sirius, although we have not reached agreement with respect to a specific transaction that would be mutually beneficial to both our common and preferred stockholders. There is no assurance that these discussions will result in any specific action or transaction. We do not expect to disclose developments with respect to these discussions.
At least they are talking. Sirius is an excellent company, and John Malone knows it. As a matter of fact, he is probably more bullish on Sirius than most shareholders. He wants it. But a lot of the uncertainty revolves around how he will get it. One silver lining that may come from this is we might get a buyback. Sirius CEO Mel Karmazin has been adamant about being able to return capital to shareholders. His favorite idea is a buyback, however, at the Annual Meeting this month he said that he will not approve a buyback that gives Liberty a bigger chunk of the company.
But now that Liberty is converting half of its shares to common stock, those shares would have to be included in the buyback. This could be a small carrot in the negotiations because Liberty wants a share buyback, and everyone knows that.
Why is Malone so desperate to take control of Sirius? Why are these two guys going after each other like this? I really think there is insider information that we don't know. But on top of that Sirius is a great company. For the last several years it has improved dramatically. Sirius Bears are quick to point out that the stock is overpriced and the P/E ratio of 23.69 is high. However, it has really come down since last year: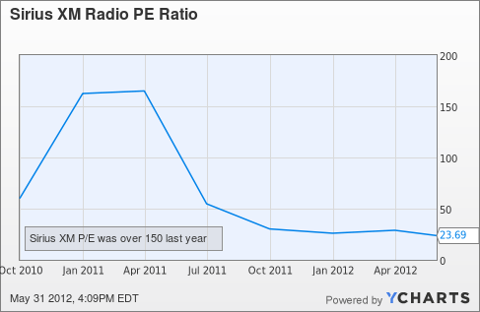 SIRI PE Ratio data by YChart
The forward P/E of 17.18 is even better. It is interesting to note when the P/E was over 150 the price of the stock was up to $2.44 per share. Another thing that the company has is lots of cash: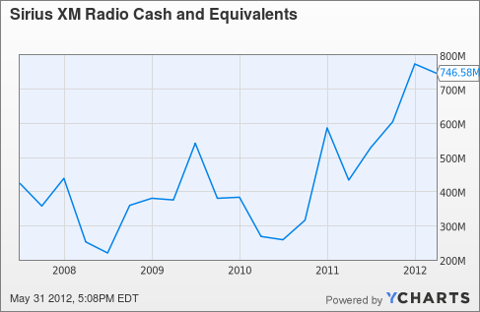 SIRI Cash and Equivalents data by YCharts
As a matter of fact, this is the most cash that the company has had since the merger. And the gross margin is exceptional at 63.68%. And it continues to rise: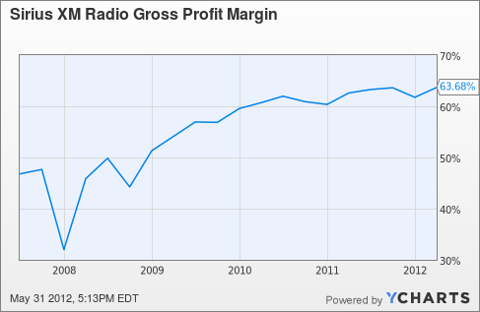 SIRI Gross Profit Margin data by YCharts
Due to the structure of Sirius the GM will continue higher as the subscriptions increase, due to the costs decreasing as the subs go up. And the subs are now projected to be over 23.4 million by the end of the year.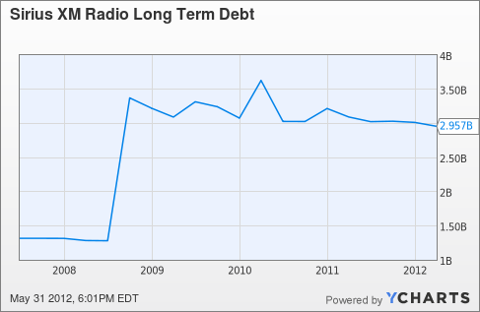 SIRI Long Term Debt data by YCharts
The debt has been a problem for some investors for years. However, the debt is now the lowest it has been since the merger in 2008. And according to several reports, some of that chunk of cash will be used to pay down more of the debt. The cash at the end of 2012 should be over $1.5 billion.
So we can see what these men are fighting over. As they say, a picture is worth a thousand words. And for a smart investor these pictures are worth more than that. It is a shame that the big story is how Liberty plans to get these assets, rather than stories about how well Sirius is doing right now.
Disclosure: I am long SIRI.