The first month of the year claimed many casualties in the investment world. It was not uncommon to see leading stocks down double digits in percentage points with little or no company specific news to drive stock prices lower. Market downturns can be vicious and often do not show distinction between quality growth companies and stocks with much hype but little substance. The good news for investors is that these broad declines often give savvy stock pickers opportunities to own companies from low valuation levels that are not seen very often.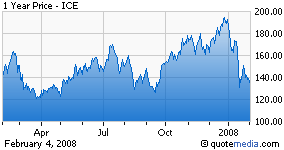 Intercontinental Exchange (NYSE:ICE) may be offering one such opportunity as the stock now sits nearly 30% off the high that it posted at the end of last year. In addition to the market repricing of risk which lead to a lower multiple placed on many growth companies, investors are also concerned that ICE may get into a bidding war with CME who is trying to acquire NYMEX Holdings (formerly the New York Mercantile Exchange). ICE was an active bidder in contention with CME for their last large acquisition of the Chicago Board of Trade. While unsuccessful in their attempt to pull the BOT away from CME, the process went a long way towards creating respect in the investment community for ICE as a qualified and aggressive participant in the futures and OTC contract market.
With the stock now trading at roughly 30 times 2008 expected earnings, investors should look carefully at what will drive growth over the next few years to figure out if the potential return outweigh the risks associated with owning the stock. The best argument for owning the company in my opinion centers around the clearance function which offers much higher margins than simply facilitating the execution of the trades. As of July 1, the company should be processing all of the clearing functions internally which should help margins in the second half. Furthermore, as the revenues continue to pick up from new contracts available to trade and new acquisitions of competitors, the clearance platform should experience economies of scale as more trades are run through the existing structure.
A second area of growth that gets much less attention than I had expected is the contract with Russell Investment Group. ICE has landed a contract to have exclusive rights to offer futures contracts on Russell indices. Since these indices are becoming more accepted as standard benchmarks for a variety of portfolio managers, the futures contracts are likely to see significant increase in volume traded and this should be a profit center for ICE over the next several years. The initial price tag of $50 million along with a royalty fee for revenues from these contracts are definitely hurdles that must be addressed. But the management team at ICE deserves a little more credit than they are receiving after building a company through acquisitions and contracts such as this. The management team is very familiar with modeling return on investment for such transactions and I have confidence that their agreement with Russell will result in a profitable endeavor for the exchange.
During the call, management indicated that they will continue to look for opportunities to acquire or partner with other firms to increase their technology or product offering. With a healthy balance sheet and adequate access to capital, it would appear that ICE itself could use the current market downturn to pick up assets at a discount and add them to their growing suite of profitable ventures. Investors can likely do the same buying ICE at the current price. It may make a bit more sense to wait for the stock to stabilize and begin to improve the technical picture, but the fundamental story looks attractive at this time.