Greenlight Capital is run by well-known value investor David Einhorn (author of "Fooling all of the People some of the Time"). The firm began in 1996 with $900k under management and has grown to over $4 billion dollars, compounding at over 22% annually. Einhorn has most recently been in the news for publicly announcing at last year's Value Investing Conference that he was massively shorting Green Mountain Coffee Roasters (NASDAQ:GMCR) at $80 a share. On November 9, 2011, the Q3 reports had missed analyst expectations by a small margin and its stock price plunged over 35% to $44.10 in the aftermarkets.
In our most recent (free) hedge fund holdings report, we find some interesting changes to Einhorn's portfolio. In Q4 2011, there were relatively fewer changes to the top 5 names, except for General Motors Company (GM) increasing by 29%. Likewise in Q1 2012, there was very little change in the top positions other than decreasing Microsoft Corporation (MSFT) by 7.5M shares. There were only 3 names introduced into the portfolio in Q1, but all at 1% positions (or less):
Click to enlarge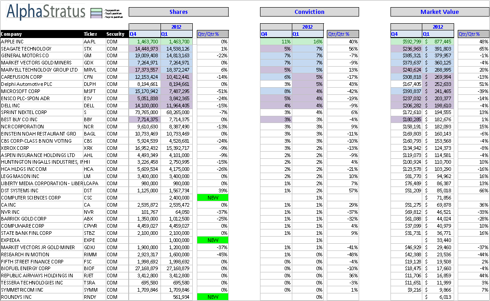 Several smaller positions were dropped from the portfolio in Q1:

Of the top 10 positions, there were no major increases in shares and Einhorn took advantage of strength in MSFT to significantly trim that position: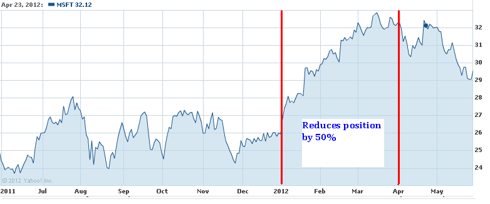 The largest new position in the portfolio was the IT outsourcing company Computer Sciences Corporation (CSC), but Einhorn only initiated about a 1% position: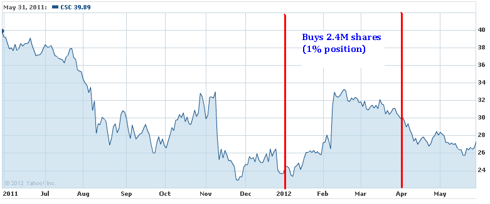 And finally, Einhorn is still maintaining his gold exposure (in the form of the Gold Miners Index - which many value investors have flocked to in lieu of the GLD ETF) and notes in his most recent investor letter:
"You could take every U.S. note in circulation, lay them end to end, and cover the entire 116 square miles of Omaha, Nebraska. Of course, if you managed to assemble all that money into your own private stash, the Federal Reserve could simply order more to be printed for the rest of us."
Disclosure: I have no positions in any stocks mentioned, and no plans to initiate any positions within the next 72 hours.