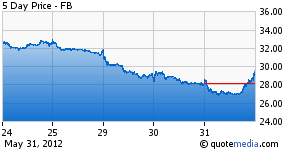 As most investors know, Facebook (NASDAQ:FB) went public last week with a great deal of fanfare. Since then, the price has fallen from the initial price of $38 into the high $20s. The bull and bear case for Facebook have been discussed over and over. This article will not try to rehash those points, but rather discuss ways to make money while the Facebook story unfolds over the next few months.
Taking a step back, common sense indicates that both the bull and bear case for Facebook will continue to get significant publicity for some time. That will create a push/pull on the stock price that could result in the stock trading sideways in a range for awhile.
Additionally, Facebook options started trading this week. Given all the noise related to the IPO and the unique nature of this company, determining the pricing for options is somewhat uncharted territory. The initial releases of ATM options for the next few strikes started trading with an implied volatility over 60%. As Facebook develops a trading history it seems likely that market makers will become more comfortable with Facebook trading patterns, and implied volatilities might decrease over time.
If an investor believes that Facebook may trade sideways for awhile and implied volatility may fall, one way to profit would be to sell option premium. There are a variety of potential trades an investor could make depending on their risk tolerance and bias about the stock. A relatively neutral trade would be to establish an iron condor. That is selling both an OTM put spread and OTM call spread in the same month. Specifically, with Facebook trading around $30 earlier this week, the $25-$27, $33-$35 July iron condor was able to be established for a credit of about $1/contract or $100.
If held to expiration, this trade makes money if the stock stays between $26 and $34 (plus or minus 13% from $30). The trade makes the full maximum gain of $1/contract if the stock stays between $27 and $33. (plus or minus 10% from $30). In the worse case scenario of the stock continuing to fall or bouncing back towards IPO levels the trade will lose $1/contract. That is a defined risk of $1/contract and a maximum gain of $1. Essentially is a 50/50 proposition if held to expiration.
However, the position does not need to be help until expiration. The position will certainly profit from time decay, and if implied volatility declines, the position will capture those gains along the way as well. Hence an investor may likely have the opportunity to take profits and/or adjust this trade over the next several weeks. This flexibility ability means the probability of this trade being a winner is actually greater than 50/50.
An investor can skew the strike prices above based on if their view is either more bullish or bearish. However, this type of trade seem like a good way to profit from the potential bull/bear tug of war that may likely continue to play out in the press over Facebook for awhile.
Disclosure: I am long FB.
Disclaimer: This posting is for informational, educational and entertainment purposes only and should not be considered investment advice.