With pessimism and fear swirling around European sovereign debt, particularly with regards to Portugal, Italy, Ireland, Greece, and Spain (PIIGS), now might be a second opportunity to pick up European banks and other stocks on the cheap. Below are several European banks trading below tangible book value and near or below 2009-crisis lows.
Click to enlarge

Source: Seeking Alpha
BBVA - Banco Bilbao Vizcaya Argentaria SA (ADR)
IRE - Bank of Ireland
LYG - Lloyds Banking Group PLC (ADR)
NBG - National Bank of Greece (ADR)
RBS - Royal Bank of Scotland Group plc (ADR)
STD - Banco Santander, S.A. (ADR)
Since the 2008-2009 financial crisis, the eurozone (economic and monetary union of 17 European Union (EU) member states that have adopted the euro as their common currency) has established and used provisions for granting emergency loans to member states in return for economic reforms (i.e., austerity). This highly political issue is in a state of flux in terms of what further provisions will be needed to stymie the rising risks of contagion from weaker parts of the eurozone (largely, PIIGS).
To that end, Europe is going through debt crisis 2.0, whereas the U.S. appears to have side-stepped the malaise (at least for now). The knee-jerk reaction is to believe that the European Central Bank (ECB) is going to do like what the U.S. Federal Reserve Bank (the Fed) did back in the depths of the 2008-2009 crisis: Step in and buy trillions of dollars in shaky debt to backstop the whole financial system and to keep unemployment from rising to depression-like levels.
The ECB hasn't follow the same script as the Fed because unlike the Fed's dual mandate (price stability and full employment), the sole task of the ECB is to keep inflation under control (price stability/stable euro). If the ECB bought trillions of euros of Greek or Spanish bonds, that might help those economies, but it would probably drive down the value of the euro. Additionally, the capital of the ECB comes from 17 euro area national central banks and 10 non-euro area national central banks of which approximately 33% is from Germany and France. So if the ECB buys Greek and Spanish bonds that default, it would happen primarily at Germany's and France's expense.
Given the enormity of debt in Spain (eurozone's fourth largest economy after Germany, France, and Italy), it appears European policy makers will need to pursue a Europe-wide solution. Anything less may lead to an epic collapse of the Euro as we know it.
With European Debt Crisis 2.0 upon us, it's been déjà vu for European banks because many European banks, with Spanish banks among the most aggressive, borrowed billions of euros from the ECB with much of that money spent on Spanish and other euro periphery government bonds. As a result (see chart below), European financials - iShares MSCI Europe Financials Sector Index ETF (NASDAQ:EUFN) - are trading around 2009-crisis lows and are doing much worse compared to U.S. financials (NYSEARCA:XLF).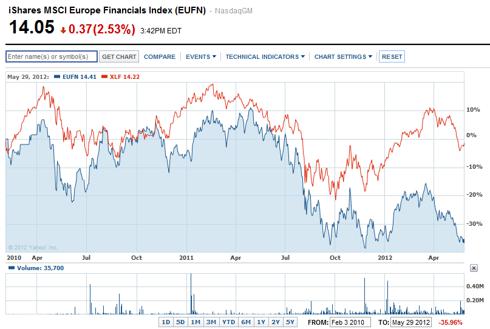 Conclusion
With European banks double-dipping back to 2009 post-crisis lows, aggressive investors with a big appetite for risk (and reward) and a long-term horizon might consider scaling into banks with the strongest capital ratios such as The Governor and Company of the Bank of Ireland (IRE) and Banco Santander S.A. (STD). Another option is to consider is the underperforming iShares MSCI Europe Financials Index.
Without a clear panacea to debt troubles plaguing Europe, conservative investors might consider remaining on the sidelines or looking for stocks with less exposure to PIIGS debt.
Below are the returns off the 2009-post crisis lows in order to get an idea of the potential upside after banks recapitalized and the credit markets stabilized.
| | | | | | |
| --- | --- | --- | --- | --- | --- |
| Ticker | Low Date | Closing Price | Recovery Date | Closing Price | Potential Gain |
| LYG | 03/09/09 | $2.27 | 09/17/09 | $7.19 | 216.7% |
| IRE | 03/05/09 | $7.20 | 09/17/09 | $198.70 | 2,569.7% |
| NBG | 02/26/09 | $12.25 | 10/21/09 | $39.40 | 221.6% |
| RBS | 01/20/09 | $3.33 | 09/09/09 | $18.95 | 469.1% |
| STD | 03/09/09 | $4.90 | 12/03/09 | $17.46 | 256.3% |
Disclosure: I have no positions in any stocks mentioned, but may initiate a long position in IRE over the next 72 hours.
Additional disclosure: I hold a partially covered call position in XLF.
Disclaimer: Please note the fact that a general recommendation made of a particular security, commodity, or investment area does not mean it is suitable for you or should be purchased by you. For example, we may already have purchased such securities at a lower cost and/or the position for you may represent too much concentration in one security or industry. Before deciding to invest you should carefully consider your investment objectives, level of experience, and risk appetite. The possibility exists that you could sustain a loss of some or all of your initial investment and therefore you should seek advice from an independent financial advisor if you have any doubts.