Wrigley (WWY) released impressive looking numbers announcing that full-year 2007 net sales climbed 15 percent from the prior year to a new annual sales record of $5.4 billion, also producing record earnings results in 2007. Fully diluted net earnings per share were $2.28 for the year, up $0.38 or 20 percent from a year ago.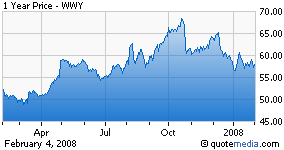 Most of the growth appears to be internationally, outside of the US. The US operations are experiencing difficulties in a very competitive confectionary and chewing gum market. New products must be launched constantly, which means expensive development costs and big marketing budgets to prime the sales pumps.

Read this interesting quote from their press release when considering how well the US is doing:
"While there was some negative volume impact due to pricing changes, the larger portion of the second half decline was due to U.S. trade inventory adjustments, but the lower shipments were substantially offset by the positive contribution of the price increases to net sales."

We could use more elaboration on the trade inventory adjustment comment. I would have expected the Fed or some economist to reach for that phrase. It does not help the investor assess long term prospects. If you take out that comment, basically they are shipping less product at higher prices. In the first half of the year they achieved sales gains but lost them in the second half. It sounds like there is price inelasticity in play and they are not doing well.

As sales grow internationally, you have to wonder about increasing competition from other international and local brands. No market share numbers are provided, so it is difficult to even guess if the results are good news or not. But as more sales develop in each individual market you have to believe that other competitors will not let Wrigley eat their lunch every time.

Wrigley, you need to explain what your plan is for this eventuality.