By Steven Edwards
Ten year Treasury yields hit a record low of 1.6170% on May 30th, while two year German bunds were yielding ZERO. Could we reach the point where governments actually charge for the privilege of holding your money? Wait, we're already there. Short term debt instruments of the Swiss government have actually had negative yields recently.
The reason that these government bond yields are so low is because of investor fear due to the ongoing crisis in Europe and the dropping euro. If you are a real risk taker you can get much higher yields in Spanish or Greek debt, but most people are more worried about the return of their capital rather than the return on it. But why be a government bond holder when dividends are richer than bonds?
When you can buy shares of the best tech company ever, Apple Computer (NASDAQ:AAPL), with a dividend yield of 2.6% at current prices, why would you trust your money with the U.S. government, which is chronically dysfunctional? Tech companies have traditionally been low yielders, but Microsoft (NASDAQ:MSFT) is now yielding 2.7% and chip maker Intel (NASDAQ:INTC) yields 3.2%.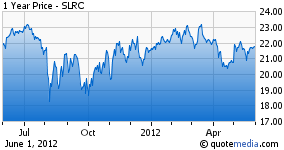 But perhaps you would like a much higher yield, something you could hope to retire on some day? How about a dividend of 11%? Surely something with a yield that high must be some crazy subprime mortgage play. Au contraire. Meet Solar Capital (NASDAQ:SLRC). And no, it is not a bankrupt solar power play either. It is, in fact, a closed-end business development or "regulated investment company," which means, among other things, that it must distribute 90% of its "investment company taxable income" similar to a real estate invest trust (REIT). This allows it to escape the double taxation on dividends. You pay the tax on the distribution (unless you hold the shares in an IRA) but the company doesn't, which means there is more to distribute.
Solar Capital makes both debt and equity investments in leveraged middle market American companies, most not listed on any exchange. In its own words, it seeks "current income and capital appreciation" through "applying private equity style investing." So in this case, you don't have to be a high roller to be involved in private equity; Solar trades like an ordinary stock.
In general, Solar's portfolio companies are not exotic technology companies, but rather prosaic businesses. Earthbound Farm is an organic foods company. Isotoner makes the well-known gloves, along with hats, slippers, and umbrellas. Rug Doctor rents carpet cleaning machines. Solar looks for companies with a leading market positions in their industry that can generate strong positive cash flow, and provide multiple opportunities for an eventual exit.
So Solar is not one of those stocks that you buy for entertainment; it is pretty boring. The stock price doesn't fluctuate much, between 18 and 25 over the last year (currently at 21 and change). It doesn't have anything to do with social media. But it also pays that regular dividend, $0.60 in each of the last eight quarters. Analysts expect Solar's future to be much like its past, with a moderate growth rate of about 5% over the next year. CNBC's Jim Cramer is atypically indifferent about the stock, "The yield is fine ... it is not really doing anything great right now, but it is safe ... I think the company is going to do an okay job, but it is just there so you can get the yield." Exactly. And what is wrong with 11%? Of 11 analysts covering Solar, four rate it a buy, three rate it as an outperform, and four say it is a hold.
A more positive reason to buy the stock is that the company's CEO did. On May 7, 2012, Michael Gross, CEO, president and chairman of the board, bought 13,695 shares for an average 21.39 each, for almost $300,000. When an insider sells, it may not mean much, since insiders frequently get stock or stock options as part of their compensation. But when an insider buys on the open market, it is a lot more meaningful. Gross had previously bought 20,000 shares on August 9, 2011. Director Stephen Hochberg bought 2500 shares on the same day. Another officer of the company, Bruce Spohler, owns a substantial stake of over $2 million in stock. No insider has sold any shares in the last two years.
So let's review. By buying stock in Solar, you get to be a private equity investor like Mitt Romney. You will be investing in American small businesses, not Spanish real estate or Chinese forest products. The CEO has recently invested alongside you with his own hard-earned cash. And WHY would he be investing, when he already had $3 million worth of the stock? For the yield, of course. Where else are you going to get a safe 11% yield?
Disclosure: I have no positions in any stocks mentioned, and no plans to initiate any positions within the next 72 hours.