Teck Cominco Ltd.'s (TCK) announcement that production from its Highland Valley copper (HVC) mine will fall 20 million pounds short of previous guidance is the result of clay in mined ore at the Lomex pit. However, since this pit is in its final year of production, 2009 production should not be affected, according to Desjardins Securities analyst John Hughes.
As a result, he is maintaining a 2009 earnings estimate of C$4.70 per share, "buy" recommendation, and price target of C$49 per share.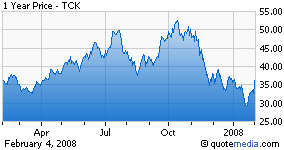 However, Mr. Hughes did cut his 2008 HVC production forecast by 15 million to 231 million pounds from a previous estimate of 246 million. His net after-tax earnings estimate for 2008 was also lowered by $27-million, or C$0.06 per share, to C$3.69. This is based on an average copper price of $3 per pound and a U.S./Canadian exchange rate at par.
Mr. Hughes expects Teck will earn C$0.80 per share in the fourth quarter of fiscal 2007. The company is due to report on Monday, February 11.