While I was playing around with some overlaying functions of my chart, I stumbled upon an interesting pattern: Apple Inc. (NASDAQ:AAPL) vs. Priceline.com (NASDAQ:PCLN).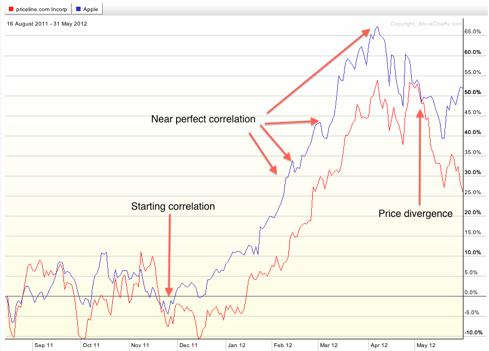 Chart is in percentages.
At first, I was astounded. Who knew that while AAPL got the constant cover of countless analysts on CNBC, another company called Priceline.com was having the same price action. After digging deeper, I was even more astounded. My findings include this:
| | | | | |
| --- | --- | --- | --- | --- |
| Symbol | Nov 25, 2011 | April 10, 2012 | 52 WK HIGH | % Increase |
| AAPL | Opened at $368.42 | High of $644.00 | $644.00 | 67.39% |
| PCLN | Opened at $462.97 | High of $774.96 | $774.96 | 74.80% |
Percentage increase is from the open of Nov 25, 2011 to the highs of April 10, 2012.
It is very important to notice the seemingly flawless correlation between these two stocks in early 2012. Furthermore, they had their fresh 52-week highs on the exact same day. Is this a coincidence? Maybe. But is it justifiable? I think not.
Revenue, Profit Margin, Ratios
So I own 3 Apple products: a MacBook, and two iPods. The empire Steve Jobs has created and Tim Cook is perfecting has juiced more than $2,000 out of my wallet. And I'm not even a typical Apple fan. My net transactions with Priceline.com: zero.
In February and March of 2012, I saw PCLN shares soar as well as AAPL. I did not pay much attention to it except thinking along the lines of "How? Why? What? I swear I never used Priceline.com once in my entire life." So using myself as a benchmark for the average North American consumer, I have formulated one last question: "I'm not even a fan of Apple andhave already bought $2,000 worth of their stuff, versus a company I have never used (I use Expedia (NASDAQ:EXPE)." And sure enough, something was wrong. Consider the following:
| | | | |
| --- | --- | --- | --- |
| AAPL | AAPL Revenue(NYSE:M) | AAPL Net Income(M) | AAPL Profit Margin |
| Q4 2011 | 28,270 | 6,623 | 23.43% |
| Q1 2012 | 46,333 | 13,064 | 28.20% |
| Q2 2012 | 39,186 | 11,622 | 29.66% |
| | | | |
| PCLN | PCLN Revenue(M) | PCLN Net Income(M) | PCLN Profit Margin |
| Q4 2011 | 1,452.80 | 469.5 | 32.32% |
| Q1 2012 | 990.77 | 225.72 | 22.78% |
| Q2 2012 | 1,037.25 | 181.97 | 17.54% |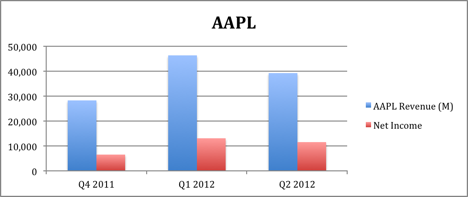 Apple continuously grows their profit margin, while Priceline.com's was lowered dramatically between Q4 of 2011 to Q2 of 2012. In addition, Priceline.com decreased substantially in revenue and net income while Apple increased to unbelievable new highs (blowout quarter Q1 2012). Yet during that time, PCLN shares ripped higher along with AAPL. Frankly speaking, it makes no sense.
Furthermore, AAPL is only trading at a forward P/E of 12.26, and remember, AAPL has beaten earnings estimates 16 out of the last 17 times, so this P/E must be lower. Priceline.com, on the other hand, trades at a forward P/E of 19.68, and the declining trend in earnings for PCLN is not justifying this number at all. Compared to many of its peers, AAPL is relatively cheap. PCLN is relatively expensive in comparison to similar companies; Expedia only trades at a forward P/E of 16.14.
Valuation wise, AAPL definitely wins, there's no doubt there. In terms of growth? AAPL wins again. When a weak company's stock price correlates strongly with a superior company, one will hold the gains, and the other will most definitely crash.
Economic Moat
Apple sells one iPad, and takes home 40% of that sale as net income. A leading competitor, Amazon, can only take 5% on each Kindle Fire tablet sale. Yet, the iPad's popularity still grows at an unstoppable pace. One can definitely see how Apple has a strong barrier of entry from its competitors. Furthermore, Apple's constant innovations will not slow down anytime soon, so this moat seems impossible to take down.
In comparison, Priceline.com has niche business models such as the "bidding" function for consumers. But it is not an invincible shield. Competitors have an easy stab at Priceline.com's strategy, which in turn creates fierce competition for the company. Therefore, if one company is impenetrable while the other suffers never-ending competition, they cannot possibly trade at correlated prices.
Catalyst
In my opinion, the real catalyst occurred after Q2 earnings. AAPL, expectedly, overshot estimates significantly, while PCLN missed estimates. Investors are thinking that there is no way PCLN can advance almost 70% in a single quarter, so a massive sell-off occurs. I personally believe this sell-off will continue.
The arrow pointing to a possible price divergence in the very first picture of this article illustrates this catalyst. In the last week of May, AAPL saw some serious strength; buyers are supporting it. Even when the market is down dramatically, AAPL manages to be green while PCLN continues south.
Conclusion
So we don't know what happened for this correlation to occur. We don't know whether the buyer and seller sentiment and psychology was identical or not. Nor did we know if short-term traders saw matching patterns of bull flags and pennants and other interchangeable technical indications. So can it just somehow be possible that two stocks can spike up one after another in minutes for a period of 4 months?
I don't know. But I do know that every single factor justifies AAPL's ascent, but not PCLN's. And investors are beginning to see that very clearly.
Disclosure: I have no positions in any stocks mentioned, and no plans to initiate any positions within the next 72 hours.