Some folks are skeptical about Microsoft (NASDAQ:MSFT) amid an industry shift to software as a service (SaaS). And Steve Ballmer's pursuit of Yahoo (YHOO) could turn into a big distraction. But some pieces of Microsoft still hold great financial and business promise.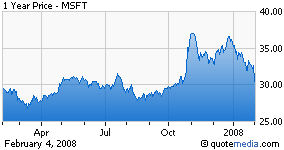 A case in point: The latest version of Windows Server appears ready for action. In fact, five key pieces of information convince me that Windows Server 2008 will deliver a big payoff to Microsoft and its partners.
5. Triple Play: Windows Server 2008, which Microsoft has released to manufacturing, wasn't written in a bubble. It's closely tied to SQL Server 2008 (a new database that will launch in Q3 or so) and Visual Studio 2008.
Translation: Thousands of independent software developers (ISVs) will be mastering new Microsoft development tools at both the application and database levels. Say what you want about Microsoft's "old" model of engaging ISVs, but it's still a massive ecosystem that most rivals continue to envy.
4. Open Alternatives: The traditional press and some trade press hacks think open source databases and applications are written exclusively for Linux. In many cases, that's not true.
One prime example: SugarCRM, the open source CRM system, is wildly popular on Windows servers. And you can safely assume, I hear, that SugarCRM and other open source application developers will firmly embrace Windows Server 2008 (formerly code-named Longhorn) as a new platform opportunity.
3. Software as a Service: Plenty of Microsoft partners are rolling out SaaS applications on top of Windows Server. One prime example: Sunrise Technologies and SolidSpace are partnering to offer Microsoft Dynamics AX (the ERP platform) as a hosted per-user/per-month service, notes MSPmentor.
2. Oracle (NYSE:ORCL), SAP (NYSE:SAP) Weigh In: As Windows Server 2008 gains momentum, you can bet that big, established ISVs will put marketing and R&D dollars into the market to (a) drive application upgrades and (b) compete effectively against Microsoft's own server suites.
1. Big Iron Balancing Act: Dell (NYSE:DELL), Hewlett-Packard (NYSE:HPQ), IBM (NYSE:IBM) and other server vendors maintain a delicate balancing act between Linux and Windows Server. Linux has allowed them to keep Microsoft's server power in check. Now, Windows Server 2008 will ensure that Red Hat Linux doesn't gain too much leverage in the server space. These days, even Sun (JAVA) plans to support Windows Server 2008 on its hardware.
For Microsoft, Windows Server 2008 represents an opportunity to solidify its position in fast-growing markets (SaaS, virtualization) while leveraging a strong legacy of software partners.
Initial reviews of Windows Server 2008 appear promising (here's the spin from ComputerWorld). But keep the positive early press in perspective.
The early trade press buzz on Windows Vista was quite upbeat as well. Even I was bullish on Vista. But the industry's enthusiasm for Vista has cooled off because the operating system is bloated and lacked "killer applications" to drive upgrades.
In stark contrast, Windows Server 2008 will gradually gain a boatload of new applications behind it. Upgrades certainly won't happen overnight, especially as enterprises way their budgets and Windows Server 2008's complexity.
But the operating system's arrival marks a new chapter in Microsoft's server strategy, and a new opportunity to generate more profits from a massive installed base of Windows Server customers.