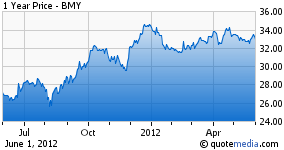 Cancer is one of the most complex and difficult-to-cure diseases in the world. This is because there are hundreds of kinds of cancer types depending on where and how it originated. The market for cancer treatment is enormous and there is a lot of potential there. Unfortunately, the field isn't moving as fast as many of us would like it to move. Yesterday an important development arose, claiming that Bristol-Myers took an important step in the race to cure cancer.
The drug Bristol-Myers (NYSE:BMY) is working on represents a new trend in cancer drug development. This new approach suggests that instead of the drug itself finding and attacking the cancer, it will find a way to allow the body's own immune system to locate and destroy the cancer cells. The drug will activate and strengthen the body's immune cells in such a way that the body will learn to fight cancer more efficiently.
Last year, the company gained FDA approval for a drug that works similarly on melanoma and the new drug in testing is being developed to help fighting lung cancer, one of the most common and deadliest cancer types in the world. In the initial trials, the drug helped reduce the size of tumors in 13 out of 75 lung cancer patients (i.e., roughly 17%) in advanced stages of the disease where there is very limited - if any - help. The expected lifespan for those in the latest stage of lung cancer is about 6-9 months. More than a million people are diagnosed with lung cancer every year and very few of them survive more than a few years. In the initial testing, the drug has also helped those suffering from kidney cancer and melanoma at even higher rates (i.e., 30% and 25% respectively). These rates may look low. However when this drug is combined with other treatment methods such as chemotherapy, the effect is expected to be much stronger.
If the drug gets full FDA approval, it can generate revenue of at least $5 billion annually. If the same or similar drugs gain approval to treat multiple types of cancers, the $5 billion figure may also multiply accordingly. There are many other companies that are testing their drugs in with the same principle with some success including Merck & Co (NYSE:MRK), GlaxoSmithKline (NYSE:GSK) and Teva Pharmaceutical (NYSE:TEVA). So far, Bristol-Myers is a little ahead of the curve as it is entering final stages of trials.
This treatment approach is important for more than just lung or kidney cancer, because once the approach becomes successful, it will open the door for treatment of more diseases including other types of cancers. Many pharmaceutical companies want to get a piece from the huge pie of cancer treatment and opportunities are nearly endless in this market.
It's interesting how little attention the market paid to this breakthrough. After announcement of the news, Bristol-Myer's stock price was nearly flat; however this may be a good thing considering the market was deeply in the red yesterday. As we live longer and are exposed to more chemicals and radiation than our ancestors, chances are that many of us will need cancer treatment at one point or another in our lives. The drug industry is struggling as their patent portfolios only last several years and there is a huge pressure for these companies to keep developing new drugs. Many diseases that were very difficult to treat 50-60 years ago are now much easier to treat, or at least much more manageable to live with. Perhaps, in the next 40-50 years, cancer will join the list of these diseases, but there is still plenty of work left to do to achieve this. Many large drug companies turned their focus in cancer treatment as they see a lot of potential and promise there.
I believe that Bristol-Myer's latest finding is much more bullish than people give it credit for.
Disclosure: I am long BMY.