One of the first tenets of competition is to not follow your competition. Doing so would simply validate their moves, and make your company appear to be chasing the leader. In the world of smartphones, those leaders are Google (NASDAQ:GOOG) Android, and Samsung (OTC:SSNLF). Volumes might seem to indicate a winner, but profits tell a different story. In technology, the most profitable companies are the most successful. As The Verge recently noted, technology changes are forcing some companies to play catch up, or alter their platforms to fit in with 4G technology.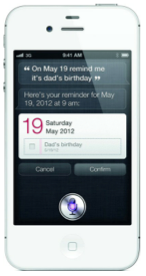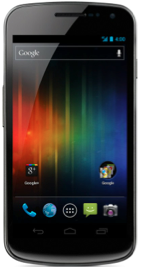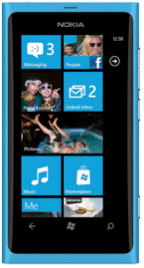 Steve Jobs introduced the iPhone to the smartphone market, with hopes of reaching 1% of overall sales. It was a realistic approach, and a humble beginning. There has been some criticism toward Tim Cook that he is carrying on the path that Steve Jobs already paved, because product development would have already started prior to Cook becoming the CEO. Where that criticism misses the mark is that it ignores Cook's contribution to Apple (NASDAQ:AAPL) prior to becoming CEO. His supply chain management success points the way to where Apple is headed next, and the best reason to invest in the company. In the words of Tim Cook:
Steve told me, when we talked about being CEO, he said 'I saw what happened at Disney,' that people would all sit around and say, 'What would Walt have done?' And he looked at me with those intense eyes, and he told me to never do that. Just do what's right. And I'm doing that. Does that mean that something will be different? Of course. But he was the best person in the world about doing this. He would flip on something so fast that you would forget that he was taking the 180 position the day before!
Apple is far more than just the iPhone, or even the iPad, though those two products make up a huge volume of sales, revenues and profits. When Tim Cook acknowledges that all phones will be smartphones a little more than three years from now, then we can imagine him wanting to add more product lines to continue to grow the company. While the iPhone revenues and success are great, and about half of what the company brings in, diversification can help Apple continue to grow. Rather than rest on its laurels, as some of its less successful competitors did, Apple will need to look at other market segments. One of those is tablets, and there is potential for an array of choices there, much like there are several choices in Apple laptops now. Revenue growth in tablets will become more important, as Windows 8 tablets enter the market at the end of 2012. I expect Microsoft (NASDAQ:MSFT) Windows 8 tablets to generate a ton of sales for many tablet makers, but I expect the iPad to continue to grow in sales and revenues. I expect Apple to lose market share dominance overall in tablets, but it will continue to be one of the most profitable companies in this still-growing segment. What has been arguably an iPad market will become a tablet market.
I would expect some changes in laptops, though this is a very mature market. Apple appears to be moving towards more MacBook Air variations, but remember that the first Air sold poorly due to the high price point. Once the Air pricing was reduced, sales picked up, which unfortunately points toward higher volumes and lower sales. I would not invest in Apple based on its laptop strategy, and I state that in all seriousness as I type this on a MacBook Pro. The company makes great laptops, but this segment is no longer a strong growth market. Apple laptops are also sold at a premium to Windows (or Google Chrome OS) laptops, so the intention was never high-volume sales. The real intention is a high-quality product, which is the DNA of Apple.
There has been a great deal of speculation regarding the next iPhone, starting not long after the launch of the iPhone 4S. While there was some criticism in the press that the 4S was a letdown, the reality is that Apple saw record iPhone sales. During that same time, Samsung roared past it, mostly on the back of a variety of choices and larger screen sizes. One of the most common aspects considered for the next iPhone is a larger screen size, with the reasoning behind this being the need to match the competition. As I pointed out at the start of this article, you don't remain successful by following the choices your competition makes. If Apple were to introduce a larger-screen iPhone, it would validate the moves of Samsung, even though it may find buyers. It would also greatly complicate several other aspects of the popular iPhone 4S, as app makers tried to utilize the extra screen area. The App Store would need to have separate areas of support for older iPhones and the new iPhone, if the screen resolution dimensions changed, which would create a stratified platform more like Google Android. A larger-screen iPhone is possible in the future, but not this year.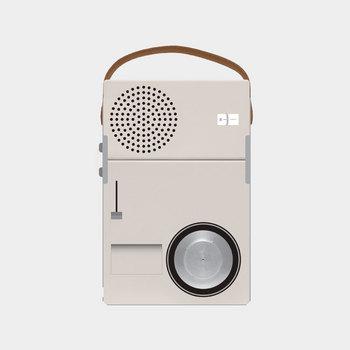 While Tim Cook focuses on the supply chain, and leveraging that, Jonathon Ive focuses on the design of the next iPhone. Ive is a fan of Dieter Rams, who brought forward 10 principles for good design. Look at the designs Rams developed years ago and you can find some Apple design influence.
The Verge, and other tech publications, recently went through a mockup study of what a larger-screen iPhone would look like, and how it would work with existing apps. About the only real benefit to be had with a larger screen was enhanced video viewing. While Apple is not immune to leaving developers behind in operating system changes, as seen with Mac OS X numerous times, there is a consideration towards end users, and a worry about fragmentation in the app store. One great criticism about Google Android is that there are too many versions, creating too much fragmentation, with an even more confusing array of skins on top of various Android platforms. There is no need to follow the Android strategy. Tech review website iMore.com probably put it better than anyone else in its thoughts on a larger-screen iPhone:
Just because people are buying more 3.5 inch iPhones than larger Android phones doesn't mean people prefer 3.5 inch screens. It means, as a total package, they prefer the iPhone.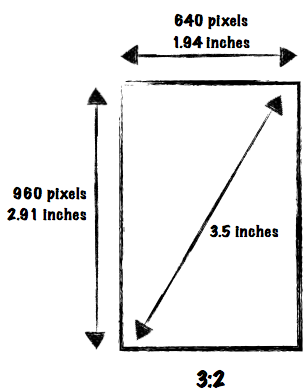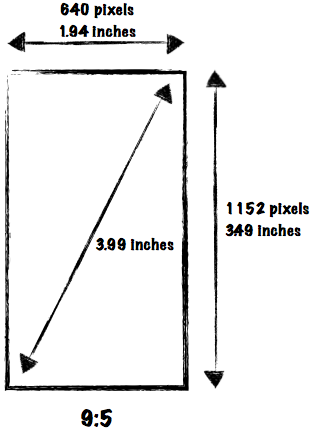 I've thought about this for a while, mostly about how Apple was going to sell more iPhones at the end of the year, as competitors moved toward larger-screen phones. It almost seemed inevitable, and I do expect most smartphone makers to make the move toward near-720P HD screen dimensions, perhaps even advertising "high definition" screens. In my article "The Future Of Smartphones," I go more in depth on this. I still expect that trend, but not from Apple. That may cost it some sales to competitors, but I think the company will actually beat its previous iPhone 4S sales volume record through a few other steps. The more I read through all the analysis of larger screens, the more I became convinced it would not happen this year. Then we heard from Tim Cook at the All Things D conference:
Mac... it's not about making the most. It's about making the best. We're never going to make the most.

The greatest thing we can provide is to help the content creator sell lots of stuff. The consumer loves it, the content owner loves it, and it's great for us.

Steve was a visionary. My role was never to replace him. He was an original. I don't think there's another one of those being made. I've never felt the weight of trying to be Steve. It's not who I am and it's not my goal in life. I am who I am, and I'm focused on that, and being a great CEO of Apple.
investors hoping Apple would blow everyone out of the water on sales should consider the uniqueness of Apple products. They have never been in the past, nor are they now, all things to all people. There is a special appeal to Apple products, but due to many factors they have never been the commodity that other products have become. They have remained unique and distinct. So don't bet on Apple beating everyone. Instead focus on increasing revenues, more product market segments, and continuation of high profit margins. Apple doesn't need the greatest market share to generate high profits, and I would suggest dumping the stock if it ever went toward lower-margin and higher-volume products because that would be admitting its competitors got it right.
MarketWatch seems to think Apple is falling behind, and has nothing left to offer against the growing competition. Even Reuters considers a larger screen a certainty to compete with Samsung. A few websites are floating around images of a larger-screen (or suggestive of a wider screen) iPhone.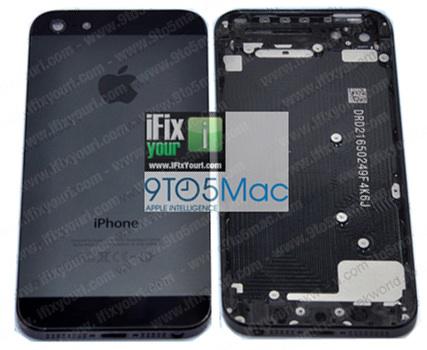 I think what this is really showing us is a move toward smaller internal components. There have been rumors of all-glass or ceramic-bodied iPhones, Liquid Metal iPhones, or even a change to a thinner, curved shape -- though this supposed SIM cage part seems to suggest an optimized smaller internal structure. It makes more sense that internal parts become smaller, as the form factor stays the same externally, to make room for 4G chips or possibly more battery capacity.
I expect Apple to announce better Siri access for developers at its next World Wide Developer Conference a few weeks from now. We can expect iOS 6 to be introduced, which will allow developers to get ready any changes necessary prior to the next iPhone launch. While Apple might call that the 4GS, I think "New iPhone" is more likely. If the above photo is to be believed, we can expect an aluminum body shell, with black or white areas placed to make holding the phone easier. The glass back that prompted iPhone 4 and 4S users to put covers on their phones will be gone. The move to aluminum could also reduce expenses for Apple, allowing it some pricing flexibility if carriers push them more on this.
Click to enlarge images.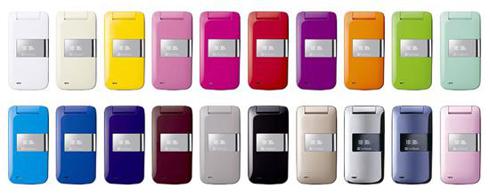 In Japan, mobile phone maker Softbank recently introduced a Pantone phone, available in 20 different colors. This shows some of the supply chain control capability at that company, though it only sells these phones in Japan. If Tim Cook could control the supply chain this well on a larger scale, then iPhones not just in black or white would be possible. Some may question why bother, or who would buy such a smartphone, but the real answer is in the demographics of who buys smartphones now.
Women make up more than half the buyers of iPhones. Men seem to choose Android phones more often, and larger screens might further tilt that balance. Some of the advertising bias toward tough and macho high-performance Android phones might be one of the better indications of this trend, since this survey came out in late 2010. If Tim Cook wants to really show he is in charge, and a master of the supply chain, it would not surprise me to see more favorable advertising toward women, and even an introduction of more color choices. Due to deadlines and time constraints on components, we might not see the color choices this iPhone launch, but the next product refresh in 2013 or 2014 may usher in a move away from black- or white-only choices. I would also expect a subtle shift in marketing to show more consideration toward women wanting to purchase a smartphone, though other companies that follow that may find sales increases as well.
The last reason I have for Apple not changing the form or screen on the next iPhone is the roaring sales success of the iPhone 4S. Reports indicate a surge in buying for the iPhone 4S, followed by a slowdown in sales. Apple will not want many users to switch phones and place their used devices on the open market. Some iPhone 4 owners near the end of their contracts in the U.S. may adopt the New iPhone. The amount of accessories available for the current shape is vast, though a change in port or button positions on the edges might require some modifications. But don't expect covers to disappear. So the form factor continues, apps still work as before, but the focus will still be on gaining new users, because smartphones still have a few years of growth.
I expect the overall market turmoil due to concerns in Europe and a global slowdown to provide an opportunity to invest in shares of Apple, or for those already holding shares, a chance to increase their holdings. Apple shares are very liquid and easy to sell. Institutional holders represent around two-thirds of shares, and very likely are still sitting on profits, even if shares decline more than 20% from their high point this year. Don't expect Europe to solve all its problems before July. It is very realistic to expect a decline in equities markets to last beyond the end of June, though Apple shares may see some slight lift near the World Wide Developer Conference. Patient investors may find a great entry point, or a chance to increase holdings. My first article, "Should You Buy Apple After A Market Correction," dealt with possible price levels for Apple shares after a market correction.
I would also expect some disappointment among the media after the release of the next iPhone, due to expectations of a larger screen not being met. Resisting the temptation to sell on the news would be advised at the next iPhone launch. Waiting for sales reports in January 2013 is likely to reward patient investors, because I expect the New iPhone to outsell the 4S. Long-term investors should look for more growth areas from Apple than just the iPhone. Eventually iPhone sales will peak. We already see iPhone sales trends showing higher volumes near launch rather than further from launch. An Apple television is likely, but the content stream is beyond its control, so success will be tough to determine until after a few quarters of sales volume numbers. Expect iPad sales to continue to generate more revenues and become a bigger mix of the overall revenues, making Apple less of a one product (iPhone) company. Apple is becoming more than just the last ideas of Steve Jobs. It is Tim Cook's Apple now.
Disclosure: I have no positions in any stocks mentioned, but may initiate a long position in MSFT over the next 72 hours. I previously held AAPL shares directly, and indirectly through a fund. I may initiate a new position in AAPL at the end of June or in July 2012.