From where I see things, wise investors should be keeping a close eye on Antares (AIS) and Zalicus (ZLCS). In this article, I will focus on Antares, but also contribute important information on Zalicus, which is on a very bullish run.
Focusing on Antares First
Last time when I capitulated on my original $2.50/share bearish call, I thought Antares Pharma might hold the $2.80-3.00/share floor. Unfortunately for day traders who bought at higher prices that hasn't happened and now many of them feel trapped. On the other hand, the long investors see this as an inviting opportunity to add more shares if they have any dry powder. Either way, I sincerely think anyone who holds by Q4 2012 isn't going to be complaining.
However, I think it's good to take a look at the Antares chart, and by no means do I caste any disparagement upon this most excellent firm. Nevertheless, the Market often defies gravity and takes our most beloved firm and causes its most adoring fans to cringe.
Broke Support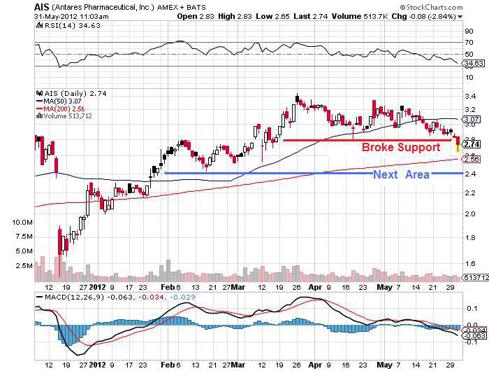 You could argue that Antares first broke support at $3/share and now $2.80/share. Its dip to $2.65 signals one of two possibilities: (1) the bottom floor for a new range, or (2) the next lower direction the stock is heading. Friday should give investors a strong clue. I do raise a concern, but purely from a technical standpoint.
Much Lower Range
The much lower range now looks to be around $2.40/share and should the stock price fall that low I'd definitely continue to wait because the share price could fall all the way down to $2/share. However, and Antares lovers please take note, short of a stock market crash I see this as highly unlikely. More likely, anything in the price range of $2.50-2.70/share is an excellent bargain for this very good company.
Retracing
As I've argued elsewhere, retracing is normal for any stock. Antares, which has some of the most bullish investors on the planet, is however not immune from retracing. Actually, this recent pull-back is more a phenomena of the general stock market, so the stock's retracing comes at a convenient time. However, the dip to $2.65/share is reason enough for me to sit tight and wait because it's not about loving a stock, it's about reading the chart.
The Investor May Consider
One factor I've been watching is whether the Market holds a key support level. Just about all Market gains in 2012 have been given back, which may mean: (1) like a pennant the Market is finished dipping and will slowly begin its next climb, or (2) if it breaks its current support level things are going to get even uglier.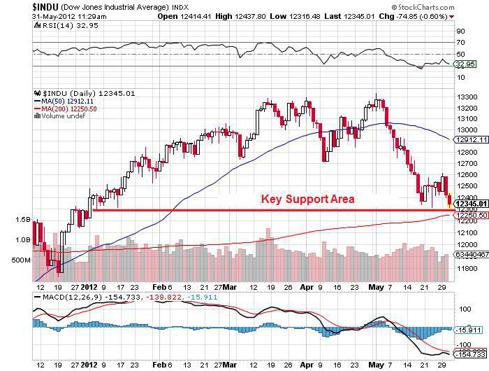 I tend to be optimistic, but even a pessimistic view may allow for a few green days here and there. Personally I think the impact from Europe is already factored in and this probably has as much to do with U.S. politics and the general Market that gets wealthier off of retail investors who sell at the wrong time.
Regarding Antares, which like every other stock is under Market pressure, this may be a good way to play when to buy -- meaning:
If the Market holds this key support level Antares investors may have a global indicator that buying Antares even while it's bearish is a good investment (Long-investors would say it is anyway!)
However, if the Market breaks its own support level, then patience should be exercised before buying Antares and/or any other stock for that matter.
Still, just remember these Market dips and red days that make many investors grow weary also create some rather incredible entry points into the best of stocks -- Antares is certainly one of them!
Conjecture for Antares
Clearly, Antares long investors see these down days as a gift to buy more shares at a lower level, that is because their outlook for the stock is a much higher target price (e.g. $5/share for 2012). With Vibex MTX marching forward those who are in Antares for the next few years will most likely be celebrating come 2014 when the revenue stream of the company goes exponential. Meanwhile, I do agree with others that CEO Wotton typically under-promises and over-delivers so I wouldn't get worked up about the Market's general malaise.
2. Zalicus and A Spurious Rumor
I am aware that many Antares investors also follow and/or have invested in Zalicus , so this might be a good opportunity to clear up an inaccurate rumor for Antares investors about Zalicus's CEO Corrigan. There is an inaccurate attempt out there to portray Dr. Corrigan as drawing a $3M salary off the backs of Zalicus shareholders. Very sadly, this inaccurate information has been attached in the 'Comment' section of my own SA articles. These comments are quite untrue. Directly quoted from an SEC 8K filing, we read in March 2010 (the year Dr. Corrigan became CEO):
On March 8, 2010, the Company entered into an Employment Agreement (the "Agreement") with Dr. Mark Corrigan, who has been serving as the Company's President and Chief Executive Officer since January 5, 2010. Pursuant to the terms of Dr. Corrigan's employment agreement, Dr. Corrigan will receive an initial annual base salary of $450,000. In addition, Dr. Corrigan is eligible for cash incentive compensation at an annual target rate of up to 50% of his base compensation, at the discretion of the Company's Compensation Committee.
Unfortunately rumors like the one above are not only unfounded, but they also hurt the retail investor who may trust the source. What that source also seems to not comprehend is in the merger of CombinatoRx and Neuromed, and upon the FDA approval of Exalgo, the management team was also rewarded with stock options, etc. This is not uncommon especially when achievement is a principle of capitalism. Like Dr. Wotton of Antares, Dr. Corrigan has done a brilliant job steering Zalicus in the right direction.
ZALICUS = VERY BULLISH
Zalicus remains in a very bullish pattern and I think will go much higher -- as will Antares. I am very upbeat about both stocks. However, just take a good look at Zalicus's chart -- it spells out BIG OPPORTUNITY to investors like myself who know the depth of the company's pipeline and its safely guarded relationship with Novartis (NYSE:NVS).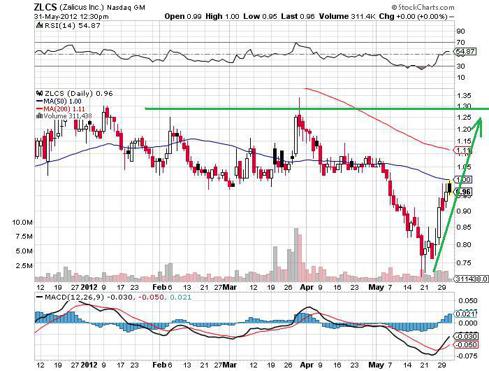 As I correctly called Zalicus when it dipped, it is in a very bullish pattern. The upside here (assuming the volatility and risk of biotech investing) is knowing that there are multiple catalysts ahead as early as June: the clinical results of Z944 of which one of its patents was recently advanced forward. Furthermore, there is growing interest about the outcome for Synavive's phase 2B clinical study, which will be reported on by September. In addition, most investors expect to hear news on the 32 mg version of Exalgo with Covidien (COV) and Prednisporin's advancement with Sanofi (NYSE:SNY). If anyone says Zalicus is in financial trouble, then they are lying -- the firm reported over $50M plus at the end of Q1 2012 and has 113M common shares, which is in the same range as Antares (slightly less). Zalicus has had very little problems raising capital, and by the way, Exalgo's revenue increased by 33% Year/Year in Q1 2012. Zalicus is grossly undervalued and Dr. Duncan of JMP Securities has a target of $5/share.
This is why savvy investors like me look for great entry points and promote great stocks like Antares and Zalicus. Happy investing!
Disclosure: I am long ZLCS.
Additional disclosure: Investors buy and/or sell at their own risk. I declare that I may day-trade Zalicus at any time as well as Antares. "Long" for me is until I sell. I do not "Short" stocks.