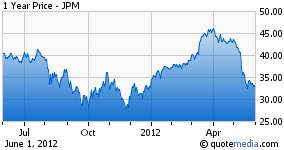 Ignoring market sentiment, fundamentally-focused analysts can point to huge improvement in bank earnings to support current positions in the big banking stocks. P/E multiples and cash flow models generally say that the large caps in the financial sector should be higher than where they are.
Based on that type of investing, I would say that JPMorgan (NYSE:JPM) was looking like a huge winner for 2012, especially after the announcement on March 13th which increased dividends from $.25 to $.30/share. To top it off, Dimon announced a new share repurchasing program to the tune of $15 billion that was supposed to last until the first quarter of 2013.
Unsurprisingly, JPM found a lot of buyers and we saw shares trade as high as $46.49. What happened, and why has the stock dropped about 30% from the peak?
For one thing, we can blame Europe for inducing selling in all risk assets in recent weeks. Only safe havens (like the U.S. dollar and Japanese yen) have benefited from all the ruckus. Still, I think JPMorgan's drop has become especially steep for one big reason: deep mistrust of management.
In recent years, JPMorgan has developed a rather strong reputation for reliable management and exceptional earnings. CEO Jamie Dimon made the Institutional Investor's "top CEO list" for three consecutive years (2008-2011). He has been regarded by many as one of the few "good" management forces on Wall Street, in stark contrast to Lloyd Blankfein for instance.
In a recent letter to shareholders, Dimon encouraged shareholders with eight major reasons to buy JPMorgan stock (which Forbes author Robert Lenzner summarized nicely).
I will only copy the first and third point:
1. You would want to own the stock because "many of our assets would sell at a substantial premium to what currently is on our books; e.g., credit card loans, consumer branches and others," Dimon writes. " And certainly, most of our businesses, if we sold them whole, would sell at a substantial premium to tangible book value."

3. You would want to own JPM shares because this excess capital will allow the bank to buy back $10 billion of stock a year for three years at tangible book value.(today about $33.00 a share.) Under this assumption, Dimon claims that "not only would earnings per share be 20% higher than they otherwise would have been, but tangible book value would be 15% higher than it otherwise would have been … So you can assume that we are a buyer in size around tangible book value."
Essentially, these two points are music to a value investor's ears. The asset pool is undervalued (indicating a higher net worth than the market is pricing in), and the bank's excess capital could (and would?) be used for massive share repurchases, especially at tangible book value which is approximately $33/share.
Sounds like a win-win to me. The bank is supposedly worth more than it actually is, and the bank will likely pump shares through repurchasing programs. As long as the revenue stays solid, what could possibly ruin this?
You know the answer: A massive unexpected loss at the trading desks.
I've realized that a $2 billion loss itself isn't that significant, especially given the sheer size of JPMorgan's balance sheet (>$2 trillion in assets). The psychological aspect is far worse. In addition, the bank's recent suspension of the share repurchase program has probably raised quite a few red flags.
Considering that about two months ago Dimon was so gung-ho about the share repurchase program, only to reverse the decision now (at tangible book value, which was supposed to be the "definite repurchase level") does raise my suspicions. In a recent investor conference covered by Bloomberg, Dimon blames Basel III regulations.
Something is quite little fishy about that, because I think that between all the bright minds working at the bank someone could have spotted this regulatory hurdle when the bank announced its decision to spend $15 billion repurchasing shares. Ed Najarian of the research firm International Strategy & Investment Group was reported to guess that this decision originated from the Federal Reserve.
Whether or not the ~$33/share floor (where the tangible book value of the company roughly equates to the market cap) will hold is mostly dependent on market sentiment at this point. Fundamentally, a company needs to be in significant distress for the stock to be worth less than the company. This isn't the case with JPMorgan (yet).
Despite this positive spin, I couldn't recommend buying shares (although shorting them doesn't look favorable either). The damage to the bank's reputation will take time to heal, and having a significant stake in JPM would be downright stressful. JP Morgan's traders have already stepped on one landmine, who knows if there are more hidden in the months ahead? In addition, how can we trust the earnings numbers if the bank has the capacity (and incentive) to inflate them with asset sales?
Maybe you should stay on the sidelines this time, and don't get too enticed by the bank's increasingly large dividend. There are many other stocks that have fallen quite far.
Disclosure: I have no positions in any stocks mentioned, and no plans to initiate any positions within the next 72 hours.