When I first introduced Seeking Alpha readers to My Mad Method for picking stocks from my watchlist to make my next purchases, I got a lot of great feedback in the comments and in messages folks sent to me. A number of people asked how one might adjust, or "weight" a metric for a company when that metric doesn't apply as well to that company or its industry as it does to the rest of the watchlist, so that company isn't unfairly penalized by having a weak showing in that metric. While compiling data for a different Seeking Alpha article this weekend, I came upon the need to do something similar, albeit slightly differently. I will address the issue of weighting a single metric for a single company in a future article, but first and in order to lay the groundwork for that approach, this article will address weighting a given metric across all of the companies that are being evaluated.
Using a Microsoft (NASDAQ:MSFT) Excel spreadsheet, My Mad Method takes (currently) 15 metrics and ranks the 30 companies on my watchlist for each of those metrics, then takes the average of all of those 15 rankings and ranks that resulting value, generating a "Combined Rank" number for each company. In each case the lower the rank the better, just as in scoring your golf game. I recently sold some securities that were underperforming, and turned to my spreadsheet to try to decide where to reinvest some or all of those funds. One of my investing goals is to hold positions in companies that have high, sustainable dividend yields, but are somewhat underpriced when I buy into them. With this round of capital, I wanted to boost the overall average yield of my portfolio by adding one or more companies that have exceptionally high yields, yet still rank well in terms of My Mad Method overall.
Here are the companies currently on my watchlist sorted by their combined My Mad Method ranking ("MMM Comb Rank"), and including their yield and Yield Rank as of Friday, May 25th, 2012.
MMM Comb Rank

Yield

Company

Ticker

Yield

Rank

1

Alliance Resource Partners, L.P.

(NASDAQ:ARLP)

6.950%

10

1

Medtronic

(NYSE:MDT)

2.630%

25

3

Ebix, Inc.

(NASDAQ:EBIX)

1.115%

27

4

Arch Coal

(NYSE:ACI)

6.086%

12

5

Johnson & Johnson

(NYSE:JNJ)

3.903%

18

6

Main Street Capital Corp

(NYSE:MAIN)

7.213%

9

7

Chevron Corp

(NYSE:CVX)

3.642%

19

8

Wells Fargo & Co

(NYSE:WFC)

2.762%

23

9

Hatteras Financial

(NYSE:HTS)

12.491%

4

10

General Electric Company

(NYSE:GE)

3.542%

21

11

Hasbro, Inc.

(NASDAQ:HAS)

4.125%

15

11

MAKO Surgical

(NASDAQ:MAKO)

0.000%

28

13

Annaly Capital Mgmt

(NYSE:NLY)

13.174%

3

13

National Presto Industries

(NYSE:NPK)

9.080%

7

15

Google

(NASDAQ:GOOG)

0.000%

28

16

France Telecom

(FTE)

13.713%

2

17

Nokia

(NYSE:NOK)

6.383%

11

17

SeaDrill, Ltd.

(NYSE:SDRL)

9.135%

6

19

Compass Minerals Int'l, Inc

(NYSE:CMP)

2.720%

24

20

MV Oil Trust

(NYSE:MVO)

11.293%

5

21

Lockheed Martin Corp

(NYSE:LMT)

4.836%

13

22

Proctor & Gamble

(NYSE:PG)

3.601%

20

23

National Grid, plc

(NYSE:NGG)

4.082%

16

24

Clorox

(NYSE:CLX)

3.449%

22

25

Ford Motor Company

(NYSE:F)

1.887%

26

26

Mattel, Inc.

(NASDAQ:MAT)

3.967%

17

27

Westport Innovations

(NASDAQ:WPRT)

0.000%

28

28

Cheniere Energy Partners, L.P.

(NYSEMKT:CQP)

7.343%

8

29

Waste Management

(NYSE:WM)

4.308%

14

30

Apollo Residential Mortgage

(NYSE:AMTG)

15.957%

1
Looking at the watchlist, the same old companies were still at the top, most of which I'd already recently invested in. Since I wanted to see those companies with higher yields make a better showing on the watchlist, I decided to apply a multiplier to the "Yield Rank," which ranks the yield metric of all of the stocks on the watchlist.
However, I still wanted to see what my unmodified overall Ranking would be so that I could compare that to the new "weighted" ranking, so in the results tables in the rest of this article you will see two sets of columns, one for the original My Mad Method Average and Rank, and another set for the Yield Weighted Average and Rank.
Weighting the Metric
To come up with an overall Rank for each company on my watchlist, I first calculate the Average of all 15 of the metrics' Ranks that make up My Mad Method from across the spreadsheet, using a formula in column A that would look something like this, where the column letters represent the columns where each of the 15 metrics are stored, and "n" is the row number of any company in the watchlist (e.g., H7 would be the cell containing the Yield Rank for the first company, H8 would be the Yield Rank for the second company, K7 would be the Payout Ratio Rank for the first company and K8 would be the Payout Ratio Rank for the second company, and so forth across the spreadsheet):
=AVERAGE(Hn, Kn, Mn, Pn, Rn, Tn, Vn, Xn, ABn, Zn, ADn, AFn, AJn, ALn, ANn)
Now, however, I want to skew my Rankings somewhat so that they favor companies that have higher yields. In order to do this, I modified the formula above so that the Yield Rank (calculated in column H) would be increased by a multiplier that I could adjust up and down, which I would be entering in designated cell (in this case, cell H3):
=AVERAGE( (Hn*H$3), Kn, Mn, Pn, Rn, …, ALn, ANn)
I then copied this formula so that all of the companies on my watchlist were using it to calculate their Yield Weighted Average. (Note the dollar sign ("$") before row number 3 of the cell where I'm going to be entering my multiplier; this "anchors" the formula to that cell as you copy it down to all the other rows in the watchlist.) This allowed me to enter a "Weight" in cell H3, which affected the overall Ranking of each company in the watchlist to favor those with higher yields.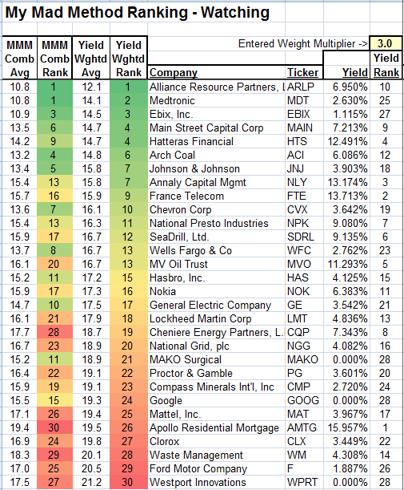 Which Weight to Use?
In the example above, the Entered Weight Multiplier of 3.0 was used to give those companies with higher yields a bit of an edge in the overall ranking. But what does "3.0" mean? It means that the Yield Rank carried 3 times the "weight" of all of the other metrics' Ranks in the new Average. This, however, is a relative value, and not one that I could assign any significant meaning to. I tend to think in terms of percentages, so I made some more modifications to the worksheet. Instead of entering a number by which the Yield Rank was multiplied in the overall Average calculation, I wanted to assign a percentage of additional weight to the Yield Rank vis-à-vis the other metrics' Ranks in the overall Rank, and have that percentage determine the weight multiplier. To do this I formatted cell H2 to contain a percentage value, and then entered the following calculation in cell H3, which is the "anchored" cell by which the Yield Rank is multiplied:
=H2*15
Since there are 15 metrics in My Mad Method currently, multiplying the percentage of additional weight that I want to affect the Yield Rank by the number 15 results in the desired Weight Multiplier in cell H3. Thus I can say, "I want Yield to have 30% more weight than any of the other metrics", and the Weight Multiplier is calculated for me.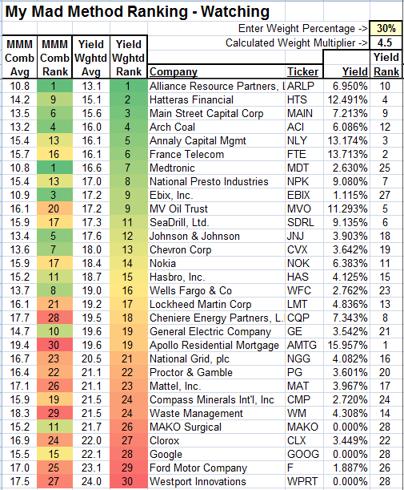 Decision Time
Now I can get down to business and decide where I'm going to allocate my newly liberated capital. Notice how Apollo Residential Mortgage, which has the highest overall yield in my watchlist, is still not ranked very highly in the overall scheme of things, even though I upped the Yield Rank's Weight Percentage to 30%. These are the kinds of result I was looking for by applying this weighting technique to the Yield Rank; there's something fundamentally "wrong" with AMTG in terms of what I'm looking for in a company in which to invest besides having a whopping dividend. The new Top Four, on the other hand, look very promising.
I recently initiated a small position in Alliance Resource Partners, but looking at these results I'm leaning in favor of applying a bit more capital to that position. I still like its prospects and am bullish on coal from a global perspective.
I like the high yields that mREITs are seeing these days, but already have a significant position in Annaly Capital Management, so if I want to expand my exposure to this asset class (and I do), it looks like now might be the time to get into Hatteras Financial, which moved up from 9th place to 2nd place with the 30% weighting of all Yield Ranks. However, its current price is very close to its 52-week high, so I'm either going to have to wait for a pullback on HTS or just place a good-until-cancelled, or GTC, limit order at a price I'd be happier with than its current per share price, which is pushing $29.00.
I also like what I see in Main Street Capital, and with this 30% weighting of yield in My Mad Method it has moved up into 3rd place in my overall ranking from its original 6th place. Its current price is still "Too High", based on its 52-week high and low, so a GTC limit order and patience for a pullback are necessary here as well.
I've recently written three different cash-secured puts for Arch Coal to give myself a decent cost basis should I get assigned those shares in June, but it looks like there's room for a bit more of ACI if I have the cash left over after considering these other three. If so, I'll take the same approach and write another June put at either the $8.00 or $7.00 strike, depending on what kind of premium I can get for either of them.
I hope this helps expand your possibilities of using something akin to My Mad Method, and gives you an idea of how you can adjust one (or even all) of the metrics in your own method to give it a bit more importance over your other metrics.
Disclosure: I am long ARLP, F, JNJ, MAKO, MDT, MSFT, NLY, NOK, NPK, SDRL.
Disclaimer: I am not a professional investment advisor or financial analyst; I'm just a guy who likes to crunch numbers and can make an Excel spreadsheet do pretty much whatever I want it to do, and I'm doing my best to manage my own portfolio. This article is in no way an endorsement of any of the stocks discussed in it, and as always, you need to do your own research and due diligence before you decide to trade any securities or other products.