Building A DIY Dividend Portfolio
We are almost completed with our 9-part series highlighting our top-ranked dividend stocks within each of the sectors below (see links for previous articles):
Our goal is to provide fellow investors with a diversified pool of high-quality dividend stocks that we feel have the potential to be a core holding in your DIY Dividend Portfolio.
Top-Rated Stocks Currently in the "Buy Zone"
As you know, we not only screen for high-quality stocks using our rating system, we also highlight low-risk entry points for you to consider when making your investment decisions. We call these entry points our "Buy Zones" and they are points at which long-term dividend investors should feel comfortable starting to build a position in the respective stocks.
That said, after the market sell-off this week, many of our top-rated stocks are now in their respective "Buy Zones". While we believe these stocks could fall even further, we think that now is a good time to start building a position. Investors should consider buying some now and adding more if the stocks dip even lower.
Below is a list of eight of our top-rated stocks that are now in their respective "Buy Zones". Note that our composite rating ranges from 0 (lowest) to 99 (highest).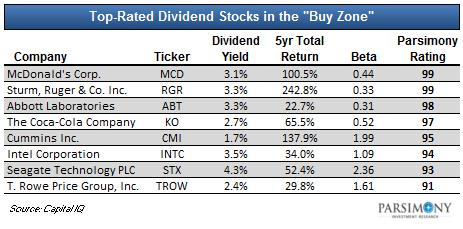 On average, these stocks have a current dividend yield over 3.0%, which is almost twice that of a 10-year Treasury Note. There is a good mix of low beta and high beta stocks on the list. Since we all don't have the same risk tolerance, investors should take this into account when considering which of these stocks to purchase for their own DIY Dividend Portfolio.
As shown in the table below, many of these stocks have relatively high sub-ratings as well. Most have a rating over 90 in at least 2 of the 5 categories.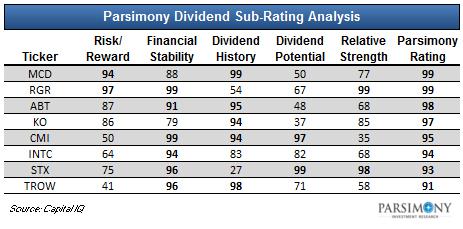 Here are the current prices (intraday on 6/1/12) and the respective "Buy Zones" for the stocks above. We encourage you to review all of the "Buy Zone" articles in our current series for detailed graphs and commentary for each of the stocks below.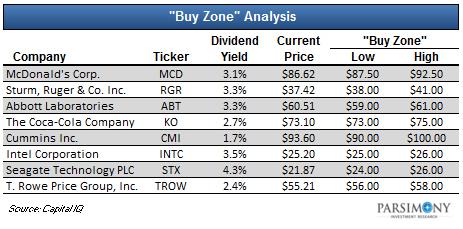 Clearly, some of these stocks are currently trading below the low end of our "Buy Zone" range, including McDonalds (NYSE:MCD), Sturm Ruger (NYSE:RGR), Seagate Technology (NASDAQ:STX) and T. Rowe Price (NASDAQ:TROW). This doesn't necessarily mean that they represent a "stronger" buy compared to the other stocks. It just means the stocks were a little more volatile recently than we expected.
That said, we view all of these stocks as great candidates for your DIY Dividend Portfolio and encourage investors to do some of their own diligence on the stocks they are interested in before they pull the trigger. Have patience with your entry points the next few weeks as the markets are likely to remain volatile.
In full disclosure, we pulled the trigger ourselves today on several of these stocks, including McDonalds, Abbott Laboratories (NYSE:ABT), Coca-Cola (NYSE:KO), Cummins (NYSE:CMI), and Intel (NASDAQ:INTC).