Graphics chipmaker Nvidia Corp. (NASDAQ:NVDA) said Tuesday it would acquire Ageia Technologies Corp., which makes software that drives the physics of video games.
No terms were announced, but it is likely that Ageia's venture backers got a decent exit. Rumor has it that Advanced Micro Devices Inc. (NASDAQ:AMD) made a $150 million offer to acquire the startup last year, though it's unclear why that deal didn't happen.
Founded in 2002, Ageia has raised money from Apex Venture Partners, BA Venture Partners, HIG Ventures, Granite Global Ventures, CID Equity Partners and VentureTech Alliance. The company's technology is used in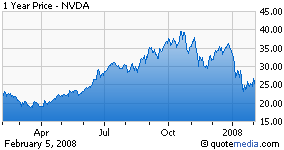 Sony Corp.'s (NYSE:SNE) PlayStation 3, Microsoft Corp.'s (NASDAQ:MSFT) Xbox 360 and Nintendo Co. Ltd.'s (OTCPK:NTDOY) Wii.
The deal might leave AMD with some regrets, as now two of its biggest rivals -- Nvidia and Intel Corp. (NASDAQ:INTC) -- now own gaming physics technology. Intel last year acquired Dublin-based Havok for $110 million. Prior to that deal, the Dublin-based startup had been working with AMD and Nvidia on physics technology. - Olaf de Senerpont Domis