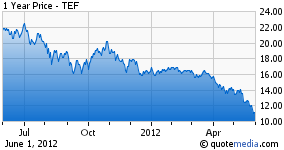 Telefonica S.A. (NYSE:TEF) has been in the news quite a bit lately as the stock has been plummeting along with most other Spanish securities. The stock's 52 week high was $24.82 and at a current price of $11.07 the company has a market cap of around $51 billion. European telecom companies are being valued as though their balance sheets are riddled with Greek sovereign debt, instead of being the steady cash flow producers that their past financial statements show them to be. Since 2006 Telefonica has averaged in excess of $8 billion euros in free cash flow, meaning at the current valuation you are able to buy the company with a 15.6% normalized free cash flow yield. An intense competitive landscape and short-term revenue decline in Europe is masking strong growth and increasing future cash flows in Latin America.
Telecom companies have similar traits to utilities in that they require significant capital expenditures, but history has proven that the larger companies tend to be able to increase revenue at a rate greater than inflation. This defensive nature has not protected European telecoms from the blood bath that their shareholders have been experiencing, due to concerns that the slowdown in usage and increased competition will be permanent. I think it is likely that these concerns are misguided and when Europe finally does get past the current crisis, mobile usage will pick up due to the increasing market penetration of smart phones, and pricing should normalize as weaker competitors find themselves flushed out of the market. Companies such as Telefonica and France Telecom (FTE) are large components of their respective stock indices so I think that part of the share declines are related to bets on the overall market as opposed to business fundamentals, which offers a time arbitrage opportunity for the patient investor.
To combat the more promotional market environment which has resulted in increasing churn, Telefonica is adjusting its pricing and focusing on its bundle penetration. This has been a reasonably successful strategy in other competitive markets so I see no reason why the company can't at least stabilize their European operations. The company making progress in increasing commercial market share where there is less price sensitivity. A 20% headcount reduction will also lower costs protecting cash flows.
In Latin America, Telefonica battles with American Movil S.A.B. de C.V. (NYSE:AMX) as the best coverage provider in the region, and they are growing market share in mobile access and broadband. In Brazil TEF is gaining operating leverage with year over year revenue growth of 5.1%, and free cash flow growth of 43%. Latin America accounts for roughly 50% of Telefonica's revenue and nearly 60% of operating income. Because the majority of CAPEX has been spent in Latin America over the last several years, free cash flow should continue to accelerate and these funds should help reduce debt and pay the dividend.
Recently Telefonica has announced a catalyst which should close the discount between market price and intrinsic value. The company may look to IPO their German and Latin American businesses. Ultimately this should highlight the fact that the sum of the parts is worth much more than the current valuation of the business. In addition the company is tackling its debt by selling non-core stakes such as its operations in Colombia.
Telefonica affirmed that they will be paying a .40/Euro per share dividend in November of 2012, .90/Euro per share scrip dividend in May 2013, and they are planning a .20/share buyback to be completed by May 2013. The scrip dividend seems unnecessary to me but I am happy that the company is using the cash savings to reduce the debt load. By year end the company expected net financial debt/oibda to be less than 2.35x. I don't buy securities based on dividend yields but instead I prefer free cash flow and sound capital allocation. On this front I was extremely disappointed when the company found itself in a bidding war over Portugal Telecom's (NYSE:PT) stake in Vivo, its Brazilian wireless unit. By paying top dollar and adding to the already large debt load, Telefonica has reduced their financial flexibility during this buyer's market in the telecom industry.
(Click to enlarge)

Net Income was down significantly in 2011 as increased handset subsidies and personnel costs hurt margins.
(Click to enlarge)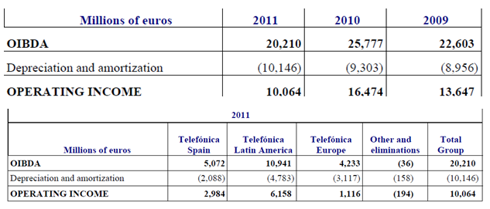 Operating Income was down correspondingly but the company saw tremendous profit growth in Latin America, and this trend should continue over the next several years. I think it would only be a slight overstatement for a case to be made that Telefonica's current market capitalization only reflects the intrinsic value of the Latin American operations, meaning you are getting the European operations for free. Even if you were to use 2011's net income of $6.1 billion euros as a normalized figure, which would be a gross understatement, the earnings yield would still be greater than 12%. I believe that in the near future the company could earn $8-10 billion without a significant recovery in Europe making the opportunity that much more attractive.
European telecoms and Telefonica in particular should be a core long term holding for income investors at these levels. There will certainly be risk from dividends being cut to adjust for the decreased share prices and the need to cut debt, but looking 3-5 years out the present value of future cash flows are extremely attractive. I think 10-15% compounded total returns are a reasonable expectation, and I'd encourage an aggressive dollar cost averaging program because volatility is to be expected.
Disclosure: I am long TEF.