At the end of August, 2010, the Federal Reserve telegraphed the imminent arrival of a second phase of quantitative easing or QE2. The U.S. dollar index sold off for over eight months before finding a bottom at the beginning of 2011′s version of euro-panic. Today, U.S. nonfarm payrolls greatly disappointed markets and quickly put the dollar into general disfavor the rest of the day. Even the oversold euro rallied against the U.S. dollar . Interestingly, the dollar index peaked today almost exactly where it peaked ahead of the Fed's communique on QE2. When discussing buying points for commodity-related stocks, I have called this point the QE2 reference price. While I expected commodities to eventually lose their post-QE2 gains, I never once thought abut the U.S. dollar recovering all its post-QE2 losses.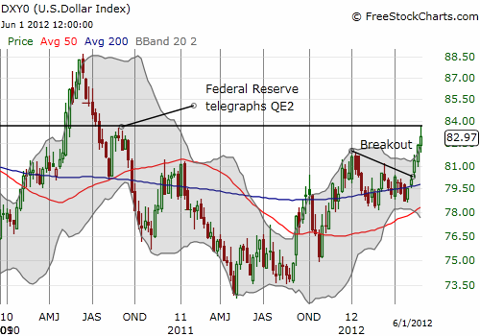 The U.S. dollar index has finally returned to its QE2 price
Source: FreeStockCharts.com
For anyone speculating on QE3, this "coincidence" is yet one more clue. Surely, the U.S. dollar has gotten uncomfortably high for the Federal Reserve in its quest to maintain accomodative monetary policy. Moreover, there is evidence that soaring demand for the U.S. dollar to-date is causing a tightening of monetary conditions (see "Dollar Scarce as Top-Quality Assets Shrink 42%" from Bloomberg). I have all the more reason to like adding to gold (NYSEARCA:GLD) and silver (NYSEARCA:SLV) positions on dips from this point forward (see "As Gold And Silver Reawaken, It's Time To Buy Especially Cheap Miners" for my latest gold and silver commentary).
Be careful out there!