Paper losses can mentally derail an investor's best designed investment plan. Portfolio management cannot negate investor emotions. I believe a portfolio should be designed to withstand a black swan event. I initially analyze my portfolio with an eye on risk. Secondly the portfolio allocation is chosen. If my portfolio can withstand the catastrophic downturns, then I can opportunistically take advantage of inexpensive stocks. I'll look at key asset classes within my portfolio.
Bond Holdings
Treasury Bonds have been a top performer for a few years. As Treasury Bond yields decrease, the bonds gain value.

Friday's close, per the above image, shows the 10 year Treasury Bond at 1.47%. This signifies money is flowing into Treasury Bonds and away from perceived risky investments. Money is flowing out of high corporate rate bond funds, such as iShares iBoxx $ High Yield Corporate Bond (NYSEARCA:HYG), and into Treasury securities.
iShares iBoxx $ High Yield Corporate Bond fund owned corporate bonds with less than stellar bond ratings. The fund has 604 positions. These are publicly traded companies such as Sprint Nextel (NYSE:S). The iShares iBoxx $ High Yield Corporate Bond fund offers an annual 7.25% yield. Preservation of capital is the reason for the move into Treasury securities.
I do not own any Treasury Bond positions.
Equity Positions
My agency mortgage real estate investment trusts (mREIT) offer a high dividend yield. The mREITs own securities implicitly backed by the U.S. Federal government. CYS Investments (NYSE:CYS) is an agency mREIT with a 14.8% dividend yield.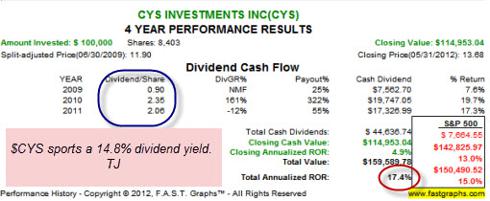 Per the above chart, CYS Investments has provided an annual 17.4% return since June 30, 2009. This assumes dividends are not reinvested.
I am selectively buying high yielding master limited partnerships (MLP). Linn Energy, LLC (LINE) offers a 9% distribution yield. The limited liability corporation, however, did fall to the mid teens in late 2008. I am hedging MLP positions to prevent significant downside risk. Linn Energy has almost all of 2012 - 2015 production hedged higher than current market prices. This will ensure the free cash flow exists to pay the 9% yield.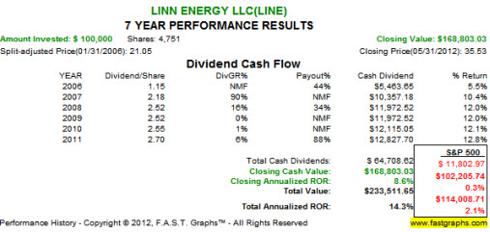 My goal is to add to and establish positions in any high quality position such as Coca-Cola (NYSE:KO). Coca-Cola offers a 2.7% dividend yield. Their products retain number one standings around the globe. The shareholder base is strong with Warren Buffett's involvement and Carl Icahn.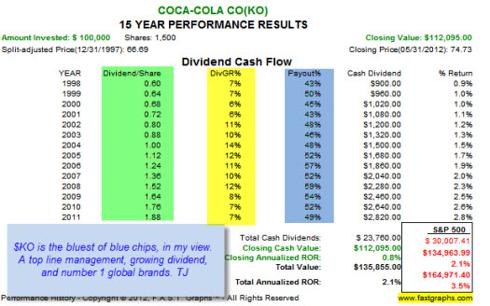 I want to keep adding to Coca-Cola due to their stability, market share, credit rating, and increasing dividends.
Equity Hedges
The majority of my holdings are hedged to protect the downside. Hedging solutions include fairly easy to use collar options. The protective puts offer protection when stocks fall.
Bargain Shopping
I believe American Capital, Ltd. (NASDAQ:ACAS) is a bargain. I am scooping up shares as my dividends from other investments flow in. This 2008 monster of the midway business development corporation (BDC) has increasing value.
American Capital is a prominent financial firm specializing in management and employee buyouts, mezzanine, acquisition, recapitalization, and middle market investments.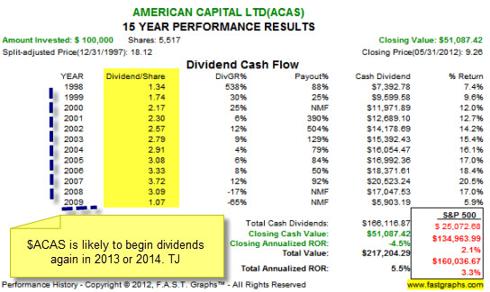 American Capital founded American Capital Agency (NASDAQ:AGNC) and American Capital Mortgage (NASDAQ:MTGE). American Capital earns a percentage fee, every quarter, on these two mREITs shareholder equities. The two mREITs are run by Gary Kain.

The company was crushed in 2008 by over leverage in the BDC space. The equity is making cost cutting and improvements in hopes of returning to its glory days. The 1st quarter book value per share was $15.71. The stock is trading at 56% of book value. Management has aggressively bought back shares to increase the book value per share.
Cash
The Euro crisis remains on investors' minds. Per the CMA Datavision, here is look at the riskiest sovereign debt nations: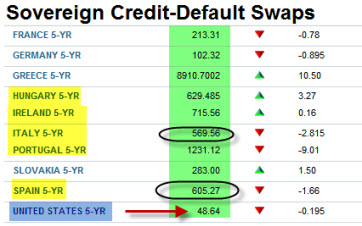 When investors extract money out of Spain, the funds often flow to the U.S. Treasury market. Per the credit default swap table, the U.S. has the lowest fee to insure $10 million for 5 years.
I retain approximately 10% of my portfolio in cash. Ideally this will allow for bargain shopping on high yielding stock names.
Summary
The markets appear to be in a turbulent time. This does not mean investors have to sell their equity positions. Effective hedging and stock limit orders can prevent significant portfolio damage. In the difficult markets, there should be adequate opportunities to establish positions in stocks with high dividend yields and room for capital expansion.