As many of my readers know, I have been following the plight of the Royal Bank of Scotland (NYSE:RBS) since the bank imploded. During this time, I have been recommending the preferred stock as the best way to invest in this name (latest articles here, here and here). Over the last month or so, many readers have read my articles advocating the investment in Banco Santander's (STD) preferred stock and equity (here and here).
I have been asked why I recommend Santander's common equity but not RBS' common equity. The answer to this is really quite simple: I think RBS's common is likely dead money for the foreseeable future. Unlike Santander, RBS is more focused in their footprint, has larger investment banking exposure and still has plenty of wood to chop to get their house in order.
Perhaps it is best put by the bank's current chairman, Sir Philip Hampton:
Sir Philip Hampton said investors who owned RBS shares before its £45.5bn bailout in October 2008 were likely to be dead before the bank's value recovered to anything close to its pre-crisis level.

"I don't think shareholders wealth is likely to be restored any time in my lifetime or some lifetimes beyond," said Sir Philip, who was brought in as the bank's chairman in January 2009.

"Many thousands of shareholders lost an awful lot of money. We've still got a lot of baggage to clear up, which will be difficult," he said.
Similar to Citigroup, the bank has announced a 1:10 reverse split in order to reduce the number of shares outstanding (and potentially make it more attractive to institutional investors) and to reduce the volatility of the shares:
At the Group's AGM on Wednesday 30th May 2012, resolutions were approved to sub-divide and consolidate the Group's ordinary shares. On completion of the sub-division and consolidation, the nominal value of the Group's new ordinary shares will be 100p and RBS shareholders will receive one new ordinary share for every ten existing ordinary shares. Dealing in the new ordinary shares is expected to commence on the 6th June 2012.
and the volatility:
The Group currently has a very large number of ordinary shares in issue. This means that a small movement in the share price can result in large percentage movements and considerable volatility in the Group's shares. The Board believes that the sub-division and consolidation will result in a share price and nominal value more appropriate for a company of the Group's size in the UK market and may assist in reducing volatility, thereby enabling a more consistent valuation of the Group.
(Shareholder proposal here)
The bank is, however, making progress, and should they continue exceeding their plan targets and refocus the bank on a sustainable business and funding model, there will be opportunity in the common equity.
Royal Bank of Scotland has reduced the size of their balance sheet, reducing their non-core portfolio risks as well as their legacy risks.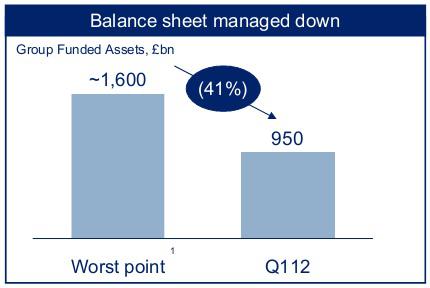 The group has also increased their capital levels from what was a very undercapitalized level at the height of the financial excess period.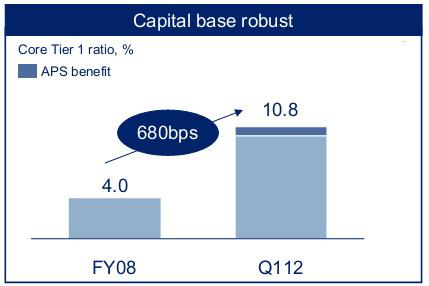 The bank has been restructuring the revenue profile, placing emphasis on the retail and commercial (R&C) lines of business rather than the global banking and markets (GBM).

But while I see improvement in the bank's risk profile and a decided move to financial and capital sustainability, I am also very cognizant of their geographic concentration.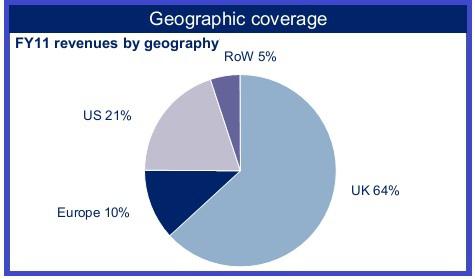 Ultimately, the bank is better positioning itself but within weak markets. Until these markets recover, the bank will not be able to realize the full potential return on it dominant UK and competitive European businesses.
The headwinds I see in the common equity are:
Higher funding costs than global peers,
Limited growth in primary geographic areas,
Volatile and decreasing desire for their non-core risk assets, and
Increased capital requirements and "better" required capital instruments for Basel III.
Until we can get past the headwinds mentioned above, I believe we will continue to see a stock price chart that looks like the following: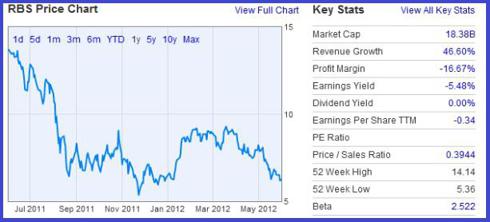 Bottom Line: While Royal Bank of Scotland has been de-risking its business and its balance sheet, the headwinds facing the bank at the present time and its geographic concentration do not create an attractive entry point into the common equity of the bank. Investors who would like to position this continuing turnaround story would be better off investing in the preferred stock of the bank as there is still capital appreciation upside and an attractive yield.
Disclosure: I am long RBS. My long positions in RBS are in the preferred stocks of the bank, notably RBS-L, NW-C, RBS-H and RBS-S.
Additional disclosure: This article is for informational purposes only, it is not a recommendation to buy or sell any security and is strictly the opinion of Rubicon Associates LLC. Every investor is strongly encouraged to do their own research prior to investing.