A couple months back I wrote about how McDonald's' (NYSE:MCD) Monopoly game was driving significant traffic to McDonald's' corporate site and creating great exposure for the McDonald's brand. As a result I have been deemed Compete's guru of fast food online traffic. Web traffic during the month of December tells another interesting story. In December, Burger King (BKC-OLD) launched an ad campaign known as "Whopper Freak Out" in which they told patrons at a Las Vegas restaurant location that they had discontinued their token menu item, the Whopper. Video of these exchanges became part of a major television ad campaign that showed customers becoming extremely upset or freaking out. To host these videos Burger King created a sister site, whopperfreakout.com.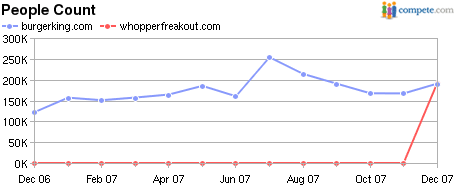 BurgerKing.com has had pretty steady traffic of over the last few years without a great deal of month to month change. Like McDonald's' promotion/campaign, Burger King's was successful at generating additional brand exposure and awareness. In December 2007, traffic to burgerking.com and whopperfreakout.com was nearly identical (therefore the sister site doubled Burger King's online brand exposure). However, unlike the Monopoly game, whopperfreakout.com did not drive much traffic to the corporate site. Only 14,891 people visited both sites in December (only about 8% of burgerking.com's total traffic).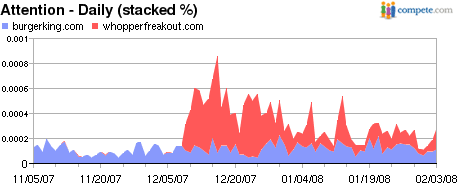 In addition to brand exposure in the form of traffic, whopperfreakout.com was able to generate exposure by holding the attention of its visitors. The average stay at whopperfreakout.com in December was nearly 5 minutes, more than double that of burgerking.com, and as a result produced more attention for the Burger King brand.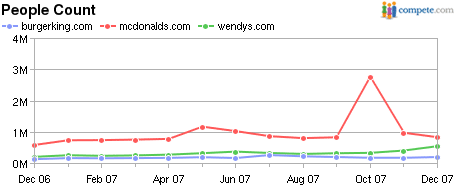 But how does Burger King perform compared to its biggest competitors McDonalds and Wendy's (NYSE:WEN)? Not very well. Traffic to mcdonalds.com is consistently more than double that of Burger King, and Wendy's traffic is consistently greater as well. In fact, traffic to wendys.com in December was greater than the combined traffic of burgerking.com and whopperfreakout.com. While the Whopper Freak Out campaign may have been a success for Burger King in terms of its own online exposure, it has a long way to go to catch that of its competitors.