"EAT MOR CHIKIN," my favorite cows from Chick-fil-a say - and now I'm on that bandwagon, too. This month I'm bringing you the sexiest poultry processor you've ever seen, albeit that's not saying much. Sanderson Farms (NASDAQ:SAFM) has an experienced management team, a growing business in a growing market, a profitable product mix, a rock solid balance sheet and an income statement minting cash.
Alright already, enough with the small talk, where is the catalyst for minting a lowly share holder a few bucks?
Average tenure of management is 20 years
14% average revenue growth since 2000
$214 million in Capital improvement projects over the last 3 years
A new poultry processing plant in Waco TX that will have another 1.25M (17% increase) chickens crossing the road each week.
Out of favor company combined with a general market turn down is presenting us with a quality undervalued company at today's prices
Historically lower price to value ratios at today's prices
So how many bucks can I make?
Discounted Cash Flow
Assumptions:
Free cash flow (using average free cash flow since 2002 and average maintenance expenditures since 2002 = 69.1M – 25M = 44.1M) I am using a longer running average given how cyclical the business can be. If I were to use 07 free cash flow minus maintenance expenditures of 74.1M the margin of safety would be even better.
14% annual growth for 10 years (roughly a conservative average of the last 10 years)
3.5% terminal annual growth (who know maybe people stop eating chicken and the company breaks away from 60 years of growth)
Current stock price (33.47)
Shares outstanding (20.2M)
Discount Rate 12% (What the stock market would return on average)
Given these assumptions, if I were to "guess" or work backwards to the share price I would want to pay no more than $57.12; and if I can buy at yesterday's price of $33.47, I would be buying at a 40% discount.
And that means how many bucks?
Owner Earnings, Hypothetical Growth Rate, and Implied Stock Prices
Assumptions:
I am figuring the maintenance portion of capital expenditures only when figuring owner earnings. The Company estimates 25 million a year.
2007 Owner Earnings – I estimated 74 million per year (free cash flow minus maintenance capital expenditures 99M-25M)
I am estimating 2007 owner earnings of 74 million and assuming that the market will bare 9X owner earnings at the low side and 12X on the high side based on historical ratios.

Company History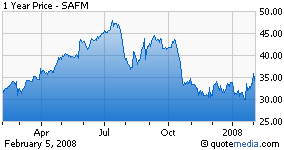 Sanderson Farms is a poultry processing company engaging in the production (hatching, feed manufacturing, and raising of chickens), processing, marketing and distribution of fresh and frozen chicken products. In between its humble beginnings as a general feed and seed store and becoming the fourth largest chicken producer in the nation is a history of a father and his two sons as its founders, owners and executives. The father, D.R. Sanderson, otherwise known as "Mr. Bob," had first operated a grocery store in Hazlehurst, Mississippi then the feed and seed business which then evolved into poultry producer and by 1955 Sanderson Brothers Farms was founded and eventually went public in 1987. The folksy feel of the company is further reassured when it seems every other word in describing this company through its annual reports, interviews by the founders, and articles by others about the company are myriad in such phrases as honesty and integrity, protestant family heritage and values, strong work ethic, and fiscal conservatism – imagine that being the recipe for growth?
Products
Revenue is generated through its deep yet nimble product line ranging from the simple chill or ice pack, which is your basic raw whole or part chicken in the Styrofoam and cellophane packaging that you see in your every day grocer, to a line of further processed value added food items that include frozen entrees like dumplings and lasagna. The company has historically tended to move towards more value added processing which increases margins and typically carries less price volatility. In smoothing out earnings and increasing profit margins, the company has given greater focus on value added products that include cutting, deep chilling, packaging and labeling the product before being sold. The company's customers include major grocers like Safeway and Kroger's, distributors, national food services accounts, and other various retailers.
Production and Facilities
The company's chicken operations are vertically integrated and presently encompass 7 hatcheries, 6 feed mills and 8 processing plants and contracts with approximately 528 grow-out farms and 173 breeder farms. The process begins in the acquisition of six month old breeder chicks known as pullets or cockreals from one of 44 pullet farm operators. These chicks become the quintessential gooses laying golden eggs and are transported to one of 129 independent contractors that the company oversees. Eggs produced by the independent contract breeders are transported to one of the company's seven different hatcheries where they will be incubated and hatched in about 21 days. The chicks will be grown out on one of its 528 farms to an age of 7 to 9 weeks and will eat 2.6m tons of feed per year from 6 different feed mills. Alas, once the chicks reach 'the end' they are 'processed.' (I am not a vegetarian. I love chicken, but I'm starting to feel why a poultry producer might be out of favor.) The processing plants, located throughout the south and southwest, are capable of processing 6,875,000 'heads' a week while a new plant in Waco, TX will bring full capacity up to 8,125,000 'heads' a week by the summer of 2008.
Market
The poultry business and the company's profits are often cyclical, squeezed between what goes into a chicken, feed, and what a chicken sells for, both of which are commodities. Market prices for corn and soybean are forever on the rise as an already well fed American baseline of consumption is having ethanol for our gas guzzlers and consumption needs of other developing countries added to the aggregate demand driving prices still higher. Chicken prices in 2007 and expectations for 2008 are slightly above five year averages as quoted by the Georgia dock chicken price market (a part of the formula the company uses to set prices). This is due to increases in demand, higher feed prices driving costs, and less supply as chicken producers often show reluctance to build new plants given the cyclical nature of the markets. On balance, the company's feed cost vs. chicken pricing power could be characterized as better than fair over recent quarters and trending better.
Management
Sanderson Farms was founded by D.R. Sanderson and his sons Dewey and Joe Frank. The company has been tilled from its roots in the 40s as a grocer, vegetable business, and hatchery to a premier national poultry producer and with its family values, strong work ethic, honesty, integrity, and protestant heritage instilled from the top - it's built to last. Tenure is not only synonymous with the founders, but the company's officers and directors as well considering the average length of service to the company is over 20 years. The company remains in the hands of family; Joe F. Sanderson junior (one of the brother's sons) is the Chairman and CEO and owns roughly 5% of the company or nearly 30M worth. The remaining 5% of insider holdings is held mainly by other Sanderson family members and corporate executives. Shareholder dilution is minimal and options are granted based only on specific performance requirements. The company is hardly a take over target by the big boys Pilgrim Pride (NYSE:PPC) or Tyson's (NYSE:TSN) because of the "poison pill," a mark of family involvement and a board focused on long term share holder value. Given insider ownership, the company's history, and strong management I am confident share holder value will be well looked after.
The Financials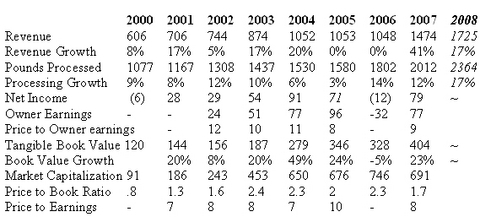 Market Capitalization: 680M
Price to Earnings: 8.6
Tangible Book Value: 1.67
52 week High: $47.93
52 week low: $27.80
Long term debt: $97M
Current price: $33.47
Risks
Commodity prices – The poultry industry is materially affected by commodity prices where high feed prices and low chicken prices may subject the company to losses. Feed prices will be affected most directly by corn and soy bean prices along with weather patterns, global supply inventories, currency fluctuations, agricultural policies, US and foreign governmental policies, and yes now even big SUVs make corn and soy bean prices higher. Prices for chicken are pegged to commodity chicken prices so that if costs such as feed rise it does not always translate into higher revenue per pound processed. The company is making efforts to reduce the commodity risk by contracts for feed in advance and further market value added products with higher and more consistent margins. However, the best defense is their conservative balance sheet along with 60 years of experience weathering the seasons of the market.
Avian Diseases, product contamination, product liability, and product recalls – Outbreaks of avian diseases, most notably H5N1, product contaminations, product recalls will occur and if outside of Sanderson Farms will reduce demand and if it were to happen to Sanderson Farms would be painful. The company takes steps to ensure the health of their products and various insurances are also in place to mitigate damages.
Export Markets – The company exports 165 million or nearly 10% of revenue to Russia, former Soviet countries, China, Mexico and other countries. Product recalls, embargos, quotas or other impairments to US exports could cause over supply in the US and price declines.
Opportunities
Waco, TX. Chicken Processing plant - During fiscal 2006, the Company announced the construction of a new poultry complex in Waco, Texas. The completed complex consists of an expansion of the feed mill in Robertson County, Texas, hatchery, processing plant and wastewater treatment facility, and will process 1.25 million head per week at full capacity representing an additional 18% heads per week capacity. Operations at the new Waco, Texas complex began during August 2007 and will reach full capacity during the summer of 2008.
Value Added Marketing Strategy - Since 1997, the Company has also changed its marketing strategy to move away from the small bird markets serving primarily the fast food markets and into the retail and big bird deboning markets serving the retail and food service industries. This market shift has resulted in larger average bird weights of the chickens processed by the Company, and has substantially increased the number of pounds processed by the Company. In addition, the Registrant continually evaluates internal and external expansion opportunities to continue its growth in poultry and/or related food products.
Favorable Commodity Prices – Just as high feed prices and low chicken prices subject the company to losses high feed prices and still higher chick prices subject the company to profits. Grain prices have risen over recently years, but prices are being passed through industry wide. Sanderson profits in the last quarter of 2007 are up over higher chicken prices, Tyson foods have "no other choice but to raise prices substantially" in their most recent Q4 07 comments in regards the 2008 poultry market. Recession or not chicken is a staple of the American diet and people have to eat.
Seeing through the inevitable cycles, Joe Sanderson commented in the most recent transcript that, "fundamental rules of supply and demand and economics will work to maintain industry profitability over the long-term, we recognize that short-term swings are inevitable. However, we will manage our company as we always do which is the same goal regardless of where we are in the chicken cycle. As Lampkin said, our goal will be to operate at the top of the industry and to remain a low cost producer of quality chicken products during fiscal 2008."
Conclusion
Sanderson Farms is well positioned for long term consistent market beating growth.
Disclosure: Author has a long position in SAFM