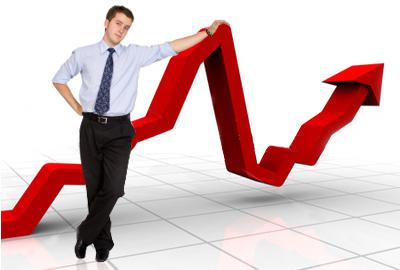 I'm not really certain what that means. Maybe it's the resident cynic in me, but whenever I hear that term I envision the person, in a trenchcoat, winking at me while the words are being uttered.
Now I should admit that I've been shown many charts that were supposed to represent the classic "head and shoulders" pattern or the equally classic "cup and handle," but I never really see what appears to be obvious to everyone else. I can, however, recognize clear trends, as in a three year Apple (NASDAQ:AAPL) chart, as long as you eliminate the past two months.
At the very least, I do feel a bit better knowing that two different highly esteemed and accomplished individuals can look at the same chart and seemingly draw entirely different lines and then draw entirely different conclusions.
Last week, when I offered my weekly guidance for the coming week, I mentioned that I was entering the week on a pessimistic note. That pessimism had me looking at what appeared to be bargains awaiting purchase on this past Tuesday, the first trading day after Memorial Day, but recommending the sale of in the money calls on nearly every one of my selections, as I was anticipating some downside movement.
In fact, the market opened on an upward bias on Tuesday, with only a small number of my selections being priced appropriately enough for recommended purchase. It was, however, a good environment in which to sell covered calls on existing positions. But that changed very quickly on Wednesday and by the end of that trading session I'd sent out Trading Alerts to pull the trigger on eight of twelve of the stocks on my radar screen.
Feeling pretty smug, too, about having the patience to wait and getting what looked like bargain prices and then being able to get good option premiums on the sale of the call contracts.
As a general rule, whenever you feel smug about anything, you're very likely missing the obvious. In hindsight, there must have been some signs that the market was getting ready to behave more like a "Going Out of Business" sale and slashing prices until inventory was moved.
I probably will never set foot on the floor of the New York Stock Exchange, but I have visions of one of those under-employed guys feverishly twirling those big cardboard placards to draw everyone's attention to the sale going on. I'm not quite certain how they would do that at an electronic exchange, as they seem to put all of their energies into making certain that high profile IPOs go off without a hitch.
I doubt that what we witnessed last week was a "Going Out of Business" sale, but a 3% drop in the S&P 500 gets your attention. Although having sold the covered calls and waiting until Wednesday to conclude most of my anticipated trades, my personal fortunes were also impacted, though not as severely. During weeks like this past one, I'm more likely to think of the option premiums as having reduced my cost basis, rather than what I really like, which is making them into my weekly annuity.
Although I'm unable to see trends in their graphic representations, I do depend on trends when purchasing stocks. Specifically, I tend to buy stocks from among a list of what I refer to as my "Old Reliables." They are shares that I've owned before, had sold covered calls upon, only to see them being eventually assigned away from me. Sooner or later, most often sooner, they return to a lower price level making them appealing for repurchase. That kind of trend, or maybe it's a pattern, I can understand.
Again, although I'm really incapable of seeing the trends in all of those lines and curves, I do long for trends and correlations for whatever guidance they can provide.
After a week of pessimism, the market closing down about 280 points on a Friday can send some further chills down spines as the unknown of the weekend can make for some nervous moments. If the trend is your friend on the way up, it can certainly be your enemy on the way down, especially if you've chosen to ignore the trend.
There used to be an old adage regarding not staying long in equities when going into the weekend. I'm not quite certain whatever happened to respect for that expression.
A bit more than a year ago I began tracking the predictive capability of a upside triple digit moves on Fridays. What prompted that curiosity was the observation that fairly often the market had such moves on Fridays, despite uncertainty swirling around Europe. Fridays would have seemed to be the least logical of days to aggressively start buying stocks.
As it turned out, the occurrence of a triple digit positive move on Fridays had no correlation to what happened on the following Monday, neither in direction of move, nor the magnitude.
By the same token, a big Friday sell-off had no predictive power for Monday's trading.
That has changed my mood to one of greater optimism for the coming week, as I assembled this week's anticipated trades and which strike prices to use. This week I'm more inclined to look at the out of the money strike price for calls and in the money or near the money for puts sold.
The fact that Spain's Prime Minister announced his nation's commitment to austerity measures until it emerges from its fiscal crisis, can only be seen as a positive on Monday morning.
Those week's ROI calculations can be seen in a spreadsheet that can be customized for individual needs and price targets. The table shows ROI for "In the Money" and "Out of the Money" options for most positions, as well as showing returns for "Double Dip Dividend" selections, based on whether you get to retain the dividend. It can also be used to track serial option premiums and changing ROIs. The input values are all based upon Friday's closing price and are certainly subject to change at Monday's opening.
In the "Traditional Stock" category, this week I'm looking at Aflac (NYSE:AFL), Halliburton (NYSE:HAL) and DuPont (DD). Halliburton was a repeat from last week and goes ex-dividend on Monday (June 4, 2012), providing a very small bit of solace for a miserable week.
Aflac, unfortunately, only has monthly options and has been battered of late. It is a perennial "Double Dip Dividend" selection, but that has to wait until the July 2012 option cycle. For now, it stands on its own merits. However, at Friday's close of $38.65, I think it may still be a bit too expensive and am, therefore, looking for an opportunity to sell Put contracts. If assigned, then it becomes time to think about adding the dividend into the mix.
DuPont is almost an exact repeat of the Aflac story, except that I'm, ready to add shares, rather than selling puts
On the more speculative side, I continue to stick with recommending MolyCorp (MCP) which continues to offer an excellent weekly option premium. In the past, I've alternated between recommending selling puts and then outright shares purchases. Despite the fact that I currently own a $28 priced lot from assignment, that has whittled down fairly efficiently by taking advantage of the premiums on a lower priced lot of shares.
Focus Media (NASDAQ:FMCN) is a bit more speculative, as it has to be considered guilty of questionable accounting, by simple virtue of being a publicly traded Chinese company. It is one of my favorites upon which to sell puts, however,as it only has monthly options, I prefer to wait until the final week.
On May 30, 2012, Investors Observer selected Focus Media as a $22 June 2012 buy/write candidate, as it's price was $22.33. That would have offered a 5.6% ROI, if assigned.
I like Focus Media as a put sale following its nearly 8% drop on Friday to $19.22. I'd be happy with a 2.4% ROI if unassigned the $17 June put, as assignment would require a further 11.5% drop.
This week's first Double Dip Dividend choice is Praxair (NYSE:PX), yet another only available as a monthly option. Praxair has actually tracked the S&P 500 fairly closely, although coincidentally, in the past year.
The second choice is Gannett (NYSE:GCI). However, as opposed to Praxair, for which I would sell the out of the money call, for GCI, given its downward trend, I would likely opt for the in the money option sale.
Although I'm more optimistic this week, I have some mixed feelings and that has extended to my "Game Plan" for subscribers on how to deal with the previous week's recommendations. Whereas I usually use weekly options, when available, about half of my follow-up recommendations were based on selling the Monthly calls, for the two weeks still remaining in the June 2012 cycle, in order to lock in some higher premiums and still hopefully deliver the 2-4% income stream on each holding.
Traditional Stocks: Aflac (sell puts), Dupont, Halliburton
Momentum Stocks: Molycorp, Focus Media (sell puts)
Double-Dip Dividend: Praxair (June 5, 2012)); Gannett (June 6, 2012)
Remember, these are just guidelines for the coming week. Adjust accordingly and you'll have the makings of a healthy income stream for the week with reduced risk.
Disclosure: I am long HAL, AFL, MCP.
Additional disclosure: I may initiate long positions in DD and GCI, and sell puts in FMCN during the course of the coming week (June 4-8, 2012)