What is going on at Incredimail (MAIL)? The last time we heard from the company was to reassure investors that it had worked out its problems with Google (NASDAQ:GOOG), and that the company was buying back stock. Well, that was two weeks ago, and in internet time, two weeks is a lifetime.
On Tuesday, the company announced that the current CEO, Yaron Adler, was stepping down and being replaced by his brother Ofer, co-founder and current Chief Product Officer.
Tami Gottlieb, Chairperson of the Company's board of directors, commented:
We are grateful to Yaron for his vision, leadership, enthusiasm and determination, bringing together with Ofer the Company so far. We accept Yaron's wish to allocate more time to other endeavors, resulting in a lesser involvement in the Company's operations, and are thankful for his continued availability and advice, which we believe will contribute to the Company's future growth and success.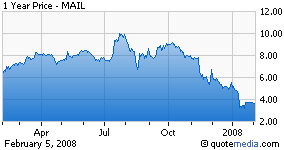 The whole thing sounds weird, especially the timing of the recent events. We interviewed Yaron in December, and actually had a conference call with him two weeks ago, and he gave no indication whatsoever that he wanted to "allocate more time to other endeavors."
The fact is that in our conference call, absolutely no new information was given about the Google issue. The call was just a rehash of the press release. While we had our differences about whether the company should be an acquirer or an acquiree, we really liked Yaron and respected his creative vision, and we wish him well.
Unfortunately for investors the total lack of transparency is shocking. This is a publicly traded company, not some mickey mouse operation. We at Israelnewsletter.com are calling for the company to come clean about the whole Google issue, as well as the sudden change in management.
Disclosure: The author's fund has no position in any stock mentioned as of Februay 5, 2008.