Jingwei International (NASDAQ:JNGW) Tuesday announced that it has bought outdoor advertising company Red Flag, a leading company in Henan which specializes in operating LED/LCD panels at bus stops, including 2000 such panels in the city of Zhengzhou (population of over 7 million according to last census and the capital city of Henan).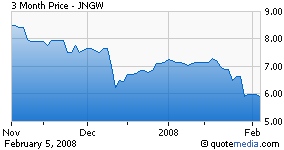 Jingwei paid approx. $12.5 million for the company and the transaction is expected to be accretive to earnings.
This is a surprising move. JNGW is a leading data mining company which provides CRM services to top telecom players including China Mobile (NYSE:CHL) and China Unicom (NYSE:CHU). It has parlayed its strength in that area to engineering marketing solutions for these clients, and as such, advertising as a business segment is not unfamiliar to management. However, outdoor advertising is a very different animal to targeted mobile ads, especially when (in the latter case) there are masses of data available for analysis. How targeted can ads at bus stops be? And are there really any synergies between these two business lines?
The fact is, we don't know yet. But there are a few things that I would like to point out, as follows:
1) This is a small acquisition and will provide a great test case to measure synergies, if any. Should such synergies be substantial, this could prove to be a very canny investment, opening the door to a huge market.
2) It is questionable how savvy traditional outdoor advertisers are in data mining. If not, I can see a situation in which JNGW provides its solutions to such advertising companies, after having tested them out with Red Flag. Jingwei can then position itself not as a competitor but as a partner to these outdoor advertising companies.
3) Moreover, research can conceivably be done at bus stops to understand the demographics of the passengers. And even if such information is ultimately lacking, we know that the target customer of China Mobile and China Unicom is almost everyone, so ads could still be designed to appeal to the masses. This is especially relevant when you realize that JNGW is starting to court clients outside of the telecommunication space, including those in the real estate and finance businesses.
4) Finally, JNGW can definitely help these telecom companies work with their own clients. For example, a bus stop ad could display the poster of an upcoming movie. This ad could contain a phone (or text) number for the public to call (using their mobile) to obtain more information or perhaps play a game. The revenues possibilities are vast, and this could be a major win-win for all involved.
In short, I believe this is a gutsy move for JNGW. Management should be applauded for its efforts to continually improving shareholder value. And one thing is very telling from Tuesday's announcement: the company's positioning statement has changed. It is now saying that it wants to be the leading consumer marketing company in China. Exciting news indeed.
My Position: None.