There is a Fortune article from 2008 entitled "ExxonMobil braces for Rockefeller showdown". It claimed that the members of the venerable Rockefeller family (Peter O'Neill and Neva Rockefeller Goodwin) have berated Exxon Mobil (NYSE:XOM) for being "ill-prepared for global policies aimed at curbing carbon dioxide and diversifying energy supplies." They have also objected to the Exxon's shareholder reward policies:
Chevron (NYSE:CVX), Shell (NYSE:RDS.A), and BP (NYSE:BP) all invested more than 50% of their cash flow in capital expenditures last year. Exxon invested 26% and spent much, much more than the other majors paying dividends and buying back shares.
The article then goes on to attack Exxon Mobil for not investing in solar windmills:
Unlike BP , Shell and Conoco-Phillips (NYSE:COP), ExxonMobil does not support federal regulation of greenhouse gases. (Worse, in the view of the enviros, the company for years financed groups that pooh-poohed global warming.) Unlike the other big oil companies, ExxonMobil has not invested billions in high-profile renewable energy ventures, like BP's solar business or Shell's wind energy play.
I consider the above accusations utterly ridiculous, the things that Exxon Mobil was accused of were actually the things that I look for in companies (increasing the dividend at a healthy clip and not squandering investor's hard earned money on castles in the air like the atrocious solar windmills). Even the likes of Donald Trump and the Duke of Northumberland have risen up against the disfigurement that these constructions have caused the once lovely English and Scottish countryside.
Luckily, the Rockefeller descendants' "remedy" for the above mentioned failings, the removal of Rex Tillerson as chairman, did not work and he is still the chairman and CEO of the Irving, Texas based biggest privately owned corporation in the world (at least it WAS the biggest until the recent advance of Apple (NASDAQ:AAPL) which is now worth $525 billion to Exxon's $364 billion.
The reason, however, why I read the quoted article was not Exxon but another Rockefeller foundation - Chevron and I was pleased that Chevron was not named as investing heavily in "wind energy plays" or "solar business". My most idiosyncratic investment criterion is the location of a company's headquarters and this has induced me initially to favor Chevron over Exxon. Chevron's global headquarters is located in San Ramon in the San Francisco area and Exxon has headquarter in Irving, Dallas area. I find Northern California a far more congenial place than the parched plains of Texas and this can come in handy when you want to induce foreign potentates to give you oil leases as you can employ the connected minions in such a desirable location. Plus, Chevron is located on the Pacific Rim and its operations in this propulsive area are extensive. Also, I believe that the future of the US is located in the Pacific states, due to favorable climate and natural resources.
Now, for the numbers:
Exxon Mobil dividend yield: 2.92%
Chevron dividend yield: 3.73%
Exxon Mobil dividend growth rate 2007-2011: 4.3%
Chevron dividend growth rate 2007-2011: 6.4%
While both companies consistently reduce the number of outstanding shares, Exxon is significantly better at this:
Exxon Mobil number of shares compared to 2007: 88%
Chevron number of shares compared to 2007: 94%
Chart for the stock price performance for the pair vs S&P (click to enlarge image):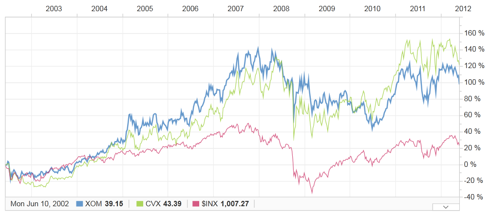 They both outperform the S&P comfortably and Chevron has taken the lead in the stock price appreciation from 2010. I believe this will continue as Exxon will increasingly become a target for environmentalists and its connection to the US military-industrial oil lobby is far more apparent than that of its Bay Area rival which will certainly reduce the company's global appeal. As oil giants must work closely with unsavory regimes, this is of material importance.
Last Friday the Dow Jones plunged 2.22% sending shivers down investor's spines worldwide and giving occasion for some extravagant gloating by the gold accumulators. Chevron is a rich man's stock and you can buy it tomorrow in safe knowledge that in 10-20 years you will be pleased with the investment result. However, for those wishing strong price appreciation from their holding they should wait for the next collapse in crude oil prices to occur, which may be quite soon considering the state of the global economy. I think, under $90, this is a clear as day buy for a long term dividend investor.
Disclosure: I have no positions in any stocks mentioned, and no plans to initiate any positions within the next 72 hours.