Physical gold ETFs experienced a strong rally to end the week after a poor U.S. jobs report and continued EU drama began to push investors to a conclusion that could benefit gold. One of the most talked about conclusions was that the tough economic environment across the world - from Asia to Europe to the U.S. - might be enough for central banks to introduce a new round of liquidity.
Should this happen, hard assets like gold would benefit due to their limited supply versus paper currency. Thus investors hedging their bets jumped quickly into gold. ETFs like GLD, IAU and SGOL spiked 4% on Friday. Here's how all physical gold products reacted to that move.

Gold Performance Grid Snapshot - GoldETFs.biz
The move upward on Friday pushed all physical gold ETFs well into positive territory for the year after briefly going negative. IAU from iShares continues to be the best performing and lowest cost gold ETF. Clearly there was a big change in the momentum of gold prices on Friday and a considerable change also occurred in the gold ETF volatility index. The gold ETF VIX hit highs not seen in over five months on Friday. Here's the chart from the CBOE.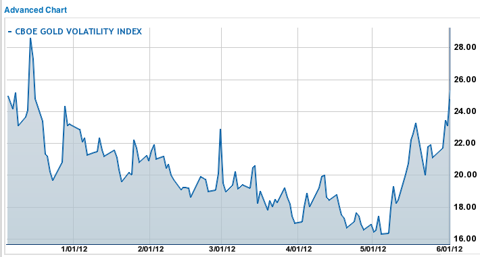 GVZ, The Gold ETF VIX, Hit Highs Not Seen For Over Five Months
Another reason that may have contributed to gold's explosive one day run was the start of a new month. May of 2012 ended as gold's worst May in 30 years with gold losing 6% of its value. It's very possible that the notable sell off of gold in May and publicity around it, lit a contrarian spark. After all, gold has historically performed well in May. Here's the monthly chart of gold price performance over the last 11 years.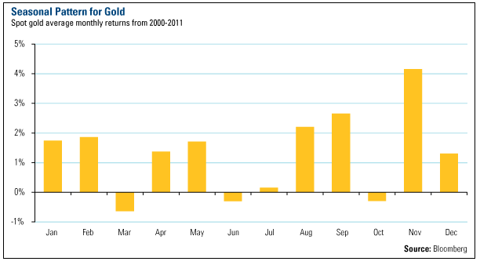 Gold's biggest risk might now be that the Federal Reserve makes a statement ruling out liquidity moves. This would whipsaw gold prices similar to the way gold prices reacted in late February after FOMC comments squelched hope of a QE3.
For now, gold is on a respite from the slide it had been on for months. Going forward however, gold will likely need more help from policy makers to continue its recent run.
Disclosure: I have no positions in any stocks mentioned, and no plans to initiate any positions within the next 72 hours.