We recently posted Part 9 of our "Building A DIY Dividend Portfolio" series, which highlighted our top-ranked dividend stocks in the Energy sector (see summary table below).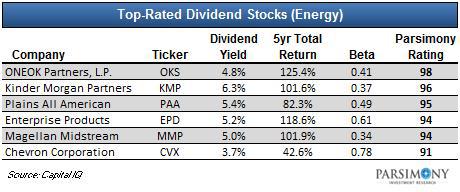 As we highlighted in Part 9, we believe that patiently waiting for a low-risk entry point for a given stock will drastically improve your long-term investment results. Just because a stock has a high Parsimony composite rating, it doesn't necessarily mean that you should run out and purchase it that day. We scan the charts of our top-rated stocks daily looking for strong levels of support and resistance, which ultimately helps us determine a target "Buy Zone" for each stock.
Tactical Strategy for the DIY Dividend Portfolio
As a follow up to Part 9 (Part 9b, if you will), below are our target "Buy Zones" for each of these top-rated Energy stocks. For the most part, Energy stocks have pulled-back in response to the recent correction in the broader market. As you will see below, there are several great Energy stocks (particularly MLPs) that are currently offering investors some very attractive entry points right now.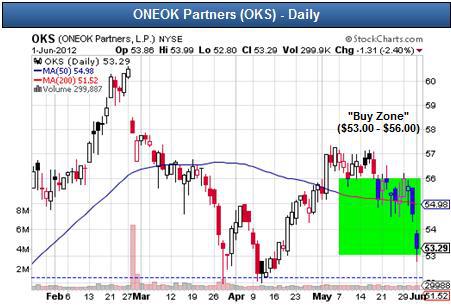 ONEOK Partners (OKS) is one of our favorite MLPs. Although you can't see it from the daily chart above, the stock is in a very strong long-term uptrend. The company has delivered shareholders an impressive 5-year total return of over 120% and the stock has a current dividend yield of 4.8%, which is why it has a high risk-reward rating. OKS is down over 10% from its most recent high of $61.58 and we believe that the stock will continue to oscillate around the 50-day moving average before heading higher later this year. Now is a great opportunity to add to your position.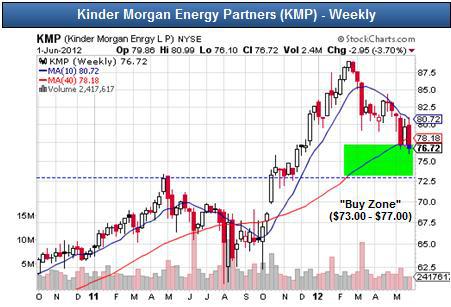 Kinder Morgan Energy Partners (NYSE:KMP) is another one of our favorite MLPs. The company currently pays a juicy dividend yield of 6.3% and we have been patiently waiting for the stock to enter our "Buy Zone" for a few months now. KMP is now down 15% from its recent peak of $90.60, which is the high-end of our target correction range. We believe that this is a low-risk entry point for the stock.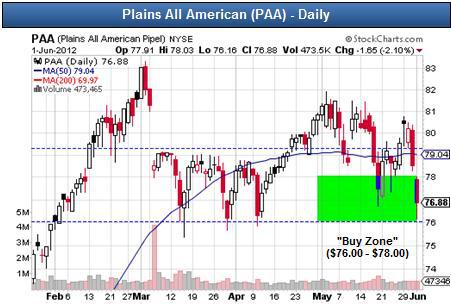 Plains All American (NYSE:PAA) has both a risk-reward profile rating and a relative strength rating over 90. The stock is up 35% over the past 12-months and we think that this strength will continue through the end of the year. As shown in the chart above, the $76.00 level has help as support three different times in the past few months and we think the PAA is poised to move higher from here.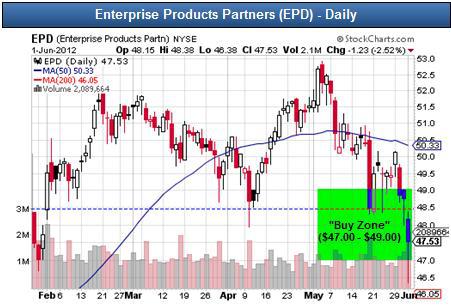 Enterprise Products Partners (NYSE:EPD) has delivered shareholders an impressive 5-year total return of over 118% and the stock has a current dividend yield of 5.2%. The stock just broke below the recent low in mid-April ($48.50) and we think that investors should use this opportunity to start averaging in to a position.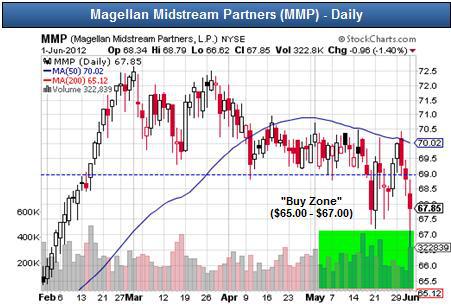 Magellan Midstream Partners (NYSE:MMP) has also delivered shareholders a 5-year total return in excess of 100%. Since MMP has the lowest beta of the group (0.34), the stock tends to be less volatile during the corrections. That said, MMP is only down about 8% from its recent peak and we would like to see the stock pull back a little further before pulling the trigger.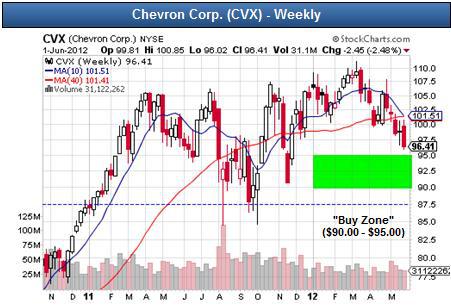 Chevron Corp. (CVX), the only non-MLP stock that made our list, has a very high sub-rating for Financial Stability (98) and a respectable rating for Dividend History (85). We believe that the stock will get support in the high $80s, but we would start accumulating a position in the low $90s. Be patient with CVX, your price will come.
Summary
Investors should consider all of these great stocks for their DIY Dividend Portfolio, but please be patient with your entry points.
That said, almost all of the stocks above are currently in their respective "Buy Zones". In general, we believe that the 5 MLPs above offer a very compelling risk-reward profile and investors should feel free to pull the trigger on these stocks immediately.
Good luck out there ... be patient!
Please make sure to "follow" us as we will update readers if there are any new stocks entering their "Buy Zones".