While attempting to find pharmaceutical companies that may take off in the short term, the buzz regarding one company I found was tough for me to ignore. I am always looking for small cap bio pharmas that have a shot at "Hitting the small cap bio pharma jackpot." I found one such company I think has a real shot at delivering the jackpot in the long term, which also has several nearer term catalysts that should provide some nice short term pps appreciation as well in my opinion.
Synergy Pharmaceuticals (NASDAQ:SGYP) 6/1/12 pps: $4.54. Market cap: $291.95M
Synergy is focused primarily on the development of drugs to treat gastrointestinal (NYSE:GI) disorders and diseases. The Company's most developed product candidate is Plecanatide, which primarily treats chronic constipation (NYSE:CC) and constipation-predominant-irritable bowel syndrome (IBS-C). The Company is also developing SP-333, its second generation GC-C receptor agonist for the treatment of gastrointestinal inflammatory diseases, such as ulcerative colitis (UC). SP-333 is a synthetic analog of uroguanylin, a natriuretic hormone which is produced in the body's intestinal tract.
While reading about this company, I was very surprised to see how big the market is for gastrointestinal disorders. The estimates I see in the U.S. alone for prescriptions in this area are around $20 Billion, making it one of the largest therapeutic areas in the pharmaceutical industry.
At first I was wondering why this would be becoming such a huge industry. After reading more about these illnesses, it became clear that it is yet another area affected by the poor diets of Americans. This is why type two diabetes cases are skyrocketing. Along the same lines, weight loss pills are starting to become approved while giving some people "the easy way out." I went into this more in my article on Arena Pharmaceuticals (NASDAQ:ARNA) and its drug Lorcaserin, which recently received a favorable 18-4 vote recommendation for approval from an FDA advisory panel.
I've discussed with many how I think it is terrible the way people are starting to rely on a pill to fix their body versus a proper diet and exercise. In my opinion, poor diets creating the need for more advanced GI medications is another sad reality, but a reality nonetheless. As generations of people become more obese and acquire increasingly poor diets then so too will the number of people suffering from these disorders rise.
With these facts in place, Synergy is swiftly acting on the opportunity to offer a medication that looks superior to anything in the market place in my opinion. In addition, they have some catalysts coming up that I find very attractive.
One of the catalysts coming up very quickly for Synergy is when they are added to the Russell 2000 index on June 22nd. One thing that this company has lacked because of just recently joining Nasdaq last year is institutional support. That is about to change as Synergy has qualified to become a part of this small cap market index. When the Russell rebalance occurs, funds are estimated to buy between 2-3M shares of SGYP.
Another company on the watch list of anyone with a major stake in Synergy is Ironwood Pharma (NASDAQ:IRWD), who many would consider Synergy's biggest potential competitor. On September 9th, 2012, Ironwood will be looking for FDA approval on its competing drug Linaclotide, is also used to treat chronic constipation and irritable bowel syndrome. On April 23rd, 2012, Ironwood heard from the FDA that there would be a three-month delay regarding their New Drug Application (NDA). On the news of Ironwood's minor setback, Synergy popped to about $7 in less than a week.
With the lack of progress in this area filled with huge opportunities, there is no doubt room for both Ironwood and Synergy in the industry. In my opinion, the reason why we are seeing a lot of people taking notice of Synergy is that their trial results were better than Ironwood's for the same indications and they are trading at about 1/4th of the market cap. That was definitely the first thing that jumped out at me when looking at these two companies. Also, Synergy just joined the Nasdaq exchange last year and it can take time for the word to spread about a stock. Another reason Synergy is getting noticed may be the company's recent closing of its underwritten public offering of 10,000,000 shares of common stock at an offering price of $4.50 per share. Synergy received net proceeds, after deducting the underwriting discount and estimated offering expenses, of approximately $42.0 million. Synergy has also granted the underwriters a 45-day option to purchase up to an additional 1,500,000 shares of common stock to cover over-allotments, if any.
Synergy intends to use the net proceeds from this offering to fund its research and development activities, including its ongoing Phase II/III clinical trial of plecanatide and its Phase I clinical trial of SP-333, and for working capital and other general corporate purposes. My take on this offering is a bullish one; Synergy wants to ensure it gets its drug approved by the FDA, and it takes money to ensure all clinical data and manufacturing process are acceptable to the FDA. Many small cap companies fail to gain FDA approval for this reason; a lack of money. Synergy's management team is doing the right thing in my opinion to reach its goal. I think when facing a multibillion dollar market for its drug Plecanatide, the offering was definitely the prudent thing to do. Arena pharma just completed a stock offering at $5.50 a share to ensure its weight loss drug Lorcaserin not only gets approved (which in my opinion, is just about a given now), but that the company has the necessary working capital to correctly market Lorcaserin once it receives FDA approval. The Arena stock has appreciated nearly $1 since the offering.
Synergy has also been receiving a lot of analyst attention lately. Summer Street initiated coverage with a price target of $9, Brean Murray's rating was accompanied by a price tag of $13, and just a couple of weeks ago Roth Capital threw its own prediction into the mix with a target of $12. Plecanatide may have billion-dollar potential according to some analysts. Part of the reason for their attraction to Synergy may be found in a disturbing and recently published New York Times article that points to the over use of a laxative drug called Miralax, which is manufactured by Merck (NYSE:MRK). Miralax generates about $200 million in annual sales revenue. Particually alarming from the NYT story is the Miralax has become a long-term solution for childhood constipation - a problem that can be troubling not just physically, but also emotionally.
Antares Pharmaceutical (AIS), my largest position I hold, has seen some really nice growth the last 2 years. However, no matter how apparent the amazing growth can seem in a year or two, the stock market these days seem to be driven more from investors who are looking for instant gratification. In my opinion, in a couple years when people see Antares stock price way higher, they will look at the chart and wonder why they weren't involved in 2012, when the stock price was much lower.
We may see this type of gratification pretty quickly with Synergy. Results from their 800 patient Phase II/III Plecanatide trial is expected in Q4 2012. During Synergy's first trial of only 78 people, Plecanatide showed a remarkable safety profile with no reports of diarrhea. Ironwood's competing drug saw 4.5% of patients quit trials due to severe diarrhea, and 19.7% of the patient population report diarrhea as an adverse event. This type of adverse event is certainly a safety issue that may turn off potential customers, and is why Synergy appears to be a clear long term favorite over Ironwood.
Beyond Plecanatide, Synergy has another product candidate in the late preclinical stages called SP-333. This is also being primed to target the lucrative GI market. An IND is expected to be filed for theSP-333 in ulcerative colitis indication during the third quarter of this year, setting the company up to initiate clinical trials shortly thereafter.
That leaves Synergy with two products being developed to enter multi-billion dollar markets which are still growing. Both products are also fully owned by the company, which paints a bright target on the company to investors as a potential merger and acquisition candidate.
Ironwood has already landed multiple partners for its product candidate and seen its share price increase significantly. There's no reason to believe that Synergy cannot achieve the same level of success if not more given the distinct advantages noted above and assuming the continued trend of positive efficacy. Whether Synergy decides to keep working on these drugs alone or by teaming up with a partner, they look extremely undervalued in my opinion. Biomedreports.com has heard that a partnership with a large pharma might happen sooner than later, and I have heard the same thing.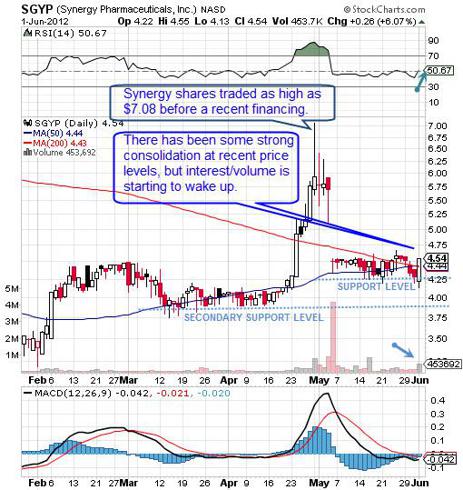 The 50 day moving average (MA) has just crossed above the 200 day MA on increased volume, which is normally a bullish sign. The MACD and signal look to me to turning bullish as well.
Share Statistics
Avg Vol (3 month):
210,483
Avg Vol (10 day):
204,500
Shares Outstanding:
64.31M
Float:
37.78M
% Held by Insiders:
39.58%
% Held by Institutions:
0.90%
Synergy floats on the low side with a little under 38M shares available for trading. The average volume has been picking up lately and is liquid enough to trade in and out of for those who wish to do so in my opinion. Insider ownership is very good coming in at just under 40%.
Synergy has several short term catalysts that should provide some nice stock appreciation within the next 3 months. In my opinion, a stock price around $6 a share is definitely within range here. Synergy's longer term stock price appreciation will be dependent upon FDA approval of Plecanatide, which I think looks like a good bet. Synergy's management did the right thing in my opinion with its recent public offering, providing the company with more than enough cash to achieve its goal to get Plecanatide approved and marketed.
If what I am hearing along with Biomedreports is true, then a stock price over $6 a share in the short term is likely in my opinion. FDA approval of Plecanatide should translate into a stock price over $15 a share Synergy, if not higher.
Disclosure: I am long SGYP, AIS.
Additional disclosure: DISCLAIMER: This article is intended for informational and entertainment use only and should not be construed as professional investment advice, but rather my opinions as a writer only. Always do you own complete due diligence before buying and selling any stock.