If you believe that recent Fed rate cuts would not fundamentally turnaround the housing sector in the near term, then you are not alone. You may also believe that the near 40% rise since the lows of the Homebuilders ETF, XHB just a few weeks ago in January, seems too good to be true, too fast. Whatever your reasons may be, you will or have already discovered that XHB cannot be shorted through discounted brokers for retail investors like myself. Well, don't fret because you can easily create your own version of the XHB and short the underlying stocks to realize profit when XHB turns south.
First, we need to find out what are the underlying stocks of XHB. Make sure you find out the most current holdings of the ETF especially given today's volatility. As of this article's writing in early February 2008, Yahoo reports top 10 holdings that are 3 months old (November 2007), ETFConnect reports top 10 holdings that are 6 months old (August 2007), Morningstar reports top 25 holdings that are 2 months old (December 2007). The most reliable holdings data comes from the ETF fund sponsors themselves. For XHB, it is State Street Global Advisors (ssgafunds.com) and they provide the full list of holdings as of yesterday.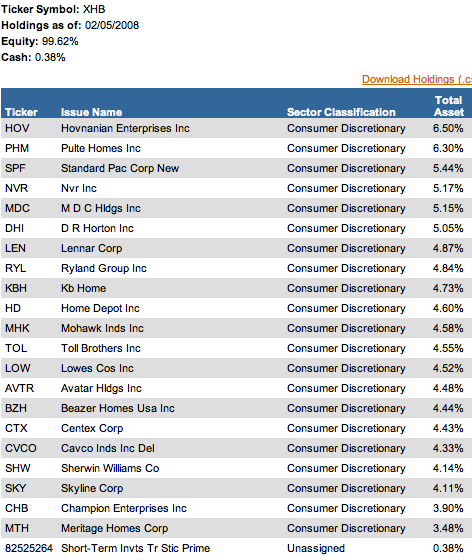 Next, we have a list of the holdings but mimicking the asset allocation down to the hundredth percentage seems impractical. The lowest allocation is 3.64% and the highest is 6.36%, so there isn't too much of a variance in allocation. For simplicity's sake, we will just evenly split the allocations amongst the holdings.
Browsing through the holdings list, you might also notice that some assets seem out of place as if this is another Mensa puzzle. What we want are the homebuilder stocks; not the building material suppliers or retailer stocks. Here we can take out some of the none-core stocks to shorten the list of stocks:
Home Depot (NYSE:HD), Lowe's (NYSE:LOW), Champions (CHB), Mohawk (NYSE:MHK), Sherwin Williams (NYSE:SHW).
We also want to maximize our profits while minimizing the risks by further eliminating holdings we do not want after due diligence into each of the holdings. Some of the stocks might not have shares available for you to short in the current market via discounted brokers as I have experienced with Hovanian Enterprises (NYSE:NOV). NVR Inc. (NYSE:NVR) debuted this January, so you might want to consider the risks associated with a recent IPO. Also, a single share of NVR is more than GOOG right now at $600+/share which could give rise to liquidity risks. Stocks like Standard Pacific (SPF) just announced quarterly results and now it is up 130% since January which makes it a must-have in your short list unless you believe the 1 month run-up is justified. However, other stocks like Avatar Holdings (AVTR) did not really experience the hype as much as others growing only 10% since the lows in January which might limit the short potential.
In the end, you should have halved the number of stocks you wish to have in your customized ETF to around 10. With this list, you can proceed to short the holdings when the time is right for each underlying stock.
Disclosure: short homebuilders