As shown in the chart below, the 10-year Treasury yield, which closed around 1.47% last week, has declined in 10 of the past 11 weeks. This is truly unprecedented territory.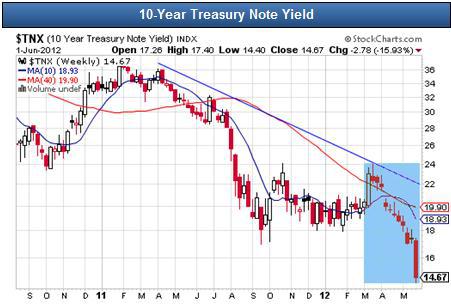 We have been getting a fair amount of questions lately from fellow DIY investors regarding the recent freefall in the 10-year Treasury rate and specifically how it will affect their mortgage REIT investments.
It's a really great question since long-term mortgage rates (which are indirectly tied to Treasury rates) tend to drive mREIT profits. All else being equal, a decline in mortgage rates is typically a net negative for mREITs (due to higher prepayment rates and lower spreads).
Our 2 Cents
We believe the U.S. continues to face long-term structural issues that will lead to a prolonged period of uneven, sub-par growth. The employment and housing issues that we face will take years, not quarters, to resolve. Due to these structural issue, the Fed has indicated that interest rates will likely remain low for at least the next several years (through late-2014).
That said, there is a misconception about interest rate risk as it relates to the mortgage REIT space. Contrary to popular belief, lower (or higher) interest rates are not necessarily a bad thing for mREITs. A mortgage REIT's principal business objective is to generate income for distribution to its stockholders from the interest rate spread (i.e., the spread between the interest income received on its mortgage-backed securities and the cost of borrowing to finance its acquisition of mortgage-backed securities). In other words, the slope of the yield curve is the main factor that drives mREIT profits.
Even though interest rates are lower than they were a month ago (i.e., the yield curve has shifted to the right), the current yield curve is still pretty steep, which is a positive environment for mREITs.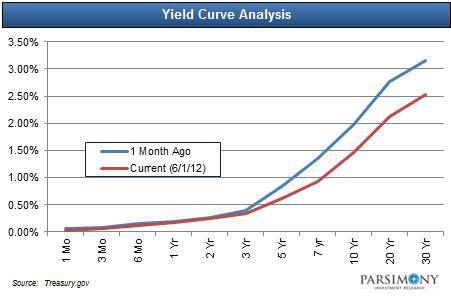 We believe that the good mREIT managers have thoroughly modeled out how this lower rate scenario could affect their mortgage portfolio and have taken the steps necessary to hedge their book with the appropriate prepayment protection. So to make a long story short, we DO NOT believe that investors should sell their mREITs just yet. While lower profits may drive dividends lower in the near term, risk-adjusted yields will still be extremely attractive.
Should You Add a Few mREITs To Your DIY Dividend Portfolio?
As many of you know, we recently completed a 9-part series titled "Building A Do-It-Yourself Dividend Portfolio". The series highlighted our top-rated stocks in each sector.
While only one mREIT, Capstead Mortgage (NYSE:CMO), made the top-rated list in the financial sector, we believe that mortgage REITs continue offer investors some of the best risk-adjusted returns of any dividend stock out there.
The tables below highlight our ratings (and sub-ratings) for some of the largest agency-focused mREITs. Note that our composite rating ranges from 0 (lowest) to 99 (highest).

Capstead Mortgage and American Capital Agency (NASDAQ:AGNC) clearly have the highest Parsimony ratings of the group, while Annaly Capital (NYSE:NLY), CYS Investments (NYSE:CYS), and Hatteras Financial (NYSE:HTS) have mediocre ratings at best. That said, its also important to take a look at the sub-ratings to get a better feel for a stock's specific strengths and weaknesses.

Agency mREITs utilize high leverage to enhance returns, so its no surprise that they score poorly for Financial Stability, Dividend History, and Dividend Potential. We all know the risks associated with mREITs, but investors are clearly getting well compensated for that risk (as indicated by the extremely high Risk-Reward sub-rating).
As shown in the table below, the combination of low betas, high dividend yields and high Calmar ratios (annualized total return / maximum drawdown) has produced very attractive risk-adjusted returns for mREIT investors over the past 5 years (hence the high Risk-Reward rating).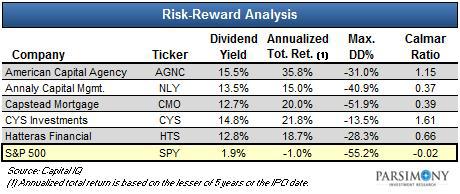 Conclusion
Mortgage REITs have produced some of the highest annualized total returns of any stocks in our universe over the past 5 years and they have done so with less downside risk (as measured by the maximum drawdown). While we believe that investors should continue to monitor these investments closely, we do feel that mREITs will continue to offer extremely attractive risk-adjusted returns for the foreseeable future (the next 12-18 months).