Apple (NASDAQ:AAPL) does not have any "direct" competition. You could argue they compete with DELL (DELL), Microsoft (NASDAQ:MSFT), content delivery companies like Netflix (NASDAQ:NFLX), networking companies like Cisco (NASDAQ:CSCO), or server manufactures like Hewlett Packard (NYSE:HP), but currently there is no direct comparison to the business model Apple has created.
In my prior analysis of Westport Innovation (NASDAQ:WPRT) on Seeking Alpha, I detailed out the frame-work I use at RulingTheMarkets.com to analyze potential investments and how this analysis results in higher success rates. Let's use this analysis framework and apply it to our review of Apple .
When making longer-term investments how can I best place the odds of success in my favor?
Assuming your pile of money lying around is not unlimited, you must decide what to invest in, and why. Whether it is stocks, bonds, commodities or a Ferrari, you must first analyze the business case for your long-term investments, or you're an idiot.
The next critical item relates to the timing of your investment and applies equally to long-term investments and short-term trades. Bad timing can decimate a good investment. Just look at how many people bought technology stocks in the bubble - Microsoft , Cisco and Intel (NASDAQ:INTC), just to name a few. All these dominate their industry and are great businesses. All had excellent business cases supporting the investments, but the timing for an investment was awful and as a result, many people took huge losses or are still sitting on unrealized losses 8 years later. Timing is so important and many investors don't have a clue about it.
When analyzing investments I utilize a four-step process as follows:
Review macro factors driving an industry or company, what I like to call "big-picture analysis".
Review the specific company fundamentals.
Considering the timing of investments.
Placing the trade -- parameters and insight.
Step 1: Big Picture Review of AAPL
The loyal Apple brand followers love the company's product functionality, company interactions, and retail outlets, and all for good reason. Apple represents quality, ease of use and sleek design. With new rumored products like AppleTV, iPad mini, iPad sales in China or a new larger iPhone screen, Apple continues to deliver innovative market-leading products. I have been a user of Apple products for years (Macplus in 1986 was my first product), and I know that the company continually incorporates new functionality and usefulness into its products.
Apple now has its cross-hairs set on ruling the TV market. Flat-panel television sales in the U.S. are at about 38 million units and the global market is expected to reach $110 billion in annual sales by 2016-2018. The flat-panel TV market represents a huge opportunity for Apple and very well could be its next growth driver as other products mature.
Step 2: Company Fundamentals

By holding the intellectual property in house and utilizing contract manufacturing for assembly, Apple has created a very capital-efficient business model.
Capital efficiency / leverage can be defined as:
The ratio of output in comparison to the amount of capital expenditure involved in maintaining the operation of a business or a product line. Stated another way, as sales and profits increase, capital investments do not.
Apple has designed a business model that is high on intellectual property and low on fixed costs by utilizing contract manufacturing.
So why is capital efficiency so important?
It all has to do with "valuation modeling". Wall Street loves companies running "capital-efficient" models because they are structured with low fixed costs and have the potential (if successful) for significant profits as a percentage of their low-cost base.
Capital-efficient business models are set up to generate high returns on capital, producing large cash flows. Both of these factors significantly impact Wall Street's fair-value calculations where a high price-to-earnings ratio can be "justified" as a result of the strong cash flows generated by a capital-efficient model. Additionally, the expected high cash flows are then modeled using a discounted-cash-flow analysis, which in turn further supports the public valuation of a company.
Oh, one other thing to note - ever heard of Warren Buffett? He believes strongly in capital-efficient business models like Coca-Cola (NYSE:KO).
In closing Step 2, Apple's fundamentals are bullet proof. No debt and gigantic cash hoard. The company has announced a dividend policy and a stock repurchase program and it continues to innovate.
Step 3: Timing of investments
After a company passes our fundamental review in step 1 and 2, the next critical item relates to the timing of your investment. Bad timing can decimate a good investment. Timing is so important and many investors don't have a clue about it. So, in the example below, I have detailed some of the points of technical analysis that I have used during my investing career, using Apple as my example.
Step 3.1 - Market Health
Review the technical health of the major indices. I like to use the S&P with an eye on Nasdaq 100. The general market has pulled back off the April / May highs and now appears headed toward the 200-day moving average around 128ish. The market is off about 8% from its highs in the area of support, so you could argue it is okay to put some money to work here in the strongest of strong stocks like Apple.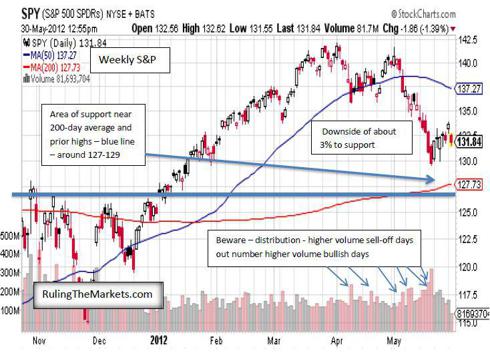 Step 3.2 - Individual Stock Health (weekly, then daily charts)
The Apple charts below still look extended from ideal buy points on the weekly and daily charts as detailed below.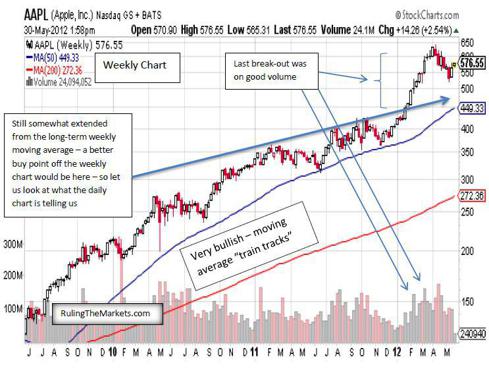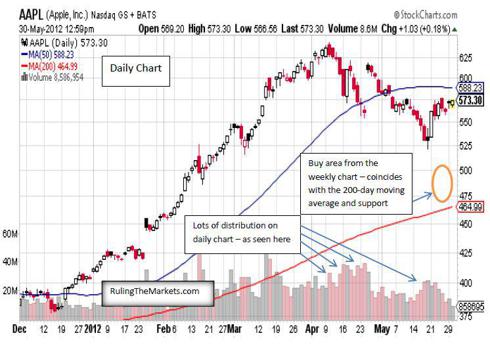 Risks that must be acknowledged
Apple represents a significant portion of the indices, and as a result any changes to the allocation percentage can have an unintended effect on the demand for the stock. Additionally, Apple's growth rate is tremendous and eventually growth as a percentage of sales will at some point begin to slow down. What the market has figured into the stock price is anyone's guess. The compensating factor / argument would be Apple's price-to-earnings multiple is "reasonable" and not in the stratosphere.
Lastly, intellectual property is very important to Apple and any court case that would damage its competitive position could have a material impact on the stock price.
What is the trade?
Friday's action was very bearish and I think the S&P may still have more downside this week. This trade should be done if / when the SPY gets into the 127-125 range as noted above, so be patient and look for our updates.
Apple is dominant and the business fundamentals support our investment thesis -- so how do we get long, keeping in mind the general market "uncertainty" and the "extended" look (noted above) on the Apple weekly and daily charts?
Strategy #1
The following example assumes the trade was done Friday near the close. I think we will get a better entry this week - so sit tight for now.
Example as of Friday close -
Friday close = $561
Sell to open out-of-the-money puts for the July 21st expiration as follows:
Sell 1 put contract at $510 strike price (9% out of the money)
Sell 1 put contract at $500 strike price
Sell 2 put contract at $490 strike price
Sell 2 put contract at $480 strike price
Sell 2 put contract at $470 strike price (16% out of the money)
This should net you about $62 in option premium ($6200) and have an average exposure of $486 per share (before deducting premium received) which is right in the "buy area" noted in the Apple graph above.
This trade allows for a 14% down-side in the stock before July 21st.
Depending on the size of your account, you may want to buy some protection (purchase a lower strike price) to limit your overall exposure in this trade. This protection would obviously decrease the amount of premium received for the month.
Remember selling puts has exactly the same risk as buying the stock long.
Strategy #2
Look to buy the stock outright when the S&P gets into the 127-125 range discussed above.
Closing comments
The general market conditions are not right for going long "any old stock" at this moment. So sit tight and pick your buy points carefully. Keep watch of the macroeconomic events in Europe (Spain and Italy) and be patient when investing. Remember, investing is for long-term capital appreciation, not the $2 your stock went up yesterday.
Our subscribers know we called the market top in April / May and we are watching the European debacle from the sidelines - Thankfully. It has been my experience that through utilizing the Four Steps detailed above and a somewhat diversified portfolio of assets, the "common" investor can outperform the markets.
Finally, you don't need to put all your money at work on one trade. Pick a range to buy your full position or a timeline (over weeks) - do not be in a hurry. I enjoy averaging into positions where I have unrealized gains currently - averaging up and never averaging down.
Disclosure: I have no positions in any stocks mentioned, but may initiate a long position in AAPL over the next 72 hours.
Disclaimer: This work is based on public filings, public events, interviews, corporate press releases, and what I have learned as financial journalists. It may contain errors and you shouldn't make any investment decision based solely on what you read here. It's your money and your responsibility.