Company Profile
JA Solar Holdings Co. Ltd. through its subsidiaries, engages in the design, development, manufacture, and sale of photovoltaic solar cells and solar products, which convert sunlight into electricity in the People's Republic of China.
JA Solar Holdings Co. Ltd (NASDAQ:JASO) is scheduled to report its first quarter earnings results on June 05, 2012, before market open.
Technical Overview
all images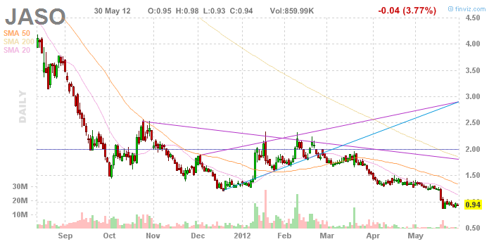 JA Solar Holdings has a market cap of $182.01 million and it is currently trading around $0.90 with a 52 week range of $0.89 to $6.15. The stock has -32.84% price performance for the year 2012. The following table provides the key financial ratios for JA Solar Holdings:
| | |
| --- | --- |
| Key Ratio | Value |
| Current Ratio | 2.32 |
| Profit Margin | -5.33% |
| Return On Assets (ROA) | -4.34% |
| Return On Equity (ROE) | -8.65% |
Recent News
On May 30, 2012, JA Solar responded to the preliminary decision by the U.S. Department of Commerce ("DOC") on imposing antidumping duties on China-produced solar products. According to the DOC's preliminary determination, announced on May 17, 2012, JA Solar's crystalline silicon photovoltaic (PV) cells produced in China, and modules containing such cells, which are imported to the US, would be subject to a preliminary antidumping tariff rate of 31.18%. The tariff decision is expected to be finalized in the fourth quarter of 2012.
On May 3, 2012, JA Solar announced that it has signed a strategic partnership agreement with the Shanghai Institute of Technical Physics of the Chinese Academy of Sciences ("SITP") to establish a center for research and innovation in solar technology.
Analyst Guidance and Earnings History
The first quarter revenues are expected to be $234.62 million when compared to $556.38 million for the same quarter last year. Earnings per share for the first quarter are expected to be loss of 15 cents a share, down from 41 cents a share in the year-ago period.
The average price target from analyst for JA Solar Holdings is $1.79 with average rating is UNDERWEIGHT
Out of the last 4 quarters, JA Solar Holdings has exceeded the EPS estimates only once. The following chart shows the nalyst estimates history and the actual EPS results: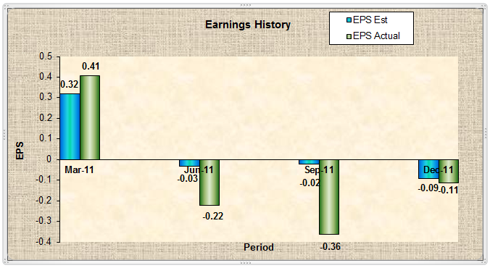 Sources: Some of the data is taken from Google Finance, Yahoo Finance, Finviz and investor sites.
Disclosure: I have no positions in any stocks mentioned, but I change my positions very frequently and may initiate either long or short positions in the above mentioned stocks at any time.