So when do you start referring to the recent sell-off as a bear market as opposed to a correction in a bull market? If you rely on the mainstream media for that information, it will be too late as CNBC officially announced on Friday that we are in correction mode. Thanks. What do they need another 150 point drop in the S&P 500 Index to proclaim a bear market?
As a result of Friday's disappointing jobs report, two key technical levels were breached (1300 and 1287.25) and based on the weak close, those levels may not be revisited for quite some time. In fact, the yearly low in the index is only 20 points away at 1254. Hopefully the market can gain some traction there, or in a few days we could be at 1200. Any relief rally this week is going to have a hard time getting over 1300.
On a relative basis, Apple (NASDAQ: AAPL) has been holding up fairly well. Since the last time the S&P Index was at these depths, AAPL was changing hands around 530. Therefore, one of two things will happen next week. AAPL will breach Friday's low (560.52), take a breather at 552 and head straight to 530. Or regain its footing in the 570 handle and mount a challenge on 600. At this time, the first scenario seems much more likely to happen.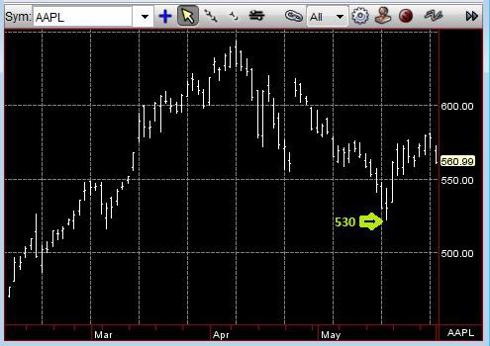 Exxon-Mobil (NYSE:XOM) had its worst four day performance since last October. Of course, chaos in the crude oil market did not help matters, but four points for this issue to recoup will be very difficult. Before any kind of bottom is to be formed, XOM's string of five consecutive lower highs, lows and closes needs to snapped. On the bright side, XOM made its low on Friday early in the session and was able to stands it's ground for the remainder of the day, while the overall market cratered. Anticipate XOM to be greeted with sellers if and when it can rally back to 80.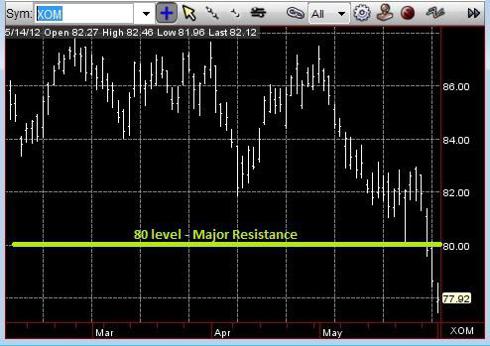 International Business Machines (NYSE:IBM) chart is looking grim. Since topping out at 210.69 in April, IBM has maintained a consistent technical pattern. Except for the mid-April rally, the pattern has been a steep drop, a period of consolidation and then another steep decline. And with the yearly low at 177.35, this pattern could continue for quite some time. Expect minor support at the January 23rd low (187.67), buyers in the gap area from 182.36-184.75 and major support at 180.35. Major resistance has come down from the 200 level to 195.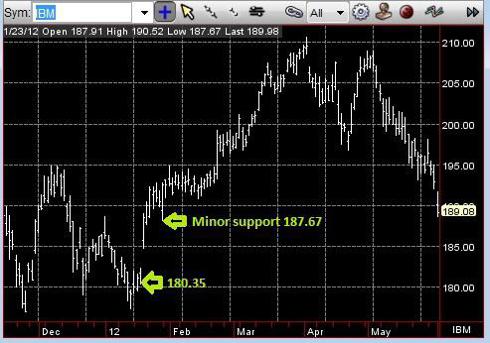 Microsoft (NASDAQ:MSFT) closed weak on Friday, only one cent from the low of the day at 28.45. Since topping out at 32.95 in March, MSFT has been on a slow and steady decline. A few dead cat bounces here and there, but similar to IBM, it's a steep decline, consolidation and then another steep decline. MSFT will let you know when it is ready to reverse course with a double or even triple bottom and a move above it's two or three day high. If 28.44 cannot be that level, then 28 is the next candidate on the chart. Expect large sellers around the whole number of 29 and even larger sellers at the double top from Wednesday (29.48) and Thursday (29.42).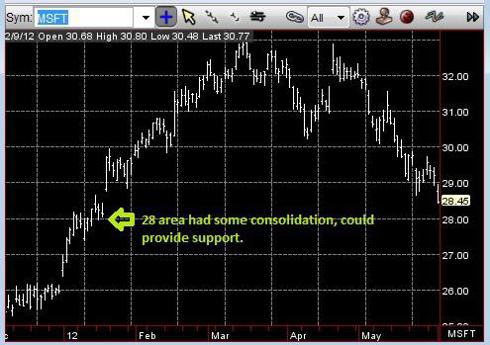 The last few times General Electric (NYSE:GE) traded near 18.32, the company manufactured some favorable news and induced a rally. Back in March, the news was good enough to push GE over 20. However, when it occurred in the middle of May, the euphoria only lasted until 19.42. Now with GE coming down for a third time, I am anxious to see what "rabbit GE can pull out of the hat" to stem the decline of their stock price. If not, GE will surely fill the gap from the beginning of the year (18.08-18.23) and test the December 30th low of 17.88. Major resistance has moved down from 19.50 to 19.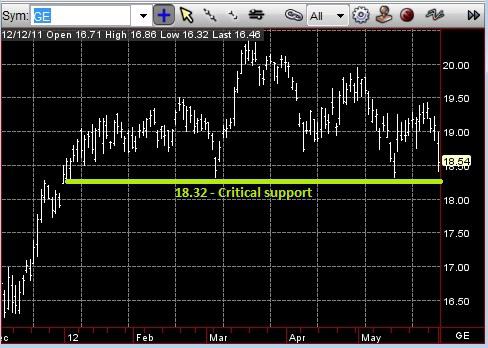 Chevron Corporation (NYSE:CVX) has distanced itself from the century mark and is down nearly 13% from its January 3rd close of 110.37, with a majority of the damage taking place last month. After taking its time to fill the gap in the 98 area, CVX seems destined to fill the gap from late November (94.45-95.00). Major resistance stands at the double top from Wednesday (99.11) and Thursday (99.16).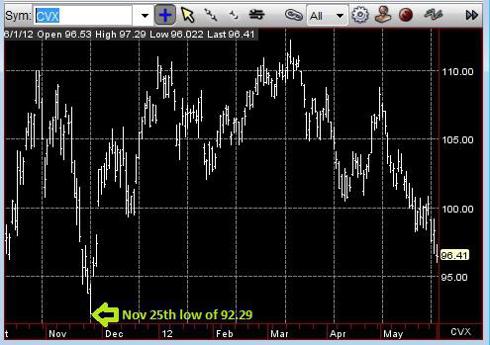 AT&T (NYSE: T) has been a bellwether in this market. Making a new 52 week and multi-year high on Thursday at 34.41, before closing at 33.90. Even at 34, T still has a 5.19% dividend yield, which provides for downside protection for purchasers at this level. Keep an eye on the 33.70 handle this week, since that is where T bottomed in all four trading sessions. Below 33.70, minor support can be at 33.40 and major support from 33.00-33.10. Expect sellers to congregate at the 34 level again, but with the same size as before.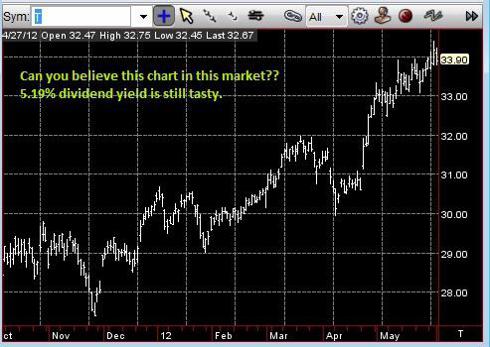 Procter&Gamble (NYSE:PG) continues to get punished. This issue is a great example of what the Street can do to a stock after an earnings miss. Since gapping down $1.75, back on April 27th, PG has not even made a feeble attempt to recoup that loss. PG is in the midst of three consecutive lower highs, lows and closes, and keep in mind this issue has had similar streaks in the past, and they have lasted up to five or six days. Expect buyers to step in from Friday's low of 61.20, down to the late November lows at 61. Under 61 is the September 2011 low of 60.30. Minor resistance can be found at 62 and major resistance stands at the weekly high of 63.03.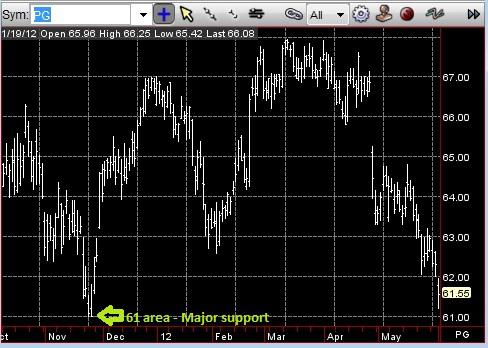 Another defensive stock, not being so defensive is Johnson&Johnson (NYSE:JNJ). Any purely dividend players in this issue got smoked on their stock purchase, unless they hit the sell button the following morning after receiving the dividend on May 24th. With JNJ closing just off the low of the day at 61.78, look for it to hold that level early in the session or be prepared for a ride down to the November 25th low of 61.05. Expect major resistance at the weekly high of 62.93 up to 63.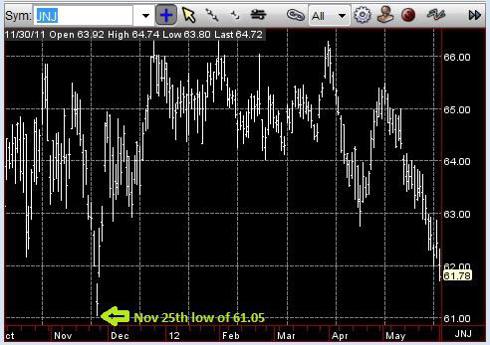 It took some time, but finally Jamie Dimon's shenanigan's at JP Morgan (NYSE:JPM) has tainted the entire sector. And there is no better example of that, than the price action of Wells Fargo (NYSE: WFC) over the last few weeks. After several unsuccessful attempts to clear the 32 level (post JPM debacle), sellers got nervous on Friday and hit the panic button, sending WFC spiraling down to 30 before recovering slightly to close at 30.16. Just under 30 is a triple bottom from mid-February, so I suspect WFC is going to hang around that level for a day or two as opposed to crashing and burning. Minor resistance can be found at the former low of the move at 30.52. However, if WFC can clear that level, there is nothing stopping it from reaching Friday's high (31.46) in a heartbeat.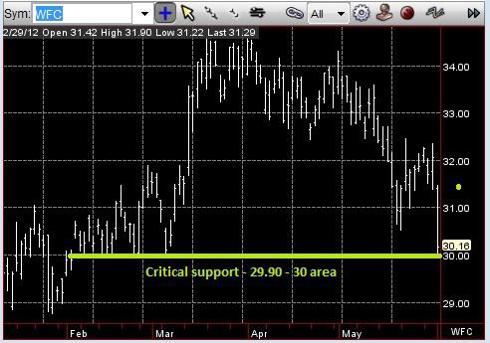 Friday's price action will be difficult to reverse. Clearly, the psychology of the market has changed dramatically and even an appearance by Warren Buffett on CNBC may not help matters. What is most disappointing about the market, is the sell off was ignited just after a stellar earnings season for the most part. Perhaps the reason so many companies dramatically increased their dividend was to cushion the blow of the anticipated pullback in their stocks. For those companies who chose to repurchase stock, the timing could not have been better as many issues have distanced themselves from their 52 week and some multi-year highs.
Friday's low (1273.50) and close (1274), will be a key level for the entire week. If the June futures, which are likely to take out the aforementioned levels, can return to that area and hold, there is a chance the index can meander its way back to 1300. However, if we get a gap and go to the downside on Monday, look for the futures to test 1250 before it tries to mount a relief rally.
Disclosure: I have no positions in any stocks mentioned, and no plans to initiate any positions within the next 72 hours.