David Fish's "Dividend Champions" list is a collection of companies that have historically raised their dividend year over year for the past 25 years. I consider this list my filter to help me narrow down the massive universe of equities available to purchase. I became curious as to how these companies would perform in a historical backtest against the S&P 500.
I do understand that survivor bias is an issue inherent to this backtest. You could also say that the S&P 500 has a "survivor bias" as well due to the market cap weighting of the index. Holdings within the S&P 500 index are constantly changing thus introducing a similar bias. For the rest of the article I will ignore this bias but I am open to suggestions for improvement.
To further complicate this backtest, and much to my dismay, the software program that I have available only allows for up to 40 individual holdings. My dilemma now is that I have to narrow down 104 companies on the Champions List to 40. I decided to simply take the first 40 companies on the list. Even with this minor issue I think that 40 holdings will be a large enough sample to represent the Dividend Champions list. Perhaps in the future I will run additional backtests with a different set of 40 companies. After setting my start date to 30 years I ran into one additional problem. Data on some companies was not available for 30 years. I replaced these companies with the next companies on the list that did have data available for 30 years. The following companies are what I ended up with for my study:
Companies Included
3M Co (MMM)
Abbott Laboratories (ABT)
ABM Industries, Inc. (ABM)
Aflac Inc (AFL)
Air Products & Chemicals Inc (APD)
Altria

Group Inc. (

MO

)

American States Water Co (AWR)
Archer-Daniels Midland Company (ADM)
Automatic Data Processing (ADP)
Becton Dickinson & Co (BDX)
Bemis Co Inc (BMS)
Black Hills Corporation (BKH)
Bowl America Incorporated A (BWL.A)
Brown-Forman Corporation Class B (BF.B)
C.R. Bard, Inc. (BCR)
California Water Service Group (CWT)
Carlisle Companies, Inc. (CSL)
Chubb Corp (CB)
Cincinnati Financial Corporation (CINF)
Clarcor Inc. (CLC)
Clorox Company (CLX)
Coca-Cola Co (KO)
Colgate-Palmolive Company (CL)
Commerce Bancshares, Inc (CBSH)
Connecticut Water Service (CTWS)
Consolidated Edison, Inc. (ED)
Diebold Incorporated (DBD)
Donaldson Company, Inc (DCI)
Dover Corporation (DOV)
Emerson Electric Co. (EMR)
Emergen Corp (EGN)
Exxon Mobil Corporation (XOM)
Family Dollar Stores, Inc. (FDO)
Federal Realty Investment Trust (FRT)
Genuine Parts Company (GPC)
Gorman-Rupp Company (GRC)
H.B. Fuller Company (FUL)
Helmerich & Payne, Inc. (HP)
Hormel Foods Corporation (HRL)
Illinois Tool Works Inc. (ITW)
Since you cannot directly invest in the S&P 500 I used the mutual fund Vanguard 500 Index Investor (VFINX) as my comparison point.
Backtest Criteria:
$10,000 invested in each company a total of $400,000
$400,00 invested in VFINX
Dividends reinvested
Capital gains reinvested (applicable to VFINX only)
No taxes
Holding period 5-31-1982 to 5-31-2012
Results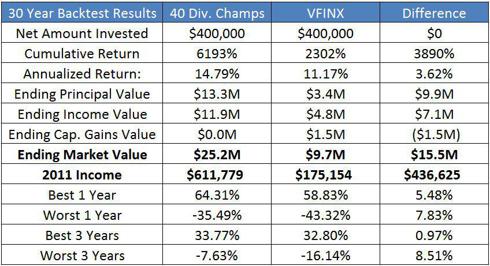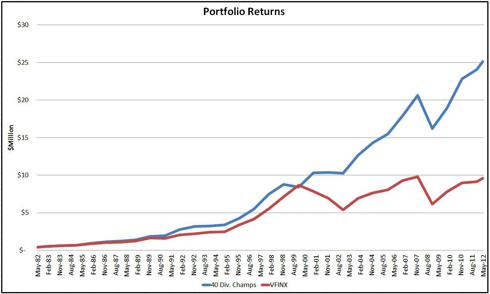 Conclusion
The results of this backtest made me go back and check the settings within the software program. I originally thought I had made a mistake. The difference between the portfolio of 40 Dividend Champions and the Vanguard 500 Index Investor (VOO) is massive. The ending market value difference of $15.5M and final full year dividend income difference of $436,625 are not small figures to say the least. I looked at the ending values of each holding to determine if there was a Microsoft (MSFT) in the crowd that was holding up the remaining holdings. The largest holding at the end of this 30 year period was Aflac Inc. at a $2.59M market value. This means that Aflac Inc. had grown from the initial 2.5% to make up 10.27% of our portfolio at the end of the period. This is not a small percentage of the portfolio but it is not overwhelming thus I feel the Microsoft concern is removed. For future analysis we will have to determine how rebalancing would help or hurt performance.
My current approach with my personal investment accounts has been to invest equally in the holdings that I select. My hypothesis is that I cannot effectively narrow down my investment choices to a single holding that will outperform. Once I have narrowed it down to the 30-40 holdings my ability to choose which of those is going to outperform the others is zero. That is why I prefer the equal weighting approach. This equal weighting approach appears to work quite well in our 40 Dividend Champions portfolio. This theory will need to be tested further but in my mind this analysis begins to support my hypothesis.
Besides the large differences in ending market values and dividend income, I was surprised by the best/worst year results. The 40 Dividend Champions actually outperformed the S&P 500 in all of these categories. In fact it wasn't even close except for the "Best 3 Years" category. The category that makes me sleep better at night is the "Worst 3 Years" category. This tells me that I am not penalized in portfolio volatility for the outperformance that I am receiving.
The risk measures available in the backtest only go 10 years back so we are unable to view them for the full time horizon. For the 10 year risk/return measures: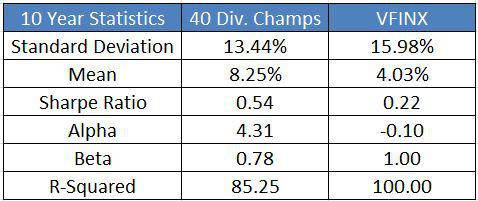 In our pursuit for Alpha it appears that for at least the past 10 years we would have found it. I am unsure if this outperformance will continue to hold but for now I feel validated in my approach to investing. Dividend growth stock investing appears to satisfy not only the income focused crowd but could also satisfy the total return focused individuals. I will eventually want to expand on this analysis to isolate time periods. Perhaps looking at 10 year intervals and determining if there was a time period that the results are reversed. I also want to expand on the analysis by looking at the impacts of taxes and how a recurring investment would alter the results. Real world application of a lump sum investment 30 years ago is minimal thus we will want to expand on the analysis going forward and introducing the additional variables highlighted above.