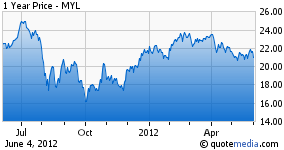 The market appears to be oversold on a short term basis and is due for a bounce. That being said, it is hard to get excited about equities until the situation in Europe improves. I am taking a more defensive stance in my portfolio and using some of the dry powder to establish new positions in defensive sectors such as healthcare. One stock in the sector that looks appealing on a valuation basis is Mylan (NASDAQ:MYL).
6 reasons MYL is a good defensive stock at $21 a share:
The stock is selling at under 8 times forward earnings, a sharp discount to its five year average (14.4)
Mylan has beat earnings estimates the past four quarters and earnings estimates for FY2012 and FY2013 have gone up over the past thirty days.
Mylan has a lower overall beta (.86) than the market and a solid balance sheet and its credit rating was just upgraded by Moody's.
The stock is selling at the bottom of its five year valuation range based on P/E, P/B, P/S and P/CF.
The stock is undervalued compared to its growth rate as its five year projected PEG of under 1 (.74).
Mylan is selling under the median analysts' price target of $28 a share by the 17 analysts that cover the stock. Credit Suisse also has a $28 price target on Mylan as well as an "Outperform" rating on the stock.
Disclosure: I am long MYL.