Looks like 2012 is shaping up like 2011 as we enter the semiconductor summer buying season. One stock to keep on your radar is Atmel (NASDAQ:ATML). Atmel is a diversified semiconductor company that makes microcontrollers, non-volatile memories, RF and auto integrated circuits, and ASICS. After two quarters of negative revenue growth, the midpoint of Atmel's revenue guidance for the June quarter is $372M up 4% sequentially, Non-GAAP gross margin guidance of 44%, Non-GAAP operating expense guidance of $123M, and a diluted Non-GAAP share count guidance of 450M shares.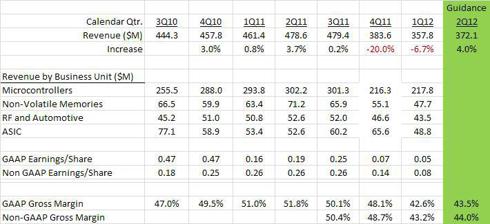 Atmel is now the 4th largest microcontroller supplier in the market, excluding Smart Cards it's 3rd according to Gartner. This is up from 8th place in 2008. Touch products generated $375M in revenue (1/3rd of microcontroller revenues) for Atmel in 2011. Its competitors in the touchscreen controller market are Cypress Semiconductor (NASDAQ:CY) and Synaptics (NASDAQ:SYNA). According to Atmel's statement at a recent tech conference, excluding Apple products its market share has risen from less than 5% back in 2009 to over 40% in 2011. If you think of the how touch technology has taken over our lives in smartphones, tablets, etc. you can visualized the potential for growth in this market.
A little over a year ago the stock was at $16.50. Today it's under $7.00.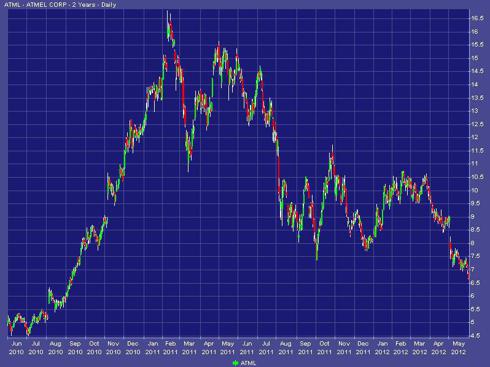 The semiconductor inventory correction and too high expectations for non-Apple (NASDAQ:AAPL) tablets clearly put a damper on the stock price. Going forward we do have the Windows RT launch this fall which brings another operating system along with Android to compete with Apple in the tablet market. Atmel also sells touch products into smartphones from Samsung, Nokia, Motorola, HTC, LG and other products such as Sony's Vita Playstation.
It's early days but Atmel is also working a new touchscreen product called XSense. From Atmel's Q1 Earnings conference call:
Steve Laub CEO

"This brings me to our next topic, XSense. As many of you are aware, about a month ago, Atmel unveiled its revolutionary new and unique film-based touch sensor product called XSense. XSense is based on proprietary fine-line metal mesh technology, is a high-performance alternative to traditional touch sensors most commonly used today. XSense touch sensors are highly flexible and will enable new generation of smartphones, tablets and an array of new innovative consumer industrial touch-based products. OEMs will now be able to develop new industrial designs that are edgeless or have narrow borders that create wider, sleeker and revolutionary new form factors. The technology also enables much larger touchscreens. Although we are in the early days of sampling XSense, customer response has been very positive. We are on track to our previously announced schedule of production qualification during the third quarter of this year. Given customers are at the beginning of their design cycles, major volumes are expected to ramp in the second half of 2013."
Since Touch is one of the fastest growing areas in semiconductors, people focus on it. But in 2011 Atmel's other businesses i.e. other microcontroller products (both proprietary AVR and ARM based), EEPROM memory, RF and auto chips, and ASICS generated 79% of it's revenue.
Atmel has $299M in cash or $0.67/share with no debt, forward PE of $11.8 (Data from Capital IQ). A $200M stock buyback program in place.
Conclusion
Because of the market turmoil I will not try to catch a falling knife and buy Atmel right away, but I will be putting Atmel on my watch list for the semiconductor summer buying season.
Disclosure: I have no positions in any stocks mentioned, but may initiate a long position in ATML over the next 72 hours.