Updated Desktop Beta With International Support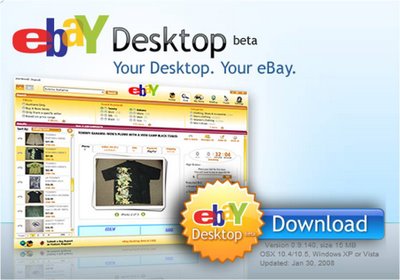 eBay (NASDAQ:EBAY) this week released an updated beta of eBay Desktop that introduces support for international sites including eBay UK, Germany, France, Italy, Australia and Canada. Alan Lewis, product manager for eBay Desktop states "we are closing in on the 1.0 release, and I would appreciate your help in getting out the word about this beta release." Well Alan, congrats on the added functionality and I certainly look forward to the final release.
Kijiji India Brings in Local Partner
Kijiji India, despite currently being one of the smallest components of the Kijiji network, is also (given India´s size) one with high long-term potential rewards. With such stakes at risk, it has emerged that eBay has invited a strong and experienced local player, Matrix Partners India, to help scale the business.
"To win local classifieds in India, it is necessary to build out a local platform, with a strong partner that can provide deep insight and access to the local market," said Rajan Mehra, country manager, eBay India. "We are delighted to work with Matrix Partners India to continue to grow Kijiji India. With their proven track record of investing in early stage businesses and building companies that people across India will trust and rely on, we believe we have the best possible partner in Matrix Partners India."
According to Avnish Bajaj, co-founder and managing director, Matrix Partners India, "We have been following the early success of Kijiji with small businesses and local communities with great interest and look forward to working with the start up team to scale its offerings and successfully grow the business."