January's blizzards have left large areas of China in shambles: 150,000 homes have been destroyed and four times that number damaged. Millions of people are enduring power shortages, hundreds of thousands more are stranded away from home by transportation shutdowns, crops have been devastated, and many industrial plants are sitting idle.
The economic cost to China has been estimated at $4.5 billion and that number is still growing.
The snowstorms – China's worst in more than a half-century – may also present investment opportunities.
Goldman Sachs and Merrill Lynch both came out with research notes saying that the storms may be evidence that China is not spending enough on infrastructure. That is an eye-opening idea, given the country's massive outlays for roads, seaports, airports and the like make it the poster child for capital expenditure.
Both Merrill Lynch and Goldman Sachs say the storms may be a clear message that China needs to focus on better transportation and an improved power grid to broaden the domestic economy (in part through job growth related to infrastructure) to help offset a slowdown in export growth.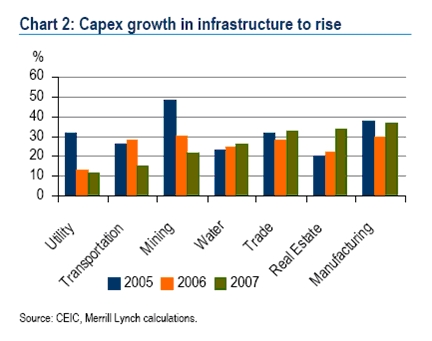 You can see in the graphic above from Merrill Lynch that China's estimated spending on utilities and transportation last year was far lower than in 2005 and 2006. It is not unreasonable to think that this trend may reverse as a lesson learned from the paralyzing storms.
Commodities prices would likely feel an impact in this scenario. China is already the single strongest driver for the global commodities bull market – it accounts for the largest share of increased demand for energy, steel, cement, copper and other resources. If the Beijing government decides that infrastructure spending needs to be accelerated, hot commodities and commodity producers could get even hotter.
When it comes to commodities, the cheapest reserves are listed on the world's stock markets. That's because it's neither quick nor easy to find new deposits, go through the complex permitting process, and bring them into production. These days delays and disappointments are more the rule than the exception. Rather than explore for new reserves, it makes sense for resource companies to buy their competitors to get proven reserves. In this environment, it makes sense for investors to buy resource stock rather than the commodities themselves.
These investors include governments worried about commodity supplies - Beijing has partnered with Alcoa (NYSE:AA) to buy 12 percent of Rio Tinto's (RTP) shares. The Financial Times quotes an official who says that the move is to make sure that China retains access to Rio Tinto's iron ore production from Australia in the event that company's proposed $130 billion takeover by mining giant BHP Billiton (NYSE:BHP) is successful.
We have long maintained that the current commodities supercycle will last longer than previous cycles because the new global players are so huge - China and India together are 40 percent of the world's population, and after decades of isolationism, they are rapidly urbanizing and playing a growing role in the world economy.
That trend won't change any time soon. Things will soon get back to normal in China, but over the longer term, the blizzards should serve as a reminder to Beijing that today's "normal" is still far short of where the country wants to be.
Additional commentary from Frank Holmes is available in his investment blog, "Frank Talk": www.usfunds.com/franktalk.
Disclosure: All opinions expressed and data provided are subject to change without notice. Some of these opinions may not be appropriate to every investor. The following securities mentioned in the article were held by one or more of U.S. Global Investors family of funds as of 12-31-07: BHP Billiton Ltd., Rio Tinto PLC