May was one of the worst months on record for the major averages with a decline of more than 6% for the Russell 1000. Not only was the decline severe for the major averages, but numerous individual stocks in the index dropped more than 25%.
In fact MEMC Electronic (WFR) and Green Mountain Coffee (NASDAQ:GMCR) were crushed over 50%. The key now is to determine if these drops were justified or if the sell off presents a buying opportunity.
Bespoke Investments prepared the below list of the worst performing Russell 1000 stocks in May.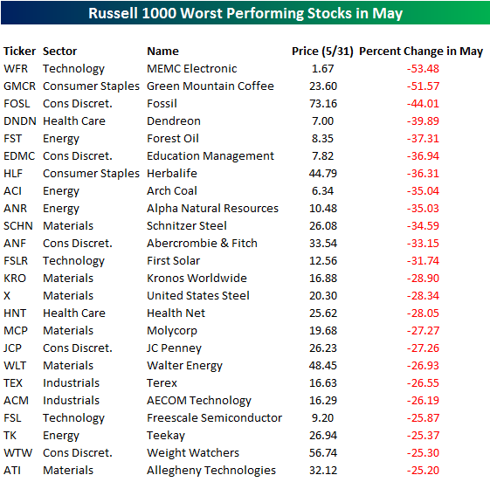 Some interesting stocks immediately stick out, but the key is diving into the trash to derive whether these huge drops provide opportunity to buy treasure on the cheap.
In the retail sector, both Fossil (NASDAQ:FOSL) and Herbalife (NYSE:HLF) dropped due to concerns over future results.
In the coal sector, Arch Coal (ACI), Alpha Natural Resources (ANR), and Walter Energy (NYSE:WLT) were all crushed due to lower domestic demand for thermal coal and concerns over international met coal demand from China.
In the industrial sector, AECOM Technology (NYSE:ACM) appears to be one of the cheapest bargains on the list.
Top Picks
Fossil designs, develops, markets, and distributes consumer fashion accessories worldwide under brands such as Fossil, Michele, Relic, and Zodiac. The stock absolutely plunged back in early May after guidance for the current quarter's earnings were cut. The stock is now down 50% even though it only trades at a forward PE of 11 with strong growth still expected.
The stock is another example of what happens to a stock when momentum disappears. While fundamentally cheap, the stock will struggle until it can prove the new guidance is solid. Typically the first warning isn't the end of the problems.
Herbalife is a network marketing company that sells weight management, nutritional supplement, energy, sports and fitness, and personal care products worldwide. The stock has plunged 40% since the end of April after hedge fund manager David Einhorn questioned why Herbalife stopped providing information about distributors. Analysts on the other hand have been busy raising guidance for 2012 and 2013 with the latter estimates up some 5% in the last 90 days.
The stock is extremely cheap at 10x forward earnings, but investors will remain skittish with noted short seller Einhorn lurking around.
Alpha Natural Resources engages in producing, processing, and selling stream and metallurgical coal. It owns or leases 4.7B tons of proven and probable coal reserves with the 3rd largest metallurgical reserves in the world.
The stock is down 85% from 2011 highs due to weak demand for steam coal in the US and lower prices for met coal in Asia. The historically low natural gas prices and warm winter placed extreme downward pressure on coal prices and demand. Long term, demand from China and India is expected to continue growing and the volatile natural gas prices will likely rise forcing utilities to switch back to coal. With a current market cap of only $2.3B, the stock trades substantially below the price paid for smaller competitor Massey Energy in 2011 and provides substantial upside potential.
Walter Energy produces and exports metallurgical coal for the steel industry primarily in the US. Similar to Alpha Natural, Walter has been impacted by lower prices in Asia. The stock is also down significantly from the 2011 levels though not as much with a focus on the stronger met coal markets.
Analysts are still forecasting strong earnings for this company and any rebound in demand will send earnings and the stock price much higher. Worldwide met coal resources are limited and pricing power will shift back to the resource owners soon enough.
AECOM Technology provides professional technical and management support services for commercial and government clients worldwide. The stock was crushed when Q212 earnings slightly missed estimates and the company guided down for full year results. The main issue was a quicker drawdown in Iraq projects and a slower start up in Afghanistan projects.
The company has a substantial backlog of over $16B and trades at a paltry 5.9 forward PE. The company is overly reliant on government spending at 64% of revenue, but worldwide demand is set to continue with many developing countries still lacking basic infrastructure. The developed world also has substantial demands for upgrading existing infrastructure if only the money is available.
Conclusion
All of these picks are naturally risky and wouldn't have dropped over 25% in May if issues didn't exist. In most cases though, the downside risk appears to be blown out of proportion with reality. More downside might exist, but investors would be wise to do some research and look into the most attractive ones as the market turns around.
Disclosure: I am long ANR.
Additional disclosure: Please consult your financial advisor before making any investment decisions.